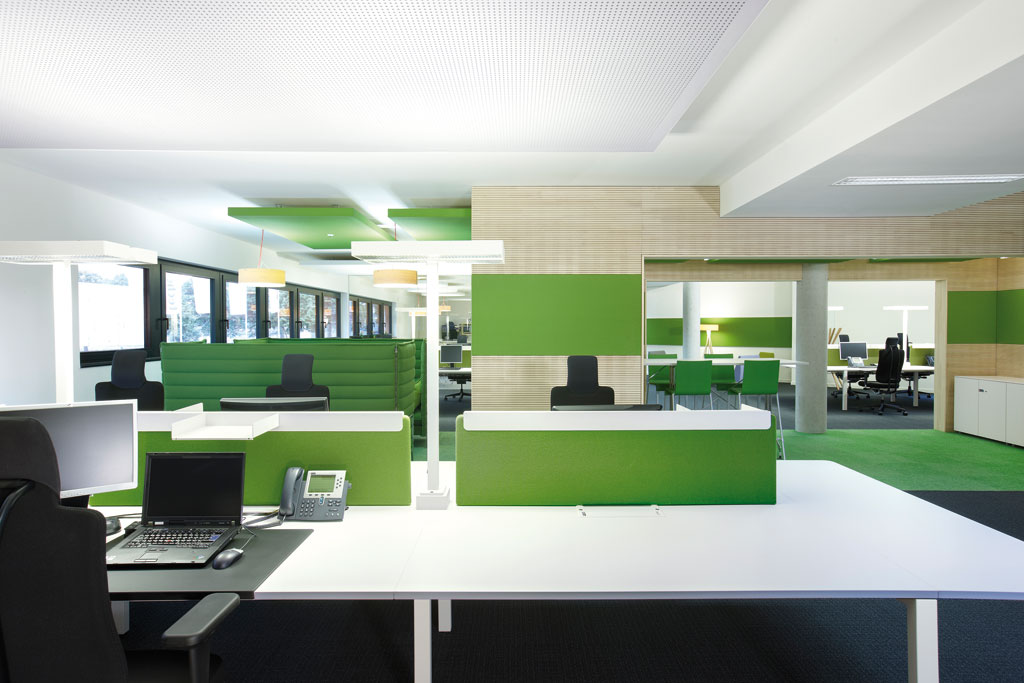 Creating an office space that's unique, breathtaking, and functional is no easy task. These seven companies–and the design firms that worked with many of them–go above and beyond. Or, rather, they go over, under, and through, with the most impressive office-design details our judges have ever seen.
KICKSTARTER Location: Brooklyn, New York Designed by: Ole Sondresen Size: 29,000 square feet PHOTO: Ole Sondresen
MIGOLocation: Manila, PhilippinesDesigned by: Utwentysix PHOTO: Migo
The chandelier-adorned and gilded open office block on Paris's Champs-Élysées was almost perfect for Ekimetrics, a data-savvy marketing and consulting firm. The only problem was that the open 10,700 square feet lacked private meeting space.
Architect Estelle Vincent hatched an extraordinarily creative solution: Construct inside it three thoroughly modern freestanding wooden structures of slated timber. They not only serve a variety of functions, but also provide stunning visual contrast between the classic and the startlingly of-the-moment design.
"The Davenport," one of Fueled Collective's nine conference rooms, can be accessed via this hidden entryway, through the door of a wardrobe. Here, CEO Rameet Chawla stoops to enter the room. Inside, the Davenport has an equestrian theme, sparsely decorated with framed images of horses.
To build out the space, Pittman turned to Michael Beneville, an art and design consultant, and Pittman's Burning Man buddy, according to Interior Design magazine. Beneville brought on Architecture + Information, directing the renowned firm that the space should be stripped clean and left as raw as possible.
"No dropped ceilings. No marble. No smoke and mirrors," Dag Folger, part of the Architecture + Information team, told Interior Design. Beneville called the look "battleship, not a cruise ship." This particular battleship has a sweeping hybrid-seating-area-and-staircase in its hull.
Harry's, a startup men's razor retailer in New York City, got help from architects at Tractor Studio and iconic furniture designer Herman Miller to create a floor plan with autonomous desks, open collaboration areas, and closed conference space.
The design aims to be flexible enough to accommodate a team that's likely to nearly double from its current 100-person size.
Once HLW finished construction, Atlas brought in Workwell Partners to furnish the space. In the center of the open ground floor, known as the "Great Hall" area, Workwell Partners installed a custom, 18-foot-long reclaimed wood pantry table.
It seats up to 20 people, and is equipped with power outlets to encourage collaboration anytime. "You're trying to get people together spontaneously, so they can come up with cool ideas by working together," says Scott Lesizza, a founding principal at Workwell Partners.
SOUNDCLOUD Location: Berlin Designed by: Kinzo Berlin Size: 170,000 square feet PHOTO: Werner Huthmacher
There's a distinct "ski chalet" vibe in this Greenwich, Connecticut, hedge-fund office. Well, if ski lodges had floating conference rooms. When Atlas Holdings sought to transform this former home into its headquarters, it selected HLW–the firm that designed Google New York–to carve up the space and build something that would wow its clients.
The designers didn't disappoint, creating the office's centerpiece war room, which gives the appearance of hovering over a communal kitchen and café area below.
This office for a single team is one of many hidden behind massive, rustic sliding doors off the main hallway. The aging wooden floors were restored when the office was redone, and other materials, including wood planking and bricks, were upcycled to create walls.
It's a hacker paradise, with an aesthetic one might call "upscale dungeon."
EKIMETRICS Location: Paris Designed by: Estelle Vincent Architecture Size: 10,700 square feet PHOTO: Arnaud Schelstraete
FUELED COLLECTIVELocation: New York CityDesigned by: roguebuilt PHOTO: Fueled
This 3,500-square-foot office for Capital One Labs–a group that designs apps for its parent bank–sure doesn't look like the inside of your average financial institution. Instead, its wild color scheme and unusual angles nod to the innovative spirit Capital One is trying to foster in its employees.
Studio O+A, the architecture firm that designed the office, describes the staircase pictured above as "rustic drama" yellow. "You're creating an experience coming down those stairs," says designer Alma Lopez of Studio O+A.
The three freestanding structures serve as a boardroom, a two-person office, and a gallery. One of them contains 24 wooden box-stools that can be arranged for a larger meeting. Above one of the nooks is another meeting space dubbed the "crow's nest.
" Coming down? Take the slide.
LivePerson's new third-floor expansion is splashed with color, a nod to what designer Mapos calls the company's "culture of spontaneity and collaboration." It includes no private rooms, and the central area contains tables on wheels that can be folded and re-assembled in order to accommodate different types of work (seminars, conference calls, individual focus, etc.
). The so-called breakout space, pictured above, is scattered with plush chairs and couches, for both meetings and quick breaks.
Time for a visit to Mumbai? How about Shanghai? For employees based in Airbnb's newly expanded San Francisco office, such a trek requires going no further than a decked-out conference room or café corner.
Each room is decorated to resemble a real Airbnb listing. It's a theme the company began when it moved into its current Brannan Street office, and expanded upon in the new build-out of the third floor, with help from WRNS Studio and Interior Design Fair.
Here, a colorful industrial residence in Johannesburg is channeled in a breakout meeting space.
Centuries stand between the office's shell–tall ceilings, arched windows, and chandeliers–and its brand-new wooden indoor structures. Despite the age difference, or maybe because of it, they fit perfectly.
The unfinished timber nods to the structures' own lack of permanence, and they feel agile and lighter for it. Some pieces are actually mobile, while others just feel like they are, such as the food truck-inspired staff canteen, dubbed "Eki Truck.
"
The partnership with Herman Miller was obviously fruitful for Harry's–its office is just brimming with gorgeous chairs, from the classic Eames molded fiberglass model to the newer ergonomic Sayl chair.
"The furniture was chosen to be both functional and welcoming," says Harry's product design director Scott Newlin. "We encourage teams to talk and collaborate. We pushed really hard to make these rooms feel approachable and aid these behaviors.
" And there's a little branding infused in these simple rooms: They're named after the colors of the company's razor handles. So if "orange" is booked, an employee can reserve "chrome" or "olive".
In addition to the custom wallpaper designed for the entranceway, the speakeasy-like conference room, pictured here, features Huxhux Design's Faux Faux Bois wallpaper. Aside from these breakout rooms for frequent meetings, Bluecore employees have another custom gathering place created just for them: a huge table.
It's a company tradition to stop working around noon and sit down together for lunch, so the design team brought in a massive table that seats 38 people.
Shades of grey float around the whole office, surrounding bright pods of color in freestanding conference rooms, and, as pictured here, a kitchen. Private meeting pods allow for quiet time, while most of the desking is quite open.
The new headquarters, completed in 2015, is an office on a grand scale, but efforts were made to keep it feeling comfortable and cozy. Lighting levels are kept subdued, for instance. And there's a subtle rocker vibe throughout: Floors, made of timber, are stained black.
Black window frames are paired with a deep green finish running along the perimeter of each floor. Leather accents, such as these benches and chairs, abound. Here, Edison light bulbs get a different look by mingling with old-school microphones.
"There's a certain 'wow' factor to something like the floating conference room," Lesizza says. "And it works: There's a long line of people waiting to use it." But smaller private spaces were also important to Atlas Holdings, as they would be to any financial firm.
So they built in several private nooks and individual offices to complement the conference room and the sweeping communal area.
Salt has many amenities to make its companies feel comfortable. There's a recreation zone, a fully equipped kitchen (shown here–it feels like home, only with more lamps), a coatroom, and even showers.
LUMOSITYLocation: San FranciscoDesigned by: Boor Bridges Architecture PHOTO: Lumosity
Scroll down to see some of the world's most brilliant office interiors. And don't forget to let Inc. know which of these runners-up to our 2014 World's Coolest Offices is your favorite. You can add a comment below, or simply tweet your favorite to join the conversation.
Three floors of the Kickstarter office seem to spiral around the open-air courtyard, all glass and light. But some spaces are private, including a half-dozen small offices, cozily decorated with antique furniture.
And this private theater, for film screenings, is pleasantly dark, with its western red cedar and sheetrock walls.
With one of the most elaborate office spaces in New York City, Fueled Collective hosts more than 30 startups in SoHo's Prince Building. In addition to offering year-round ice cream and popcorn in the office, this conference room is also stocked with whiskey, bourbon, and other (artisanal, we're sure) liquors.
When Justin Huxol, founder of Huxhux Design, was tapped by interior-design startup Homepolish to work on the new office for Bluecore, he was ecstatic. The email-marketing startup was moving to a three-story building on the Lower East Side of Manhattan that had been used as a liquor storehouse during Prohibition.
Pictured here is the high-ceilinged lobby and meeting area, complete with a wall of custom wallpaper referencing Bluecore's logo. Focus on the top center of the image and you'll see a little elevated eagle's nest, where an employee can curl up with a laptop–or just get a stellar view of what's happening below.
When Robert Pittman, CEO of iHeartMedia (formerly known as Clear Channel Communications) decided to move the company's headquarters from San Antonio to New York City, he decided the former satellite office needed an upgrade.
The entrance corridor, pictured here, now looks like something straight out of Blade Runner.
Minimalism may be having a moment, but the Airbnb office scoffs at it. Great attention has been paid to myriad details in every corner of the 96-year-old former warehouse in San Francisco's startup-saturated SoMa neighborhood.
Seems apt, as two of the company's founders attended Rhode Island School of Design. They are also used to pulling super-long hours in the office. "We spend the majority of our lives at work," Airbnb co-founder Joe Gebbia told Metropolis magazine.
"Why wouldn't it be as comfortable or as inspiring as your own home?"
Lumosity boasts a secret library for its employees, which is separated from the public lunchroom by a bookcase door. "You go there to focus," says Fucinaro. Complete with antique books, leather couches, and blue tile flooring, the room adheres to an overall rustic color scheme.
Funny or Die's new office spans more than 7,500 square feet over two separate floors, all decked with its now-signature neon-colored walls and stairs. The modern office doubles as a film studio and production center, which necessitates a flexible interior design.
And it is color-coded: Blue areas are more focus-oriented, while yellow areas are for socializing and group work. Nestled in an old industrial building, the office captures "the spirit of L.A. and its scrappiness," according to lead designer Amelia Wong.
LIVEPERSONLocation: New York CityDesigned by: Mapos PHOTO: LivePerson
BLUECORE Location: New York City Designed by: Justin Huxol of Huxhux Design for Homepolish PHOTO: Udomfoto
The atrium area at the heart of the building serves many purposes, making it a hub for employees. All the furniture–apart from a fixed bar counter, tucked into a partitioned-off pub area–rests on casters and can be easily moved to make space for events such as concerts and cocktail parties.
You'd recognize that blue, bubble-shaped W anywhere. But instead of plastering it all over, Warner Music UK made more subtle nods to its iconic brand in consolidating its six offices under one roof. Dusty blues are in play throughout the Wright Lane office, which has been dubbed HQ Music House.
Here, an exposed brick wall provides a backdrop for a sweeping central staircase–and also a canvas for a giant mural of a zeppelin (of the Led Zeppelin variety). This view is a mere corner of the headquarters' impressive central atrium, which allows every floor–each with a different layout–a view of a grand café area below.
There, one logo is very visible: a periwinkle and navy W woven into the center of the carpeting.
The whimsy of this creative office extends into the communal kitchen, where a neon chartreuse refrigerator meets vibrant pink flooring and a sleek, wooden roof. Capital One Labs emphasized to Studio O+A that it wanted its "wide open spirit" to be reflected in the common areas.
Here, glass walls make the kitchen visually continuous with the rest of the office.
FUNNY OR DIELocation: Los AngelesDesigned by: Clive Wilkinson Architects PHOTO: Funny Or Die
Some of Lumosity's new conference rooms have views of the San Francisco harbor. There's some fun built in, too: Each room is named after a Lumosity game.
While this company is all business, the office has a lighthearted vibe. This roughly 2,300-square-foot space is largely made from galvanized metal, a material commonly found along streets and lanes in its home of the Philippines.
The amphitheater, featured above, is a space for group conversations. The design hints at CEO Barrett Comiskey's vision to take "Migo on a journey around the world bringing entertainment and education to everyone.
"
CAPITAL ONE LABSLocation: San FranciscoDesigned by: Studio O+A PHOTO: Jasper Sanidad
ATLAS HOLDINGS Location: Greenwich, Connecticut Designed by: HLW & Workwell Partners PHOTO: Chris Cooper
The office's designers–the German firm Kinzo–took care to be environmentally conscious. Many of the acoustic boundaries were made from Heraklith, an eco-friendly wood fiber. There's also an indoor garden.
Even the couch cushions are doing their part: They're made of sustainable fibers from hemp and coconut. Here, a flexible seating area allows for lounging or meeting.
This co-working space in Yekaterinburg, Russia, was having growing pains. It was useful for individuals, but small teams were dominating all the common spaces. So Salt built out the loft-like building with mini-offices, which were created by installing sliding doors off of this main corridor.
Now, common spaces like this one, which features beanbag chairs on the floor and exposed beams on the ceiling, are meeting-free for anyone who wants to hang out.
As Airbnb grows and grows and grows as a company–it's now in 34,000 cities around the globe–it needed more room to stretch out its head count in San Francisco. Expansion also has shifted the needs of teams.
In interviews before the new build-out, employees called for greater opportunity for small meetings or private conversations, good acoustics within an open office, and flexibility for the future growth of the company.
Huxhux Design didn't shy away from color in creating intimate spaces for this three-year-old company, and drew aesthetic inspiration from the neighborhood. The blue room is a nod to the nearby Hamilton Fish Park pool.
Another conference room plays with the idea of a 1920s speakeasy. Huxol says he likes to consult with employees and design specific spaces that speak to them and their productivity. "It creates an overall environmental impact on your mood when you're in the space and interacting," he says.
But, overall, spaces should be useful for the company–not strictly fun or too over-the-top. "It's a challenge to keep it away from theater set design."
SoundCloud's Berlin headquarters, finished in 2015, manages to feel both cozy and spacious thanks to use of minimalist, accessible materials in building out the office, which overlooks the Berlin Wall Memorial.
Concrete floors and exposed ceilings are used to give it an industrial feel. Meticulous planning went into the 16 mini conference rooms, where employees can meet, snack, or make a phone call. They're named after neighborhoods in San Francisco, London, and Berlin.
IHEARTMEDIA Location: New York City Designed by: Architecture + Information and Beneville Studios Size: 75,000 square feet PHOTO: Magda Biernat
There are videoconference centers masquerading as old-timey cottages, ladders to elevated nap pods, and secret doors tucked into paintings and bookshelves. These awe-inspiring modern offices are located across the globe, from San Francisco to Manila, and they come in a diversity of sizes, styles, and design aesthetics, to fit a diversity of businesses.
In creating this new home for approximately 200 SoundCloud employees, who work in the areas of product, engineering, design, community, and corporate, Kinzo said it wanted to build a "tangible reflection of a virtual community.
" The café is a place for workers to unwind, as is the office's fireplace setting. And small, cushioned nap pods–as shown here–abound.
This playful, studiolike space includes elevated sleeping nooks, connected to the ground by way of treehouse style ladders, and "gabled blue" support beams cut across the communal workplace. These beams represent a modern architectural trend–making the space feel larger than it actually is–and also contrast with the building's other features.
Just out of sight are such neat details as an elevated bike rack and visually-pleasing-but-sound-absorbing panels that dangle from the ceiling.
SALT CO-WORKING Location: Yekaterinburg, Russia Designed by: Esthet Design Lab PHOTO: Nikita Polosov
Just a couple years ago, Kickstarter was outgrowing its home in a former tenement building on Manhattan's Lower East Side, where workers did their dishes in a bathtub. The crowdfunding company's founders knew that they wanted an office that was grand and that would make their employees feel delighted to come to work.
But they also wanted to avoid a flashy Silicon Valley feel. They bought a nondescript building–a former pencil factory–not far from the East River in Brooklyn's Greenpoint neighborhood, and brought in architect Ole Sondresen to transform its interior.
(The exterior remains nearly unchanged; its doorway is simple and nearly unmarked. Very incognito.) Pictured here is a sweeping library, where employees can find quiet nooks for solo work on their laptops.
Designed with the goal of making Fueled Collective a more positive workplace, this 18,000-square-foot office is located in New York City's SoHo neighborhood, but it packs a Portland-esque punch, complete with vintage-feeling leather couches, lounge chairs, and even (you guessed it) an office dog, whose name is Greta.
The snack wall, pictured above, becomes a three-dimensional experience: Candy and other snacks (atomic fireballs, Mary Jane chews, and other throwbacks) are stored in multisized Mason jars, jutting out from the wall in wooden crates.
Part of the vision for the new office was to allow workers to customize their own working method. So Herman Miller helped build what it dubs a "Living Office," with desks that raise and lower and walls that move and serve multiple purposes.
So, the graphic design team likes to work standing, and shares screens often. "We found standing desks (they also lower so they can sit) would help facilitate these conversations and impromptu meetings that they often host at their desks," Newlin says.
Oh, and those gorgeous herringbone wood floors? Harry's found them hiding under layers of "unattractive materials" in the old warehouse space the company acquired for its office, according to Newlin.
Within these offices are inventive, Technicolor conference rooms, spacious rooftop gardens, cozy nap nooks, and an indoor fire pit. But we didn't select these offices as the best in the world simply for their sweet amenities or hip aesthetics. They also are cleverly designed to serve not just any company, but instead to fit the unique working habits of the particular employees who use the space. If there's an overarching trend in office design this year, it's customization–and that goes a long way toward explaining why there's a table that can seat 38 people, a floating conference room, and an elevated eagle's nest in this year's selections. Here is the full list of the coolest offices in the world in 2015.
HARRY'S Location: New York City Designed by: Tractor Studio Size: 26,000 square feet PHOTO: Geordie Wood
WARNER MUSIC UK Location: London Designed by: Woods Bagot Size: 67,005 square feet PHOTO: Gareth Gardner
Sondresen oriented the office around a central courtyard that stretches up to a second-floor garden and open roof deck, where employees like to eat lunch or hang out after hours. So despite the former factory's thick brick walls, light pours into the space from above and from its central green oasis, illuminating it from its core.
Glass walls for internal offices and other rooms let the light seep in. Nearly all of the construction materials and furnishings are reused or recycled materials: former roof trusses form the courtyard frame and old porch posts are used as legs for tables in the library, which itself is constructed from reclaimed wood.
And roughly half of the materials used in construction were sourced locally.
Funny or Die's conference rooms have a uniquely Southern California feel, with massive light fixtures and peacock-blue walls that speak to the company's vibrant personality. The oddly shaped interior window is designed as a sort of "peep hole," says Wong, giving employees a hint of privacy within the generally open workspace: "We like to create moments for serendipitous encounters," she explains.
Migo's videoconference centers, pictured above, are a spirited imitation of many makeshift homes in the Philippines. The designers built them mostly from recycled material, such as wood planks and windows from the Filipino province of Capiz, which were obtained at "junkyard prices.
" The effect, the designers write, is "a charming, nostalgic, Filipino collage that is modern and functional."
Perched in one corner of the open office is a multicolored hammock, which reflects LivePerson's fun and friendly company culture. Sunscreen, anyone?
Lumosity's office encompasses 36,000 square feet in a recently converted Art Deco building. The bar area, pictured above, is a bright, open space designed to reflect the attitude of the company, which makes brain-strengthening apps.
As CEO Kunal Sarkar puts it, "Employees are constantly interacting and socializing." Designer Sarah Fucinaro says the company's founding-team members gather here for cocktails each Friday. Sleek, dark-wood flooring and sculptural light fixtures top it off, and the kitchen beyond is perpetually stocked with kombucha and coconut water.
AIRBNB EXPANSION Location: San Francisco Designed by: Interior Design Fair & WRNS Studio Size: 107,000 square feet PHOTO: Jeremy Bitterman
Live green . Add plants in order to your living area . Add all of them to every room, tiny or large, few or perhaps many. Plants could be an affordable means to accessorizing your own space and adding colour and texture. Not simply are plants beautiful nevertheless many can clean home air and balance moisture . They can absorb impurities and remove harmful smells from the air. Simply no home should be with out these wonderful greens!
Add a suspending pot holder to the kitchen. Kitchens are designed to be warm and even inviting. We spend substantially of our time throughout them whether it get for preparing meals, helping meals or entertaining. The hanging pot rack pays to elegance. Kitchens are supposed to feel as even though they are in continuous use and a clinging pot rack certainly helps make one feel this method . In addition to seeking so wonderful, (there a wide range of sizes and styles available) additional cupboard space beneath is actually freed up in order to store other items. Almost never has anyone complained regarding having too much storage area.
Paint smaller areas in softer, lighter shades to make the room sense larger. The living area above is a fantastic sort of how to be able to maximize a small livable space . A room of this particular size gets the tendency to be able to seem cramped, nevertheless the significant windows, light colored wall space and ample utilization of mirror not only reflect typically the natural light pouring within in the doors and typically the windows nevertheless the use regarding mirrors also shows the optic illusion of space, producing the room seem greater than it actually will be . Conversely, darker colors will certainly make a room sense smaller. Even with typically the abundance of natural lighting and the strategic holding of the mirrors, this kind of room in a dark shade could have an extra boxed-in feel into it.
Wicker baskets. Straw-plaited baskets are an cost-effective and elegant approach to include storage to any space . Baskets can be applied to store and show books, architectural and interior decoration magazines, toys, towels and even blankets to name a new few. Place a number of smaller wicker baskets around the counter-tops in your kitchen to be able to beautifully display and shop your fruit and greens
Fluctuate your workout. Mix upwards patterns and textures. Blend up old and innovative , expensive and cheap. There`s nothing wrong with positioning family heirlooms alongside your own modern couch. Great inside decorators will tell a person that one of typically the most important aspect in order to decorating your house is that that reflects who you happen to be , your personality and your current style. The vintage Chippendale workplace that was your grandfather`s tells a story. That tells the story associated with your past. The contemporary couch you became adoringly obsessed with and merely had to purchase furthermore tells a story, your existing story, and there is definitely no good reason that the found and past can`t co-exist beautifully together. A similar can easily be said for fine art. You now might not desire to place an artwork by Salvador Dali on a single wall next to a new Monet, but there`s not any reason why that they can`t get in the same space together. With fabrics whether or not it be furniture, mats or pillows, varied colours and patterns brings friendliness and texture with your lifestyle space.
Work with what you already include to decorate. Many of us include items in our ownership , probably packed up throughout boxes somewhere and don`t have given them a next glance. Your property needs many accessories. As opposed to running in order to the store, take some sort of good look at that which you already have. Trays, wood made , acrylic, metal or metallic can be on top rated of luggage racks, herbal tea carts, trunks, bedside furniture and coffee tables with regard to extra texture and sizing . Arrange candles on all of them , frames or pile publications on top of all of them . Plates can be strung to create wonderful walls art. Art from kids books can be frame and hung in nurseries, children`s rooms or their particular bathrooms. You will get amazed at your ability with what you currently have!
Color or wallpaper your bookcases. This instant pop associated with color will brighten in addition to re-energize any room! It can amazing how something therefore simple as a layer of colorful paint may instantly energize and enhance your space. This pre-installed bookcase would be very simple and ordinary minus the vivid blue interior. Possibly the easiest and most inexpensive method to transform a boring place is always to apply a layer of paint somewhere sudden . Bookcases are an perfect place to start as you don`t need to coloring a large area. Various other fun places to include a new pop of color contain painting fireplace mantels, the particular insides of closets, hallways and ceilings.
No matter if you`ve just moved and looking for a fast , little home pick-me-up, or even perhaps something better, generally there are some well-known interior design tricks that designers make use of that you just too can quickly do with minimal work and cost. Sometimes typically the smallest things make best impact. It could get digging in a looking glass , a painting, a lamp fixture or even a flower. You may want to make softer your walls, brighten a new room, or exercise . friendliness to your living area. Check out these clever style as well as observe how they can motivate you!
Work with decorative mirrors to include fast light to your living area . As seen above, wall mirrors may also be used to make a new small space feel much larger . For larger rooms, or even any room with the more limited amount associated with natural light, mirrors located directly across in the house windows , will add instant light source . Decorative mirrors doubles throughout lieu of art in order to fill empty wall place . Large or small, showcases add light and aspect to your livable space.
Slip into anything a bit more comfortable!. Slip addresses frequently get an awful rap but they happen to be truly wonderful things. That they can function as a method of changing your furniture`s look to reflect the particular seasons. These easily taken off coverings improve a complex look without constantly stressing about people dirtying or even spilling on your pieces of furniture . Slip covers are perfect for rooms used usually by children. Over the white slip-covered couches provides air of an everyday , comfortable, easy yet advanced elegance.
Make use of area rugs to make softer hardwood floors. Throw mats give warmth and could add great texture, coloring and personality to your current living space. Hardwood flooring surfaces are beautiful and quick to keep but they be lacking the comfort that carpeted floors offer, particularly throughout the cooler months. Place rugs can also include fun and functionality to be able to your living area . Use various of varying patterns plus fabrics together to display your character. Or include several rugs of the particular identical pattern and cloth , or different textures although the same color. The particular possibilities are endless. An individual can change your location rugs to reflect the particular seasons using warmer hues and fabrics for chillier months and lighter kinds for the warmer periods of the year. Right now there are many lovely organic cotton , washable area rugs which often are suitable for those properties with children. There definitely is no reason the reason why a house with young youngsters cannot end up being an elegant one.
IMAGE COLLECTIONS : World's Coolest Offices Brilliant Interior Designs Inc