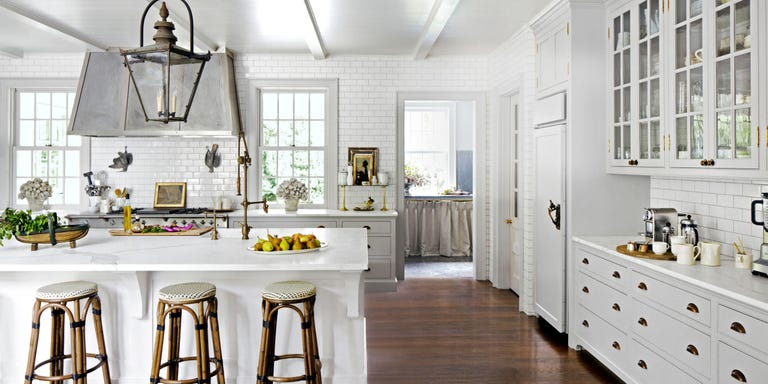 White Kitchen Designs
White Kitchen Designs
White Kitchen Designs
. . . . . . . . . . . . . . . . . . .
The salvaged wood hood, custom-built by the owner of this Mississippi farmhouse, and a Turkish runner add warmth to the mostly white kitchen.
The kitchen island in this Ohio farmhouse boasts a zinc top crafted by a local metal shop. Subway tile from Home Depot forms the backsplash.
Bertoia side chairs surround a Saarinen table in the kitchen of Lisa Pomerantz's New York home; the Akari light sculpture is by Isamu Noguchi, the candlesticks are by Ted Muehling, the cabinetry is custom-made, and the Tara sink fittings are by Dornbracht.
This Alabama couple opened up their suburban cookie house's kitchen with lighter, brighter accents.
In this formerly abandoned Swedish farmhouse, the kitchen's range, hood, and sink are all by Smeg, the fittings are by Vola, the counters are Carrara marble, and the cabinetry is painted in Farrow & Ball's Cornforth White.
In addition to a timeless look, white can make a small kitchen feel bigger and brighten a room that lacks adequate natural light. And while you don't want to offend anyone's taste with your kitchen design, you also don't want a white kitchen to feel bland. Add depth by using accent colors and insert personal style in changeable features like light fixtures, furniture and cabinet pulls.
Chic Kitchen Decorating Ideas Room Ideas Design + Decorate Great Ideas for Kitchen Islands Cool Kitchen Lighting Design Ideas Genius Ideas for Decorating Small Kitchens 100+ Amazing Kitchen Design Ideas Cool Rustic Kitchen Inspiration Chic Black & White Kitchen Designs white kitchens Kitchens
If you add a dark floor stain to your kitchen floors, select a light paint for the island, walls, and cabinetry.
This Upper West Side kitchen contains a Bertazzoni oven, a Fisher & Paykel refrigerator, and marble counters. The subway tile is from Home Depot and the flooring is oak painted with a custom design.
We love the shiny white appliances and cabinetry in Courteney Cox's Malibu home — not to mention the gorgeous light fixture from Nessen Lighting.
The centerpiece of architect and antiques dealer Carlos Aparicio's French-Scandinavian Miami kitchen is the elegant marble island, flanked by Swedish stools by Jonas Lindvall.
Bright idea: Fresher than cut flowers, a single evergreen branch suggests a larger tree.
In this Georgia loft, formerly a raw industrial space, the owner installed countertops and a sink in the corner, then hung open shelves above them, creating a kitchen that blends seamlessly with the living area and library beyond. She picked up the wicker chairs at a yard sale and stitched the sink skirt from alphabet-patterned fabric. The wooden bull's head is African. The walls are painted Creamy by Sherwin-Williams. A few pieces of framed art turn open kitchen shelving into an exhibit.
This NYC kitchen's lacquer cabinetry is custom made, the backsplash and countertop are Calacatta marble, the range is by Viking, and the refrigerator is by Sub-Zero; the print is by Ellsworth Kelly.
The owner of this home tore out the dropped ceilings, and stripped plaster and lathe down to the posts and beams—opening up the room with wider doorways and additional windows. She also enlarged the opening from the keeping room to the kitchen, adding salvage-yard antique posts where needed.
Fashion designer Jackie Astier's NYC kitchen intersperses the white cabinetry and Calacatta marble flooring with a sepia-toned tree-lined wallpaper from Cole And Son.
Inside a Windsor Terrace family home, the kitchen counters are Calacatta Gold marble, the backsplash tile is by Waterworks, the range is by Capital, the stools are from ABC Carpet & Home and the light fixture is by Apparatus.
A hammered-steel island and pot racks by Enclume, a KitchenAid stove, and an arsenal of All-Clad cookware are some of the industrial-chic touches in the kitchen of Katie Brown's Bridgehampton, New York, weekend house. The cabinetry, made from salvaged wood, and the floor of paved bricks help give the place its storied look.
Designer Mark D. Sikes complements the blue-and-white French bistro stools and mossy-green island with white marble countertops. 
An assortment of old stools provides quirky charm in the kitchen of thisOregon farmhouse. Durable concrete countertops from Cement Elegance pair with cabinets painted Simple White by Benjamin Moore. Barn wood left over from the floor installation covers a metal Ikea hood.
This economical alternative to upper cabinetry keeps everything within sight and reach. Plus, the farmhouse staple provides the perfect excuse to buy beautiful kitchen items in rose gold or other stunning materials and colors.
The homeowner of this Texas ranch chose custom cabinets and a Sub-Zero fridge for the renovated kitchen. The island is painted Paris Rain by Benjamin Moore.
There are a number of ways to approach white countertops. White marble is warm, classic and its natural veiny appearance adds texture. It is more expensive than other options as well as higher maintenance. You'll need to wipe up spills right away, avoid putting hot pans or abrasive items on the surface and seal it on a regular basis. White granite is lower maintenance than marble (seal it once a year and wipe up spills ASAP) but also offers a classic look. Engineered white quartz is durable and non-porous so it's more sanitary and resists stains, scratches and corrosion. White concrete can achieve that pure white look and it's also incredibly durable. White glass can be pricey, but in addition to being sleek and bright it's also non-porous and perhaps the most hygienic option. If you're on a budget, today's laminates mimic more expensive granite and marble and also resist scratching and chipping.
The kitchen in this upstate New York house features a 1950s refrigerator. "Our mothers warned us about defrosting," the owner jokes, "but we love the look." A midcentury stove, an antique butcher block, and a salvaged cast-iron sink magnify the room's farmhouse charm.
A 1950s FontanaArte chandelier and 1970s barstools in the kitchen of London designer Colin Radcliffe's Notting Hill home; the cabinetry is custom made, and the refrigerators are by Liebherr.
Soapstone counters, vintage lab stools, and a bank of whitewashed wooden cabinets add to the warmth of an already sunny kitchen.
White sinks have long been bathroom mainstays and the same timeless look translates well into the kitchen, whether you choose a classic white sink or more of a trend piece like a farmhouse sink. If you're typically hard on your sink (throwing around pots and dishes) then stainless steel may be a better choice. For white sinks, fireclay might be the best option. The material is resistant to scratches, staining, chipping and clean-up is simple (just use soap and water). Enamel-coated-cast iron is another good option for durable white sinks, but tends to be heavier so make sure your cabinets can handle the weight.
The black-and-white color scheme doesn't overwhelm the modest square footage in this renovated guest home from two 100-year-old sheds.
Interior designer Martyn Lawrence-Bullard infused the kitchen of this 1920s Malibu Hills, California, home with old-world ambience, choosing French lanterns from Ann-Morris Antiques, a plank-top table from Dan Marty Design, and a farm sink and fittings by Waterworks.
In this Arizona home, linen-covered pendant lamps bring the kitchen's 17-foot ceilings down to a cozy scale. The owner bought the giant train-station clock on 1stdibs.com, then had the timepiece mounted to look as if it's casually propped above her Wolf range. White marble tops the custom cabinets and island. The walls are painted Exclusive Ivory and the trim Cottage White, both by Dunn-Edwards.
Bright Idea: A plate rack set in a kitchen island offers stealthy storage.
The kitchen island often features a sizable slab of countertop so this can be used strategically to brighten up the space, or add detail that complements pure white features elsewhere in the room. Add contrast by choosing a different material than you used for the countertops. It's pretty likely that the island will be where a lot of food prep and entertaining takes place, so depending on how you plan to use the kitchen island itself think about the material and how high maintenance it is.
Lisa Perry's Florida getaway has the cheeriest kitchen: The fashion designer combined white tables and cabinets, a porcelain tile floor, and a bright pop of yellow backsplash to create the perfect space to share a meal with your family and friends.
Rugs, however durable, aren't practical for a heavy-use kitchen. Enter statement floor tile. It's a more subtle way to add impact to your white kitchen design than, say, a bold eye-level backsplash. Go to granadatile.com for similar quilt-like patterns. 
Pendants from a Czechoslovakian factory and 1940s stools by Warren McArthur in the kitchen of a New York townhouse; the oven is by Wolf, the floor is lined with Corten steel tiles, and the staircase is suspended from cable supports.
Kitchen cabinets are a high impact design element because they're outward facing (unlike flat countertops) and take up a lot of real estate in the room. According to the National Kitchen and Bath Association cabinets make up one-third to one-half of kitchen remodel budgets. NKBA also reported that among painted cabinets, white is the most popular option. Add a personal touch by choosing cabinet pulls and other hardware that you like. They are easily replaceable and will pop against crisp white cabinetry.
Today's home buyers are turned off by dated kitchens, and are looking for modern additions like granite counters and updated appliances. Those things can both be done in white, and according to the National Kitchen and Bathroom Association, white and off-white are the most popular color schemes for those spaces. Make your design decisions easier by creating an all-white room that's fresh, bright and aesthetically pleasing.
Crisp white walls and trim paired with ceramic subway tile for texture makes this Tennessee home's kitchen shine.
There's nothing more sleek and stylish than an all-white kitchen. Check out 35 of our favorites from the ELLE DECOR archives for a refreshing dose of inspiration. Plus, make your kitchen light and bright with these inspired ideas for white kitchen cabinets.
Wide planks of white beadboard make a charming backdrop for a collection of white china, creating the perfect fusion of rustic delicacy. The china and enamelware in this kitchen were collected during the family's travels to Europe—as well as visits to a few all-American garage sales.
And since the average homeowner will spend tens of thousands of dollars when doing a major kitchen remodel, it's crucial to do it right. So how do you accomplish that? We've assembled a number of white kitchen ideas to simplify the design process.
A Gramercy Park apartment features a kitchen range by Wolf, the sink and fittings are by Lefroy Brooks, the cabinetry is by Smallbone of Devizes and the Bertoia barstool is Knoll.
Utilitarian though they may be, your cabinets can be as attractive as any other element in your home. Careful organization and a few personal touches can make this storage bonanza one of your favorite features, especially when everything's hued in a warm, rich shade of white.
The kitchen cupboard and marble-topped Tuscan tables are 19th-century and the flooring is handmade cement tile from Florence, where this familial country home is located.
The kitchen inside a remote Uruguayan home boasts a pendant light made of leather, the ceiling beam is an old railroad track that was found in a nearby field and the flooring is tinted cement tile.
When spending a lot of money on a remodel you'll want to create a space you love, but if you're planning on selling at some point you'll also want to secure a return on your investment (you'll also want to like the room yourself 20 years from now as your tastes change).
In this cheery Hamptons home, the kitchen cabinetry is custom made, the stools are by BassamFellows, and the pendant lights are by Louis Poulsen; the refrigerator is by Sub-Zero, and the hood is by Wolf.
Homeowners Michel Botbol of Polo Ralph Lauren and Arthur Krystofiak handsomely renovated this neglected 110-year-old barn on Long Island. Pendant lights by Urban Archaeology hang above a marble-top island in the kitchen, a brick-clad fireplace looks crisp and contemporary thanks to a coat of white paint, and the grandfather clock is a Swedish antique.
Decorator Timothy Whealon painted the kitchen floor of this Hamptons home in a giant checkerboard, but it's the crisp white walls and cabinetry we love most.
Wall-to-wall subway tile from Urban Archaeology looks crisp and clean in the Lexington, Kentucky, kitchen of fashion designers Mark Badgley and James Mischka. The mostly white space is softened by golden touches, from the vintage wall clock to the sink fittings by Newport Brass to a pair of pendant lamps by Rejuvenation.
Stainless steel has been the presiding choice for new kitchens, often replacing old white appliances that looked dated. Though it's hard to imagine such sharp stainless steel appliances falling out of fashion, they could very well go out of style in the future. In a 2010 study by Consumer Reports some kitchen experts said that the stainless steel reign was coming to an end. And what will replace it? Likely reimagined, updated white appliances. For example, a glass-like polished enamel that is modern and reflects light.
The kitchen in fashion executive Scott Currie's Southampton home has casual country elegance, with a farmhouse-style ceramic sink from Rohl and fittings by Samuel Heath & Sons. A pair of slender pendants adds a modern touch, and a navy, rope-patterned tea towel nods to the home's seaside location.
Sure, you may not have the luxury of the centuries-old brick walls just made for an Aga stove, but it shows just how well the rough-hewn look can work in small spaces. The oven is used for cooking and as the ground-floor radiator; the York stone flooring is original to the house.
From the appliances to the cabinets, we've broken down 50 different white kitchen ideas.
The New York kitchen of fashion designer Josie Natori is a minimalist study in white, with cabinetry by St. Charles of New York, a Gaggenau cooktop, and a marble-topped island.
You can't go wrong with white in the kitchen, so sit back and let these fabulous ideas and pictures inspire you to take your kitchen from drab to dazzling.
Dark-walnut floors, green soapstone counters, and custom stools (painted Benjamin Moore's Phelps Black) add balance to the kitchen's white cabinetry in this Washington, D.C., home. The built-ins and trim are painted Bancroft White by Darryl Carter Colors by Benjamin Moore.
White's inherent brightness makes an impact in an open-plan kitchen with high ceilings, providing additional light and opening up the space. The homeowner added cozy, unexpected old-house details—like kitchen countertops crafted from salvaged wood floors.
A kitchen remodel is one of the most common renovation projects in homes today, and also one that can have a significant effect on resale value.
Photographer William Abranowicz's Westchester ranch features Thonet bar chairs and a custom wooden table—along with sparkling white walls and milk glass-lined cabinets.
This New York studio apartment's custom cabinetry is painted in Benjamin Moore's Dove Wing. The countertops are Caesarstone, and the dishes are from Restoration Hardware.
This antebellum Georgia house features a late-1800s Belgian butcher's table, now a kitchen island, that still bears traces of newsprint from the table's hardworking industrial days. The homeowners left the Carrara marble counters unhoned to show wear. The walls are painted Country Stove White by Ralph Lauren.
An Italian industrial light fixture hangs above an antique bluestone table and 19th-century American Windsor chairs in the rustic-style kitchen of Ellen DeGeneres and Portia de Rossi's Santa Monica home. An Ib Kofod-Larsen armchair and a mid-century Danish lounge chair in its original leather sit near the fireplace.
Custom-made lacquer cabinetry lines a wall of the kitchen in this Manhattan townhouse; the barstools are by Philippe Starck, the vintage light fixture is by Stilnovo, and Saarinen Tulip chairs by Knoll surround a table designed by John Meeks.
Using a Pearl Ash subway tile in this lake house kitchen and pantry gives the white space added dimension in a subtle way.
A 1912 Dutch Colonial in Philadelphia belonging to Keith Johnson and Glen Senk is an ode to French country chic. The marble-and-oak island is a replica of one at La Mirande hotel in Avignon, and the vintage grape-collecting basket is from the Champagne valley.
Steven Gambrel designed this chic upstate New York kitchen, which features custom cabinets, a marble countertop, and a newly-coffered ceiling.
Color Inspiration Design Ideas The Best Kitchen Color Schemes The Best Kitchen Island Ideas Beautiful Outdoor Kitchens Beautiful White Bathroom Ideas White Living Rooms You'll Love Kitchen Inspiration: 7 Ways to Warm Up White
Ralph Lauren's kitchen in Manhattan features a custom-made vent hood, white lacquer and stainless steel cabinetry, and a sleek island covered in Celador.
In the kitchen of this California home, the island, cabinetry, and trim are painted Right White by Restoration Hardware.
This kitchen feels refreshingly open and airy, thanks to a white-and-gray palette and the absence of upper cabinets. The homeowner added a medley of distinctive pulley lights from Europe, and an antique dish rack dating back to 1865 that was, she says, "the perfect weathered gray."
Related Images of White Kitchen Designs