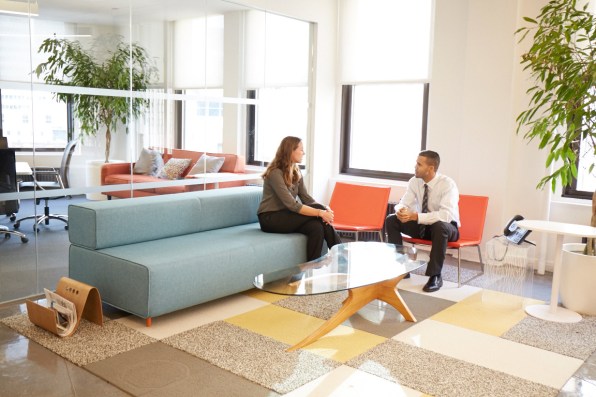 Our work spaces in the future will provide different environments for different phases of work – like protective insulated cocoons for periods of deep concentration. These will be in addition to today's stimuli-filled social co-working spaces that promote collaboration.
What do you think will be the single biggest driver of change in the way we work over the next 10 years? TW: Evolving socioeconomics. By this I mean that more international travel, better gender equality (and sharing of childcare) and new technologies will result in a society that wants and needs more choice, autonomy and independence in their working life.
The days of getting bawled out by HR for turning up half an hour late are on their way out. A study by Dr Paul Kelley of Oxford University last year revealed the nine-to-five working hours are completely out of sync with human biology, posing a "serious threat" to health. The message is sinking in, with companies including PwC offering variable hours. And for the most sleep deprived, aka parents? Sleep pods are coming in. Even babies are welcome. Goldman Sachs opened the City of London's first on-site crèche, and has extended the idea to New York and Tokyo. Elite workers need to be at their peak. The office of the future will promote their wellbeing. 
Despina Katsikakis advised Google when it was first developing its office concept – possibly now one of the most copied on the planet. She is now advising on 22 Bishopsgate in London, set to become the UK's first WELL Certified building and acts as a consultant on the future of workplace design for Accenture, BBC, Deutsche Bank, Lend Lease, Nokia, and GlaxoSmithKline, Microsoft, and Morgan Stanley.
How will this impact the built environment of our cities? DK: Existing building stock will be ​reinvented as a blurring of functions becomes the norm as a result of technology that allows us to work, live, learn and play anywhere and anytime.
What do you think will be the single biggest driver of change in the way we work over the next 10 years? NF: I think the social agenda will be the big driving force. And technology. But also trying to overcome our natural, human fear of change.
What will the office look like in 10 years' time? Mikael Benfredj: I don't think companies will be separated the way they are today. There might not be one dedicated building for a single company. Or even dedicated floors. I hope large companies will want to expand their values and culture more profoundly around their partners and clients. Design will be sunnier – meaning it should have more space available outside – and smarter, meaning more automation.
How will it affect the way we use our homes? TW: In the future we expect that the workplace will complement home life more and more. When an office caters for more aspects of your life, home can become a true sanctuary.
The #Cloud.Paris building is another Wired Certified development in the French capital
What will we see more of – and what will we see less of? DK: More choice of environments, amenities and services with a focus on people's performance. And I think we will see less offices with one-size-fits-all rows of desks with a focus on cost reduction and hard metrics.
#AIAre emotionally intelligent bots the future of AI? #TradingThe new normal in forex trading #EnergyPairing access to finance and energy to solve global poverty #ChinaChina's media industry could rival Hollywood #MediaSport is ahead of the game in media innovation #Business DataWhat makes a successful Chief Data Officer?
What do you think will be the single biggest driver of change in the way we work over the next 10 years? DH: The growth of the 'office experience' – the hospitality side.
What will we see more of – and what will we see less of? MB: We will see more integrated services such as childcare facilities, laundries, hairdressers, banks and post offices, plus more regulation – things like lighting, chair comfort and screen hours will all be monitored. And I think offices will be more disability-friendly too. And there will be less personalisation of your specific spot or desk.
Companies strive to boost collaboration between workers. But how about collaboration between firms? A trend is growing for companies to share office space to boost creativity and energy. Creative agency ZAK is a pioneer. "We share our multi-level open-plan office with three other creative businesses which share our values," says Jo Davies, ZAK's chief executive. "Creating an environment where lots of different brains and personalities work in the same space – together or apart – can foster a more engaging place of work and fuel new energies." 
How will this affect the built environment of our cities? NF: Take 3D-printed buildings as an example. I think, if properly harnessed this would offer a lot of opportunities. The downside would be mindless repetition or intrinsically bad design practice. But I would ultimately take a more optimistic view and say it offers greater customisation potential and greater room for creativity. Of course it raises some very big social issues. If you are able, through robots and AI, to do things very quickly and efficiently that are otherwise very labour intensive, then that's liberating in one sense. But there are issues over the future of the workforce – but historically these sorts of changes have resulted in higher levels of education and a more productive redeployment of labour.
Lord Norman Foster is one of the best known architects in the world. Now 82, he is the designer behind some of the world's most iconic buildings including City Hall in London, the Reichstag Dome and, most recently, the $5bn new Apple Campus 2 in California.
What will we see more of – and what will we see less of? TB: We will see more flexibility of space usage. For example, building cafeterias that were only used during breakfast and lunch hours in the past will serve as collaborative work spaces and meeting rooms. Open space offices will be divisible at the click of a button.
We will see fewer long-term leases. While businesses will still require and benefit from co-locating their employees, they will want more flexibility to add and subtract space as their needs evolve.
What will the office look like in 10 years' time? Dan Harvey: We're already starting to see a pushback on some of the tech and the elimination of privacy. So a departure from open-plan as a blanket design default and a move back to some private offices. Collaboration is great but there is an emerging feeling that without a choice, people are sometimes finding it challenging to get stuff done. So through that push for a productive workforce, future offices may become more private again.
Tamara Brisk is managing director of Wiredscore France. Launched in New York in 2013 by Michael Bloomberg, the connectivity ratings system scores commercial buildings on everything from internet speed to mobile connections. It now has offices in the UK, France, Germany and Ireland and has certified more than 750 buildings across the globe
What will the office look like in 10 years' time? Despina Katsikakis: We will see a much more diversified portfolio or flexible and on-demand work spaces. Both the nature of corporate portfolios and our own personal workspaces​ will become a series of locations to work, based on convenience, function and comfort. This will mean they are much simpler and used much more intensively and intermittently.
Why do we need an office of the future? Perhaps because the current model isn't working too well. The report Employee Motivation: Who came out on top in 2015? by Red Letter Days for Business reveals that half of workers felt neutral or negative towards their job. Only 14 per cent "loved every minute". Hence the experimentation with hammocks, break-out areas, Hawaiian tiki bars, table football… anything that will help. Rob Hunter, managing director of Hunterlodge Advertising, says: "To alleviate stress in the future office, employers need to introduce creative spaces. At Hunterlodge, for instance, we have a beach mural printed on the wall and suspended swinging chairs." 
This website uses cookies to enhance your experience when visiting it and to serve you with advertisements that might interest you. By continuing to use this site, you agree to our use of cookies. Find out more here.
A rendering of Apple Campus 2, designed by Foster & Partners. Via Forgemind ArchiMedia
What do you think will be the single biggest driver of change in the way we work over the next 10 years? TB: Research about how to best unlock our mental capacity and manage the speed and ubiquity of information will make us more productive with no supplementary effort.
Places where we work in the future may not resemble the offices of today, but they will all aim to get the best from employees
What will we see more of – and what will we see less of? NF: More nature and more sustainable features. And perhaps less real estate developer involvement. The overarching trend is very much the entrepreneurs pushing new ideas for design forward. Apple Park was initiated by Steve Jobs then carried on by [chief design officer] Jony Ive and his team with the support of [chief executive] Tim Cook. As a rule, developers now tend to just follow the market whereas the entrepreneurs lead it.
Currently elevators go up and down. In the future, they'll go side to side too; in the near future, in fact. German multinational ThyssenKrupp has unveiled a new ropeless elevator or travellator which can move laterally as well as horizontally at up to 18 metres per second, allowing rapid transportation across large buildings. The absence of rope means multiple elevator boxes can travel in the same shaft, cutting waiting times to 15 seconds. Weight is reduced by 50 per cent, making the system more energy efficient. 
3D printers build physical objects layer by layer. Almost any material can be used, including metal. Nasa uses 3D printing to build jet engine parts. An office 3D printer can be used to manufacture prototypes, build architects models and crank out spare parts for other equipment. A survey by Infomentum reveals that a third of UK employees believe their office should have 3D printing by 2020. And 3D printers are already affordable. Models start at £271 for the XYZprinting Junior; the FlashForge USA Dreamer 3D is a solid mid-market model at £695.
Slow broadband? Ten years ago we used to marvel at 10Mbps download speeds. Now rural cottages in Northamptonshire get 750Mbps via Gigaclear fibre to the house. So where's the upper limit? Li-fi, using visible light, takes in-office data to 1,200Mbps in practice, with as much as 224,000Mbps possible in theory. Li-fi uses visible light between 400 and 800 terahertz, and since light can't pass through walls, it can't be hacked from the outside. The downside is the transmission is line of sight; block the signal with your hand and it cuts out. 
The workplace of the future will rely on data to make all big decisions, including how staff work. "In the future, we expect to see the rise of the intelligent workplace that monitors its workers' environment, mood, wants and needs to create an all-encompassing, intelligent and unobtrusive working environment," says Euan Davis of the Centre for the Future of Work at Cognizant. "The Bank of America, for example, has been using sensory data to better understand employee performance dynamics. From analysing the data gleaned from its employees, it learnt that call centre performance increased when staff spent time with others in their social circle during their lunch breaks." 
Read next: Station F – the world's largest startup campus – opens in Paris
Most of the publicity surrounding virtual reality (VR) headsets has been around gaming, but office applications are numerous. Designers can use VR to work with fleshed-out models of their work. Engineering firm Atkins already uses VR to showcase designs to clients. Immersive worlds will offer a distraction-free work environment. Scouting for new workspaces can be done using VR. Hamish Brown of interior design firm 1508 London says: "With a virtual reality headset, potential clients can be transported inside the office space, and are able to walk from room to room, experiencing their size, look and feel. You can then experiment with a variety of different options – lighting, materials and overall design." 
How far do you think connectivity will move on in offices over the next decade? TB: It will become as important as location and price in the choice of an office. Excellent, reliable connectivity will become standard.
22 Bishopsgate, London. Courtesy of PLP Architecture / Lipton Rogers Developments
This iframe contains the logic required to handle Ajax powered Gravity Forms.
What will the office look like in 10 years' time? Tamara Brisk: Offices in a decade will be designed to best foster our cognitive processes and working preferences. We already know that people are more creative at certain times of day and that environmental stimuli can amplify collaboration but we are at the very beginning of our understanding. In a decade, knowledge workers will be more productive because they will be better able to tap their mental capacities. For example, individuals will know that our finest strategic brainstorming prowess happens in the middle of the day and even have mental warm-up exercises to foster their performance.
What will we see more of – and what will we see less of? DH: Going straight to the unusual stuff, we could see more sensory deprivation tanks and things that help staff reach this 'state of flow' that everyone is talking about here in the Bay Area. It sounds quite crazy but access to this sort of experience, the removal of neuro stimulation to allow employees to work at their creative best, is popular. And while we won't see less technology we might well see more controlled tech.
Name*Email*Read our privacy policy for more information on how Raconteur protect and manage your submitted data.
So what might the workplace of the future look like? We asked six office-space experts from around the world to hazard a guess as to where, and how, we will we all be working in ten years from now.
How has your experience of watching a furniture store evolve into a coworking space shaped your view on the way people want to work? MB: Considering we didn't do it on purpose, it was very inspiring to watch the transformation of the usage of the space in a short period of time. I remember the days when one or two people would come into the store to work. It was very calm. Today it's like a factory. There are 40 to 50 people every day, coming in and out all day long to have meetings and work.
A rendering of a sci-fi campus conceived by MAD for electric car company Faraday Future in California
How do you think the concept of the office as a business 'club' will develop over the years? TW: People love to belong and feel part of something. The idea of professional networking is not new and by bringing this under one roof you create a very fertile ground for collaboration, which empowers workers. With coworking operators expanding globally, suddenly the membership becomes about much more than just a building or a physical space to go and work in, it's also an international supportive community.
What will the office look like in 10 years' time? Norman Foster: Greener – in every sense. Young people will choose office buildings based on facilities and lifestyle but also on their sustainability credentials. Future generations will be much more demanding and much more questioning in terms of what a potential employer will be doing to tackle climate change. So I think we will see a shift where creating a good quality working environment which is more responsible in terms of sustainability becomes good for business as well as for the environment.
How will the changing office affect the way we use our homes? MB: Work will be more invasive. Even more than it is today, thanks to frictionless technology and the ability to work anywhere. I think 'workspace' will become a 'meetingspace'.
How will this impact the built environment of our cities? TW: Traditional office space is under pressure so office landlords will need to adapt to stay relevant.
Is it feasible to work without any paper? Eco warriors say it is, but the reality is a little trickier. Deloitte is the latest multinational to try and axe paper. Their new office in Montreal was designed by agency Arney Fender Katsalidis for zero paper usage. The 1,100 staff, even senior partners, get no fixed desk and one storage drawer for files, documents, shoes or whatever. "This is tied to the concept of having an agile workforce and paper proves to be an anchor point," says Sylvie Flanagan, Deloitte's head of operations for the Quebec region. "After six months, comments remain positive, and people appreciate our environment and concept." 
What will the office look like in 10 years' time? Tanya Wood: By then we expect the work place to have become even more comfortable – a place where you choose to spend more time without the pressures and formality of the traditional office. With a call for more flexible working hours already, people are spending less physical time at their formal office. They want spaces that actually cater for, and enhance, their working lives. That could be access to everything from gyms or social space, bedrooms or a provision of studios and specialist equipment or facilities to support content creators.
The dawn of artificial intelligence (AI) is upon us. IBM Watson offers AI computing on demand and the race is on to create a humanised AI. The current leader is Amelia, created by IPsoft. Amelia has a virtual face and body, speaks 20 languages, and can interpret the user's emotions via a webcam. IPsoft chief executive Chetan Dube says: "Give it ten years and you can be certain that regardless of your job, you will work alongside a new best buddy who will be AI. They will allow us to focus on what's enjoyable, strategic and creative about our work. They will increase our human power just as calculators once did, and then PCs, databases and search engines." 
Tanya Wood is director of Soho Works, the workplace offshoot of hospitality group and members' club Soho House. She oversees the group's coworking spaces in London's Shoreditch as well as potential future expansion plans.
It happens every few years: a seismic shift in the way we live our lives fuels a change in human behaviour so significant, it blows the concept of the office as we know it out of the water. Modern technology is no exception. Fast becoming the catalyst behind one of the biggest shake-ups the office has ever seen – from design to location and from sustainability to well-being – it is the shift of our generation. And hard though it may be to believe that robotic security guards and app-controlled meeting rooms are just the beginning, there is still a long way to go.
22 Bishopsgate will have London's first climbing wall. Courtesy of PLP Architecture / Lipton Rogers Developments
Greenery and natural light are the two main ingredients in the biophilic movement. The idea is to put workers closer in touch with nature, to reduce stress and open creative thought patterns. For example, employees at HOK London get to lunch in an indoor garden, with grass, deckchairs and flower beds. Oliver Heath, biophilic design ambassador at design agency Interface, says: "Reports such as The Global Impact of Biophilic Design in the Workplace found that employees who work in environments with elements such as natural light and live plants report a 15 per cent higher level of wellbeing, are 6 per cent more productive and 15 per cent more creative overall." 
DUO, a Wired certified building under construction in Paris, designed by Jean Nouvel. Courtesy of L'Autre-Image
Dan Harvey is vice chairman of the Bay Area Occupier Services group for the world's biggest commercial property agent, CBRE. He works closely with the biggest office occupiers in San Francisco and Silicon Valley and has up-to-date insight into current and future trends when it comes to office requirements of some of the most innovative companies in the world.
The office of the future triggers a lot of different opinions. Some people love hot-desking, virtual reality headsets and using giant balls for seats. Others prefer a traditional work environment. So what's the solution? SpaceZero, an interior architecture company in Manchester, transformed the Zenith building in the city by incorporating a variety of styles. There are elevated desks for those who like that, hot-desks, sound-proofed booths and interactive areas in bright colours to evoke spurts of energy. Other zones use "retro-tech", such as blackboards for traditional workers. A great example of how the office of the future can cater for all preferences. 
Mikael Benfredj is founder of Patchwork, a furniture store turned coworking space in the heart of Paris. When people started to use the display furniture as make-shift workspaces, Mikael embraced the demand for a change of use and now has plans to expand.
Add a dangling pot holder to the kitchen. Kitchens are designed to be warm and even inviting. We spend very much of our time throughout them whether it end up being for preparing meals, offering meals or entertaining. The hanging pot rack is advantageous elegance. Kitchens are designed to feel as even though they are in frequent use and a dangling pot rack certainly tends to make one feel this method . In addition to seeking so wonderful, (there are numerous sizes and styles available) additional cupboard space listed below is actually freed up in order to store other items. Rarely has anyone complained associated with having too much storage area.
Work with decorative mirrors to include fast light to your livable space . As seen above, wall mirrors could also be used to make some sort of small space feel much larger . For larger rooms, or perhaps any room with a new more limited amount involving natural light, mirrors positioned directly across through the house windows , will add instant light source . Decorative mirrors may also be used within lieu of art to be able to fill empty wall room . Large or small, mirror add light and dimensions to your living area.
Work with what you already have got to decorate. All of us have got items in our property , probably packed up within boxes somewhere and don`t have given them a next glance. Your house needs many accessories. As opposed to running in order to the store, take a new good look at everything you already have. Trays, wood made , acrylic, metal or sterling silver can be on best of luggage racks, herbal tea carts, trunks, bedside desks and coffee tables with regard to extra texture and aspect . Arrange candles on all of them , frames or pile textbooks on top of these people . Plates can be installed to create wonderful wall membrane art. Art from kid`s books can be presented and hung in nurseries, children`s rooms or their particular bathrooms. You will get amazed at your talent with what you previously have!
Wicker baskets. Straw-plaited baskets are an cost-effective and elegant approach to include storage to any area . Baskets can be utilized to store and screen books, architectural and interior decoration magazines, toys, towels in addition to blankets to name some sort of few. Place a number of tiny wicker baskets around the counter-tops in your kitchen to be able to beautifully display and retail store your fruit and fresh vegetables.
Slip into some thing a bit more comfortable!. Slip addresses frequently get a negative rap but they happen to be truly wonderful things. These people can function as a means that of changing your furniture`s look to reflect the particular seasons. These easily taken off coverings improve an advanced look without constantly having to worry about people dirtying or perhaps spilling on your furnishings . Slip covers are perfect for rooms used often by children. Over some sort of white slip-covered couches provides air of an everyday , comfortable, easy yet complex elegance.
Employ area rugs to make softer hardwood floors. Throw carpets give warmth and can easily add great texture, shade and personality to your own living space. Hardwood floor surfaces are beautiful and quick to take care of but they be lacking the comfort that carpeted floors offer, particularly within the cooler months. Location rugs can also include fun and functionality to be able to your liveable space . Use various of varying patterns in addition to fabrics together to display your character. Or put several rugs of the particular identical pattern and material , or different textures nevertheless the same color. Typically the possibilities are endless. An individual can change your region rugs to reflect typically the seasons using warmer hues and fabrics for chillier months and lighter types for the warmer instances of the year. Presently there are many lovely 100 % cotton , washable area rugs which in turn are perfect for those residences with children. There actually is no reason exactly why a property with young young children cannot end up being an elegant one.
Fluctuate your workout. Mix way up patterns and textures. Combine up old and fresh , expensive and cheap. There`s nothing wrong with inserting family heirlooms alongside your own modern couch. Great insides decorators will tell a person that one of the particular most important aspect in order to decorating your property is that that reflects who you are usually , your personality and the style. The vintage Chippendale workplace that was your grandfather`s tells a story. This tells the story regarding your past. The contemporary couch you became adoringly obsessed with and basically had to purchase furthermore tells a story, your existing story, and there is usually no good reason that the current and past can`t co-exist beautifully together. The identical can easily be said for skill. You now might not would like to place an artwork by Salvador Dali on a single wall next to a new Monet, but there`s not any reason why they cannot get in the same space together. With fabrics regardless of whether it be furniture, mats or pillows, varied colours and patterns brings warmness and texture with your being space.
Live green . Add plants to be able to your liveable space . Add these people to every room, tiny or large, few or even many. Plants invariably is an affordable means to accessorizing the space and adding colour and texture. Not simply are plants beautiful although many can clean house air and balance humidness . They can absorb impurities and remove harmful gas from the air. Simply no home should be without having these wonderful greens!
Coloring or wallpaper your bookcases. This instant pop associated with color will brighten plus re-energize any room! Is actually amazing how something consequently simple as a layer of colorful paint could instantly energize and enhance your space. This pre-installed bookcase would be easy and ordinary with no vivid blue interior. Probably the most basic and most inexpensive approach to transform a boring area would be to apply a cover of paint somewhere unpredicted . Bookcases are an perfect place to start since you don`t need to color a large area. Various other fun places to incorporate the pop of color incorporate painting fireplace mantels, the particular insides of closets, hallways and ceilings.
Paint smaller areas in softer, lighter shades which will make the room sense larger. The living place above is an excellent sort of how to be able to maximize a small livable space . A room of this kind of size provides the tendency to be able to seem cramped, however the significant windows, light colored wall space and ample using showcases not only reflect typically the natural light pouring throughout through the doors and typically the windows nevertheless the use associated with mirrors also provides the optic illusion of space, producing the room seem larger than it actually is usually . Conversely, darker colors can make a room experience smaller. Even with typically the abundance of natural light source and the strategic saving of the mirrors, this kind of room in a dark shade might have an additional boxed-in feel into it.
Whether or not you`ve just moved and looking for a speedy , little home pick-me-up, or even perhaps something better, presently there are some well-known interior design tricks that designers utilize which you too can effortlessly do with minimal energy and cost. Sometimes the particular smallest things associated with very best impact. It could get digging in a looking glass , a painting, a light or even a herb. You want to make softer your walls, brighten some sort of room, or increase friendliness to your living place. Check out these clever style as well as discover how they can stimulate you!
IMAGE COLLECTIONS : What Will The Office Look Like In 20 Years Time The Spaces