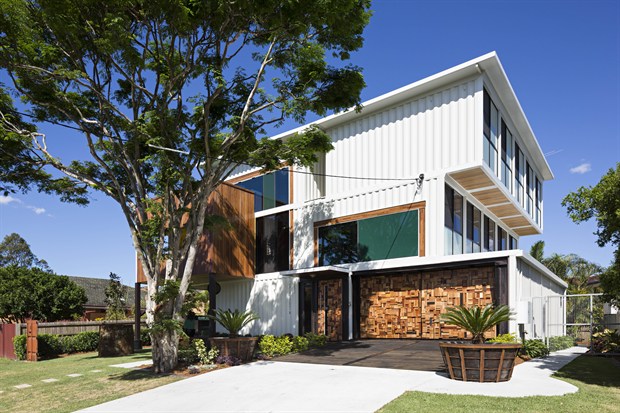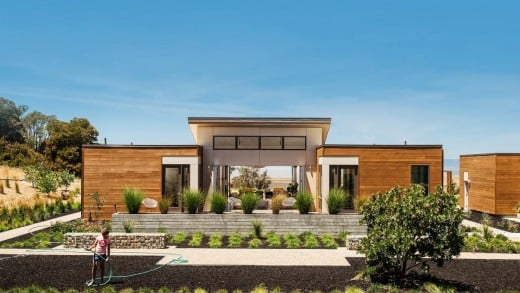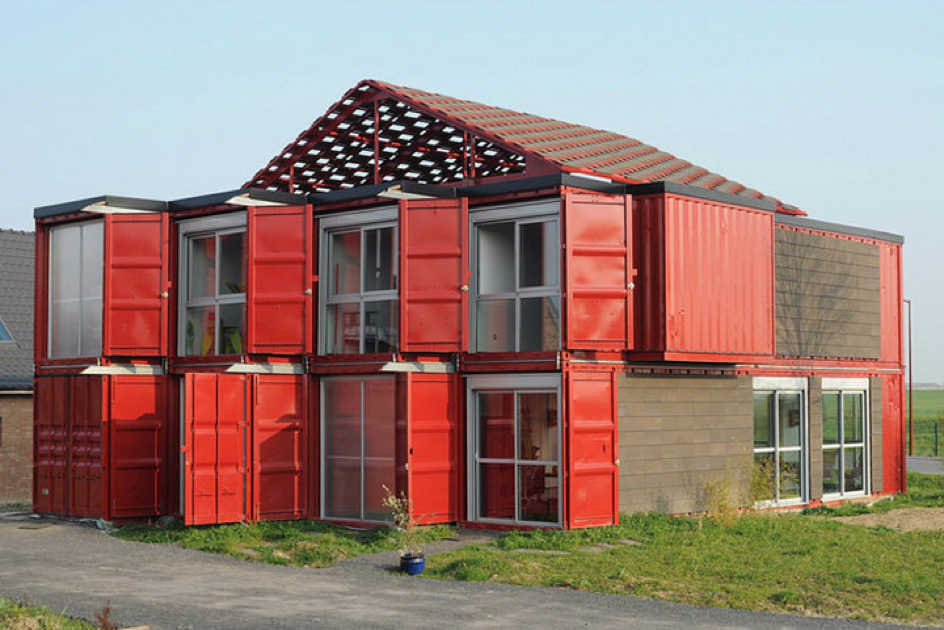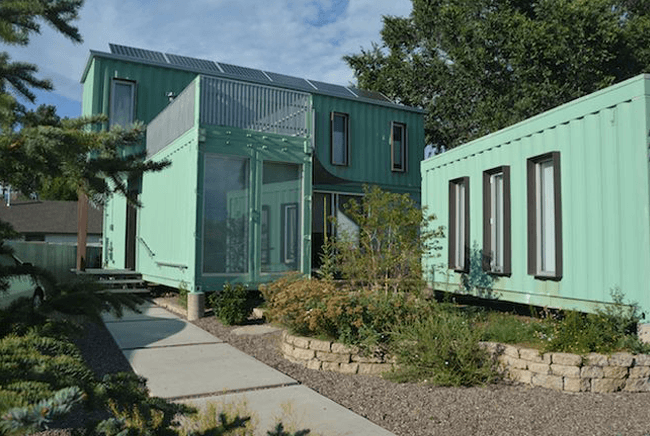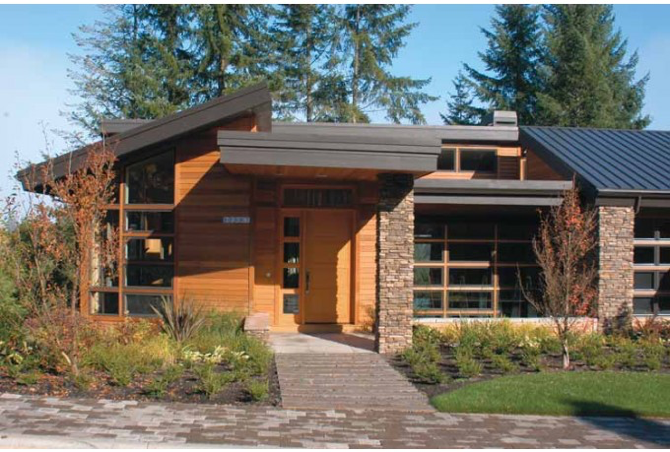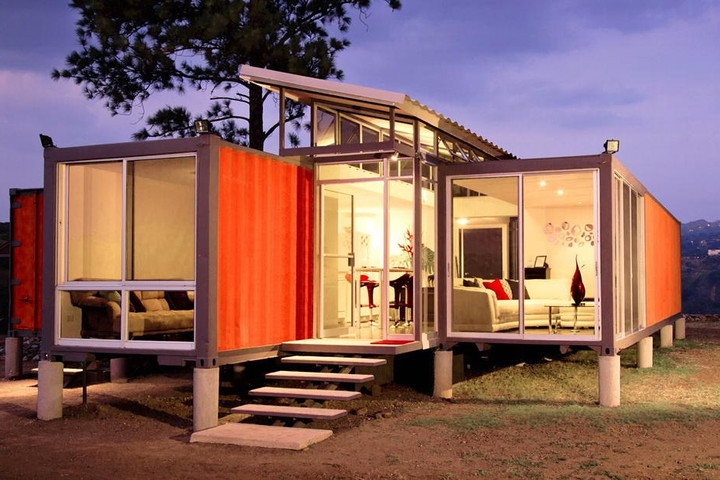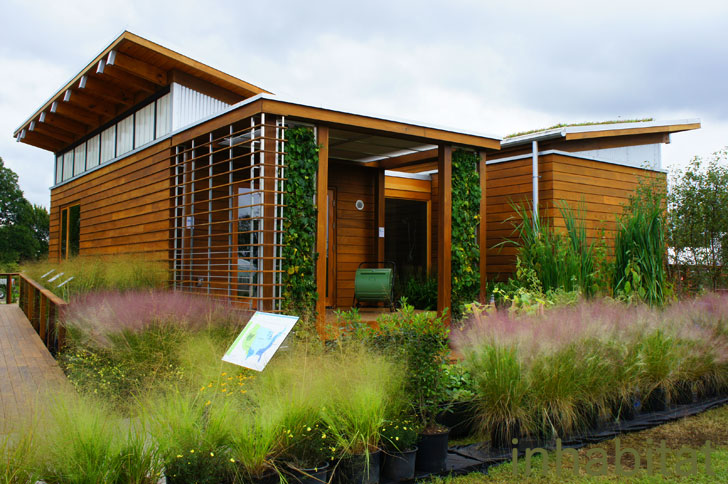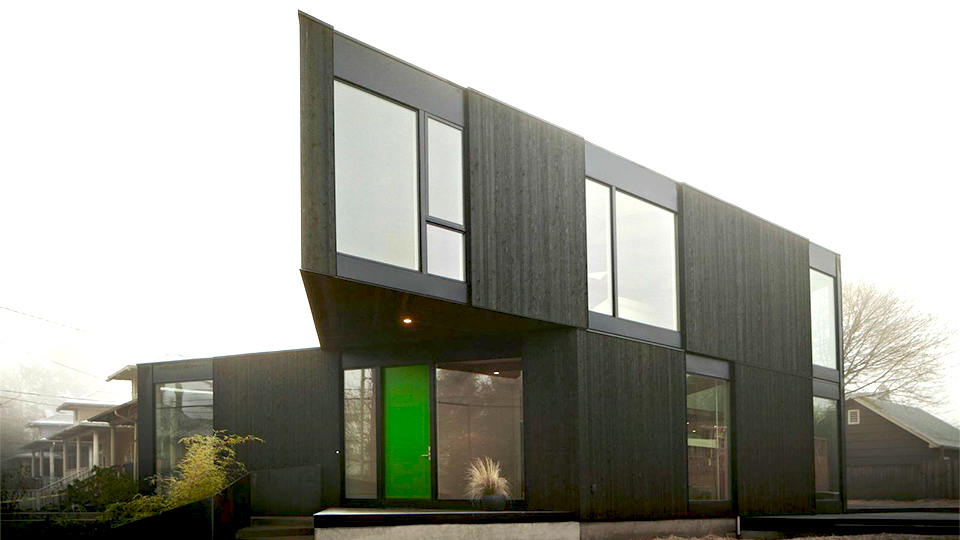 This house reminds you of where nobles lived hundreds of years ago. It has an impressive living area of 5700 sq. ft. Taking this into account, you should expect it to be very expensive to build. The average U.S. cost-to-build is $600k.
The downside is that it's pretty small and you can't fit more than a family with one child in there. The plan costs just under $1000 and the cost-to-build is a little over $100k.
This is a typical American house made of painted wood.  The porch is perhaps the most American element of this design and so is the wooden white fence. The house is not as small as it looks: 544 sq. ft. Inside, you will see 2 bedrooms making it perfect for a family of 3. If you are the type who enjoys living in small towns, this house should definitely be on your list unless you plan on building a luxurious 4000 sq. ft. property. You will pay $800-$900 for the plan and about $70,000 to build it considering the costs of the materials, land, foundation and permit.
If you think anything above 3000 sq. ft. is too much and anything below 2000 sq. ft. is like a box of matches, let us introduce you to the perfectly sized house: 2,597 sq. ft. with a front wide porch and a big center gable. It has 2 floors with 3 bedrooms and 3 bathrooms.
Measuring just a bit over 300 sq. ft., this tiny house is made entirely of wood. It looks like its meant for dolls not people but in fact offers a comfortable lifestyle. The price settles somewhere around $57,000 and it's mainly available in England but you can build it anywhere if you have the skills, materials and tools. Upstairs, there is a room for the children with 2 separate single beds and a room with a double bed.  The tiny tub definitely catches people's eye, so you can rent the construction to tourists provided that you live in an area that attracts travelers.
The construction costs can easily be kept under $20,000 if you use more than 90% salvaged materials. Some parts of this house are even 200 years old and they keep on serving their purpose for a new house.
The price of this house starts at $1 million for 2,504 sq. ft. spread across 2 stories. You get a roof deck accessible through the master bedroom, a shed style roof perfect for solar panel installations and a MERV 15 air filtration system.  There are a total of 3 bedrooms plus 1 media room and office space, which is more than comfortable for a family of four.
The modifiable plan costs between $1500 and $1800. The cost-to-build is anywhere between $400k and $500k. This may be a disadvantage for those looking for affordable homes.
The design is cheap because it's basically just a box. The construction itself should not cost more than a wooden shed considering it actually can be used as one. Given its dimensions, you won't need a high amount of wood. The biggest investment will revolve around making the matchbox livable.
Now let's move on to the very cheap prefab houses available on the market. What better place to find one than eBay? This panelized dome house building kit costs roughly $19,000 and measures 370 sq. ft. You have to carefully read the ad because the price does not cover doors and windows (nor their framing), foundation, shipping or installation among other things. Some may say it looks weird while others appreciate its uniqueness. It's all about personal preference, so you will either love or hate this design, there is no middle path. It has 1 bedroom, a living room and a kitchen area.
The minimum construction package costs approximately $1200 and the cost-to-build is a little over $400k. Given the design and the big living area, it's not outrageously expensive.
Anyone who's looking for secluded houses should take a look at this one. It's a 376 sq. ft. cabin that can be reached only by foot given its surroundings. The architects claim it fits 21 people and if you take a peek inside you will notice a very large space for laying down. Anyway, it's still unlikely 21 people can fit in there but we welcome you to give it a try. The design is unique and custom made which is why the plan can cost more than $1000.
Install a shower instead of a tub and choose a very slim staircase instead of massive wood ones. Metal stairs give a modern look to the interior design and also save space. They are not recommended if you have small children though because they can easily slip and hurt themselves. In fact, this entire design is not child friendly. The plan starts at $800 and the average cost to build per sq. ft. is $150.
After seeing these designs, some cheap, some expensive you should have a fair idea of what types of prefab houses are available on the market and how much it would cost to have them built. In general, the entire process has the following steps: you make the order, they build the modules and after they deliver them to your location, the installation starts. This step can take as little as a few days or as much as a few months depending on the complexity of the project. If you didn't opt for a turnkey package, there is one more step left: to make the house suitable for living. The whole process still is takes less than building the house from scratch.
You even have a small foyer and 2 porches: one in the front and one in the back. On the top floor there are 2 bedrooms each with its own bathroom. You can see there an open deck too. The master suite is on the first floor.
This design with high peaked and steeply sloped roofs actually combines the New American style with the French country style. French influences are seen in the design of the doors too. There is a certain rustic elegance about this house.
While having a custom-designed home might seem like the golden standard in terms of getting that beautiful and exquisite architecture, design, and decor elements, there are many good reasons why you might opt for a prefab house instead.
Although it doesn't look like it, this house can actually accommodate 8 people in only 319 ft.  Note that it has wheels so it can be used as an RV as well. The minimum cost-to-build is $73,000. The interior design is well thought making good use of space. It's equipped with everything that a modern house has: washing machine, kitchen appliances, TVs etc. The windows make the interior bright and create the illusion of extra space. If you don't like the color, you are free to paint it however you like. Make sure to get a car big enough to drag your house around on family trips. Otherwise, you miss on the advantage of having a house that literally rolls.
This design is very straightforward and has a very suggestive name: the matchbox. It's fully off-grid and self sustaining. It's also very small: only 140 sq. ft. Earthen plaster clay controls humidity and solar panels supply electricity. The house has a composting toilet, a rain catchment system and of course a fledgling garden. You can actually put the house on wheels and move freely to other cities.
The outside of the house looks rustic and somehow gives you a heads up about what you will find inside. Measuring about 12' x 21', this house is made of salvaged materials. There is enough space for a small kitchen and living room. If you go upstairs you will find the bedroom which actually looks nice. If you are the type who has lots of furniture, you should probably steer clear from tiny homes. The bedroom is big enough for a double bed and a small wardrobe to keep your clothes. Anything more than that will make the room look cluttered.
Before we get started, let's briefly mention the importance of getting a building permit and or a site plan before you plant that tiny house or even a spaceship-like livable capsule or an eco-pad! Although it may be small or tiny compared to building a traditional house, any construction or placement of a habitable structure will most likely require a permit. The regulations are not the same country wide and not even state wide. Some areas have specific requirements that you must comply with. For example, regulations in high tornado risk areas differ from parts of the country that virtually never get hit by tornadoes.
It's true that a family of four will probably have some problems living in such a small space, but they are perfect living spaces for millennials, young couples, singles and even a family of three. It all depends on how much space you are used to living in and what your lifestyle goals, aspirations, preferences, and desires are.
For example, a 1,643 sq. ft. house with 3 bedrooms, 2 baths and 277 sq. ft. garage space is made of 2 modules  that can be assembled on site for $262,880. If you choose the modular+site option, the price goes 60-70% up and you are looking at $420,000 minimum. The design can be adapted for a buyer who needs only 1 bedroom, thus reducing the price with roughly $100,000. However, in this case you are saying goodbye to your garage space.
This design makes use of vertical space and can be fitted between 2 distanced regular houses. For that reason, you will mostly see such tall homes in crowded cities where land is expensive. So, saving money on land costs is another reason why you should consider similar projects. If space is a problem for you, here's a trick: hang mirrors on the walls to make it look larger and install large windows to let more light get in.
In order to apply for a building permit, you will most likely need a site plan. This is merely a drawing of the place where you want to build the house. Applying for a permit is not cheap, so it's understandable if you want to save some money in the process. The best way to do this is by contacting the guys at http://www.24hplans.com for inexplicably affordable, quality site plans. Not only will you get a professionally drafted plot plans, but you will also get them in the shortest amount of time possible. Use our promotion code: 24hplans-20off to get a 20% discount off any package. — Please note this is a limited time offer, exclusive to the readers of our blog. This offer is not being advertised anywhere else.
This is not an expensive design to build, it takes about $350K. The plan costs between $1500 and $2500 depending on whether you want the PDF or the CAD file.
Armed with a professional site plan, a floor plan, or a photo-realistic 3D render from 24h Plans, you can easily obtain that building permit and get on with your project. Use our exclusive promotion code: 24hplans-20off to get a 20% discount off any package. — Please note this is a limited time offer, exclusive to the readers of our blog. This offer is not being advertised anywhere else.
However, you have to think about the future, which is why the 3-bedroom M model would be more suitable if you think you will expand your family in the future. Besides, the M, L and XL models offer garage space.
The plan costs $1200 if you want only the PDF or $2000 for the AutoCAD file. The cost-to-build is between $300k and $400k.
Combining a round piece with a rectangle, this house measures 1500-1600 sq. ft. and the shell costs $110,000-$120,000. The price of the shell includes the fiber cement siding, the doors, windows, WebTec floor system, walls and energy modelling depending on the climate you live in. If you want the siding, porch, the shingle roof, as well as the solar hot water and electric kits, you have to pay extra fees. The solar kits actually allows you to save up to $1,000 per year on energy bills. The house has 3 bedrooms, 2 baths, and an open floor plan that includes the living room, kitchen and dining area. You also get a laundry room and a walk-in closet.
Given the fact that there's a wraparound front porch and 3 rear porches, the house is suitable for families who enjoy outdoor activities. Measuring 4,012 sq. ft., the living area includes 4 bedrooms, 4 baths and 2 garage bays.
The very essence of the design is to combine coziness with some pragmatism, and we can say they nailed it. A great feature of the HOMB house is that regardless of how small it is you always get at least 400 sq. ft. of deck space. How awesome is it to wake up in the morning to drink your coffee on your deck watching the sun come up? It's not only very romantic but also relaxing. Such an experience fuels you up for the entire day that lies ahead of you.
Developed by Method Homes and Skylab Architecture, this design comes in different sizes. Regardless of size, the house will be made of 100 sq. ft. triangular models that can be transported hundreds of miles away from the construction site. If you are looking for the cost effective option, the 1 bedroom 900 sq. ft. XS model is perfect for a couple with no kids.
By 24hPlans| 2017-05-05T21:05:00+00:00 December 6th, 2016|Architecture, Design, Energy Efficient Homes, Green Home Ideas, Home Designs, House Design, Tiny Houses|1 Comment
Here's a special tiny house design. The construction is actually a treehouse, the dream of any 8-year old. However, adults will be pleased too when they see how it looks inside. The furniture is mostly made of hardwood. No Ikea for this design if you want it to look rustic. The interior stairs lead to the upper level to find a bookcase and a comfy armchair where you can spend you days reading and nights chilling with your loved one. Depending on the complexity of the project, you can pay as little as $10,000 or as much as $50,000.
This 3912 sq. ft. Texas style house has 2 floors features 4 bedrooms, 3 full baths and 1 half bath. There's plenty of room for a family with 2-3 kids. Since it has 3 garage bays, you won't have any excuses for not buying your children cars when they are old enough to drive. The main disadvantage of this design is that you only get one porch and it's not even an open one.
Full window walls that make the rooms look even more spacious Decorative stone pillars at the entryway A fireplace in the master suite A garden tub A recreation room A wet bar that connects the professionally designed kitchen to the vaulted dining room 11×14 ft.
double garage that you can turn into a workshop
Here's a cabin meant to be on the snowy mountain slopes. It's made of logs and provides a small yet romantic retreat for couples. The interior design is modern combined with some extra rustic elements. There is no real kitchen because the cabin is small and you need space for a bed. There is electricity though and you can easily bring a mini fridge and a microwave. The bathroom looks amazing and has a stone heated floor. Just imagine the warm feeling you get when you step on it in the middle of winter. Pure bliss!
The sun deck is half the length of the house. The bedrooms can be considered a bit small and the fact that 2 of them share a wall may be an inconvenience. The ceilings are vaulted and you have a home office too. You need at least $300k to build this house.
This design features an averagely sized 1-story house of 2495 sq. ft. It has 3 bedrooms and just as many garage stalls. There are 2 full baths and 1 half bath. Women will love its huge walk-in closets. The design sticks to the main features of the Craftsman architectural style:
Top 15 House Plans, Plus their Costs, and Pros & Cons of each Design
It has 3 bedrooms and 2 garage bays. You also get one extra room that you can turn into an office, library, study or whatever you want. The verandah extends on the entire length of the house. There are 2 guest suites and a master suite.
In some countries, you don't even need a permit to build this house because it measures only 96 sq. ft. In Finland for example, you only need a permit if the house is bigger than 96-128 sq. ft.  This micro living space can be made of recycled materials to keep the costs to a minimum. Given its dimensions and simplicity, it took only 2 weeks to build the house and a bit over $10,000 to finance this project. The bedroom covers 50 sq. ft. of the construction and it's located upstairs. On the deck you can add a fire pit to keep you warm during chill nights watching the stars.
Here's another house meant to be in the middle of nature. Bricks were used this time instead of wood, making the house more suitable for very windy areas. The house is insulated and has energy efficient windows that doesn't let the heat escape. The metal roof is durable and its shape allows the water to easily slide down making it perfect for rainy locations. It lacks a porch but there is a patio where you can sit back and relax in a comfortable chair. It's true you won't be protected against rain or snow, but then again who stays outside in bad weather? A 400 sq. ft. house with 1 bedroom takes $400 to plan and about $60,000 to build.
A basement can be included for an extra $400 on a plan that already costs $1800. The cost-to-build is about $260k.
If you have always dreamt about a classic barn style house but you never had the money to build one, this is your chance to make your dream come true. This kit is assembled into a 2560 sq. ft. house with porch and it costs about $30,000. Still,  it's important to notice that the kit includes only the frame of the house and the roof. The doors, windows, and finishing are not included, which is why you have to take these costs into account. Also, don't forget about permits, insulation, plumbing, HVAC system and electrical wiring. Anyway, the entire price of the house should not be higher than $70,000-$100,000.
The plan should not cost you more than a couple hundred dollars and the construction itself would take about $30,000 assuming you want to build a foundation for the house. If you need a mobile home like the one in the image, the costs are significantly lower. Besides, there is an added advantage of attaching a house to your car and traveling the world! 😉
Top 20 Tiny Home Designs and their Costs – Smart Green Living Ideas
Top 15 Prefab Home Designs, and their Costs – Modern Home Design & Architecture
You won't have to fight with your spouse about who gets to park his car in the garage, because it can fit 2 cars. The fireplace in the living room gives it an authentic look. In the basement there is a room that you can turn into an office or a 4th bedroom. However, if you enjoy having a lot of space, you may want to steer clear of this house. It's comfortable but not extra spacious.
And last, another $1.3 million house that measures 3.565 sq. ft. confined in a 2-story design. There are 3 bedrooms and 2.5 baths. The 13′ high ceilings combine versatility with stunning views, and so does the private balcony of the master bedroom. The bedrooms are upstairs, while the living room area is at ground level together with the laundry room and media room.
1-story houses with medium to large living areas are specific to the Mediterranean people and so are the roofs you see in this picture. Measuring about 2,880 sq. ft. this design combines Neoclassical, Modern and Mediterranean features.
There are 3 bedrooms each having its own bath so there will be no queue in front of the bathroom door in the morning. In spite of its rustic appearance, this house has a built-in media center and walk-in closets to please any shopaholic woman. There are 2 porches where you can hang out with your friends during summer nights.
Do you want your house to look like this? Well, all you have to do is pay $175-$300 per sq. ft. The interior floor plan is customizable to fit your exact needs but the house will be built in modules and then transported to your location for installation. The manufacturing process will take 1 month while the construction assembly will take approx. 4 months (delivery, foundation, actual assemblage). In addition, you should take into account the time needed to get a permit, to prepare the design, to do interior finishes, landscape & hardscape work, and utility hook-ups.
If you are interested in this design, you can find a Vipp showroom in New York. The house will be delivered fully equipped as you see in the photos. The wall glasses are meant to blur the line between indoor and outdoor space. The house is quite small, measuring 592 sq. ft. It has a family room, 1 bathroom, and 1 bed loft, thus making it suitable for a person who lives alone or with a partner.
If you like the Victorian style with signature towers, steep gables and embellished exterior rims, you have found your dream house. Not too small and not too big, measuring exactly 2696 sq. ft., this 2-story house has 4 bedrooms, a 455 sq. ft. garage and a 230 sq. ft. wraparound porch. It's true that the rooms on the main floor may seem a bit jammed together but keep an open mind. The house also has a basement, a balcony, a guest suite and a fireplace.
The house will be assembled on a monolithic concrete slab foundation with footer but the plans can be adjusted to include a basement if necessary. Because of its even distribution of wind load (unlike in regular house designs), the dome is very strong and withstands 225 mph hurricane winds and F4 tornadoes thus making it perfect for high risk states.
Anyway, for all of you who are on board with the prefab home idea, we scoured the internet for 15 designs that will show you don't have to wait years to have a brand new home.
This plan is very affordable, only $700, considering we are talking about a 3,192 sq. ft. house with 4 bedrooms, 3 bathrooms and one big garage. The house has only one floor with a huge main space divided into the activity room, the dining area and the kitchen.
First of all, you have to consider the cost. Building a custom house requires you to pay 15-30% more. Then, there is the significantly longer time frame necessary to build a custom house from scratch. With prefab houses, you simply order the kit, and then you can actually put the pieces together by yourself, provided that you have some construction experience.
Note: Here's how we can help: 24hplans has team of highly-trained, professional architects and drafters who can prepare any kind of site plan in the shortest amount of time possible, so that you can easily obtain that building permit and get on with your project. Use the promotion code: 24hplans-20off to get a 20% discount off any package. — Please note this is a limited time offer, exclusive to the readers of our blog. This offer is not being advertised anywhere else.
Architects are not that cheap to hire, so if the whole prefab house idea doesn't make you happy, you should expect to give 8-15% of the project value to the architect. If you are planning on building a house worth $100,000 you would be paying an extra $8,000 to $15,000 to the architect. — If this doesn't chip away at your enthusiasm, then you are probably making the right call.
The other 3 bedrooms are on the top smaller floor. You can easily rent them if you don't have any kids. There is only 1 garage but 2 cars will fit in there without any problems. The house even has a summer kitchen, a wine cellar and 2 master closets.
Built on a coastline in Norway, this cabin was designed to fit even the rockiest terrains. It's well disguised in vegetation and measures 323 sq. ft. The bad part is that the construction lacks a kitchen in order to provide more accommodation space. There is however a wheeled cart meant for preparing light meals and snacks. The outside grill is perfect for cooking  the traditional American meal: burgers.
Located in the middle of nature, this cottage accommodates 2 people in 1 bedroom. It kind of makes you think of those monks who spend their entire lives in the heart of the mountains. Keep the costs under $25,000 by using salvaged materials. A house like this one shouldn't be in the city. Its place is in the middle of nature where all you see around is trees, ponds and hills. Although most of us won't get used to living all the time in this house, we can still enjoy a weekend in this oasis of tranquility.
The plan is affordable: $1100 for the PDF and the average U.S. cost-to-build is $310k.
The house has 2 stories. As you enter inside you will see an informal dining area that leads to the study room. One small rear porch can be accessed directly from the master bedroom. Upstairs, you will see 3 bedrooms each with its own bathrooms. 2 of the bedrooms actually have walk-in closets.
This design combines wood and metal. By using reclaimed materials, the builders transformed scrap metal into a cool and fully functional house. Apart from this, the costs are reduced because brand new materials are more expensive. It's obvious that the design works best for mountain areas close to hiking trails or nature in general. Building it in the city makes it look out of place. The small porch is optional but it certainly makes the house more beautiful and also allows you to enjoy your coffee outside during summers in the mountain. If you limit the floor to 200 sq. ft. you can build this house for less than $30,000.
If you don't, you'll have to hire professionals to get the work done. Either way, you will pay less for labor, not to mention that you can completely bypass the costs related to the actual design of the house. 😉
Note: Here's how we can help you get your project approved by your local building department: 24hplans has a team of highly-trained, professional architects and drafters who can prepare a customized site plan according to your requirements. All in the shortest amount of time possible.
By 24hPlans| 2017-05-06T17:36:46+00:00 April 5th, 2016|Architecture, Design, Home Designs, House Design, House Plans|2 Comments
This house looks very stylish even though it's painted all in one color. It has 3 bedrooms and just as many bathrooms and garage bays. The outdoor kitchen is a huge plus considering the weather in Florida. If you live in a rainy area, you will probably not use it very much though. You also get a private garden and a beautiful veranda. The master bath has an impressive size, which is good news for people who spend much time in front of a mirror.
This single bedroom 750 sq. ft. house costs about $124,000 and it's meant for people who want a simple life in the middle of nature. You have a porch large enough for 2 deck chairs and a bedroom big enough to hold a very large flat screen TV. It's true the house is quite small but it's cozy, so what else could you possibly want for a relaxed lifestyle?
Take-home tip: always ask for several quotes before settling for a contractor.
This modern 1 story house has a living area of 4,600 sq. ft. There are 4 bedrooms, 3 baths and 2 garage bays, so it's perfect for any big family. There are some special features that sets this design apart from others:
The plan is available for $1400 and the cost to build settles somewhere around $270k.
We have now reached the designs that take more than $1.3 million to build but you will soon understand why this price is so high. The design is modern, it has open interiors and 3-4 bedrooms. The butterfly shaped roof has celestory windows while the 16′ wide sliding glass walls open fully to create an expansive living area. The decks offer plenty of outdoor space while the high quality insulation allows you to cut $1,500 per year off of your energy bills.
The house is literally floating and it has a water tank to supply the shower and kitchen. There are 2 propane tanks to power a refrigerator and stove and to give you hot water. The plan for this house might cost you more than $300-$400 because it's unusual. The actual construction is cheap and doesn't go beyond $35,000.
Here's a beautiful traditional small house with gable roof. Located on a dairy farm in Northern California, this house has a wraparound porch for you to stay on during silent summer nights. It's family friendly through how it looks on the outside but also the inside. The red and white hues make the house look young and joyful. Expect to pay around $700 for the plan and around $40,000 for its construction. The costs vary depending on the type of wood you use want to use for the deck, walls and roof.
Whoever designed this house has a thing for old windows. Apart from giving the house a unique look, it also serves a practical purpose: it lightens up the interior. It took less than $10,000 to build this 140 sq. ft. living space. It's true it has no electricity and no running water, but it's perfect for anyone who wants to escape the busy city life for a few days.
For the most part all the local building code requirements are meant for the safety and well-being of the local community and current and/or future building occupants. They are not necessarily trying to slow down the building process or to make money for the local budget. They are trying to keep you and your family as safe as possible in the face of natural disasters or other unforeseen circumstances.
The CAD plan costs $1600 and you need at least $270k to build the house.
The actual construction of the house however, should not take more than $60,000, the price for an average 400 sq. ft. house. Any additional costs come from bringing electricity and running water to the house. This may actually be impossible if you live in such a remote area.
You have to admit this style looks imposing and elegant at the same time. You get plenty of room, 4457 sq. ft. to be more precise. This 2-story Colonial house has 5 bedrooms, 3 full baths and 1 half bath. The master bedroom is located on the main floor together with the dining area and family room.
Located in Portugal, this floating house is solar powered and self-sustainable. People who focus mainly on energy efficiency and eco-friendly materials will find this design very satisfactory considering it can take care of its own energy needs all year long.  The upper deck is the most interesting part of this design. You can add some patio furniture and a couple of chaise longues to get a tan during hot summer afternoons. This house can go on its own for 6 months without needing refuels or maintenance. The major part of the investments goes into making the house self sustainable.
Before we take a deep dive into various house designs, architecture, and styles, it's important to note that in many cases it may be necessary to provide a site plan to obtain various home building permits from your city hall or township. You can turn to 24h Plans to get a custom site plan drawing prepared for your dream home in less than 24h hours by our team of experienced architects and drafters. Use our promotion code: 24hplans-20off to get a 20% discount off any package. — Please note this is a limited time offer, exclusive to the readers of our blog. This offer is not being advertised anywhere else.
The plan is affordable: $800-$1000 and the average cost-to-build is $300k.
Estimated at $100,000 – $250,000, this house measures 1682 sq. ft. and is built in a ranch style. It has 3 bedrooms and 2 bathrooms, this making it perfect for a family of four. The design itself is not spectacular but rather common. There is an advantage to this though: you will never have problems with neighborhood associations.
This 2-story house offers 985 sq. ft. of living space which makes it an ideal vacation home. It has 2 porches (one in the front and one in the back), a sun deck, 1 garage bay, 2 bedrooms and 2 full baths. There are some special features included:
This is a round 2-story house that measures 1500 sq. ft. indoors plus around 1,500 sq. ft. outdoors thanks to its wraparound porch. The shell price of the house is approx. $150,000 but if you want it fully equipped expect to pay between $360,000 and $475,000. The estimated annual energy savings are $1,400. The house has 4 bedrooms thus making it perfect for a family with 3 kids.
Have you finally decided to build a house of your own? Well, you know it has to be perfect. After all, you've been dreaming about this for years! 🙂 We know, it's always hard to decide how your house should look. There are endless possibilities. To help you narrow down your search a bit, here are top 15 house plans, designs and styles to entertain. Keep in mind that all the building costs are based on the national average and may vary considerably from one city, state or region in the US to another.
If you don't want or can't afford a brand spanking new, five bedroom home that occupies 4,000 sq. ft., don't despair! 😉 There's still a chance for you to live the American dream! Let us present the top 20 professionally designed tiny houses.
The Georgian style is not for everyone though. You must have a certain taste for proportion and 18th century architecture. For example, the height of a window is determined through a simple mathematical ratio in relation to its width. This sense of proportion is seen inside too.
Do you own a small patch of land in a crowded city and you need a place to live? This house was designed so smart that it can fit in a 20 foot wide lot while providing 2100 sq. ft. of living space. It has 2 stories and roof decks thus adding just the right amount of outdoor space to a spacious interior. One module measures 100 sq. ft. which makes it suitable for a lot of different layouts. This house is efficient and beautiful at the same time. With the help of a talented interior designer you can make the house feel very comfortable to achieve a balance with the rather cold looking exterior.
It's important to note that in many cases it may be necessary to provide a site plan to obtain various home building permits from your city hall or township. You can turn to 24h Plans to get a custom site plan drawing prepared for your dream home in less than 24 hours by our team of experienced architects and drafters. Use the promotion code: 24hplans-20off to get a 20% discount off any package. — Please note this is a limited time offer, exclusive to the readers of our blog. This offer is not being advertised anywhere else.
By 24hPlans| 2017-05-05T21:11:57+00:00 December 6th, 2016|Architecture, House Design, House Plans, Modular Homes, Prefab Homes|0 Comments
This house belongs to a lovely couple and measures less than 200 square feet. If you are looking for maximize space, this is the design you should look at. The bed is above ground leaving enough space for a small kitchen underneath. Note the farmhouse like aspect that suggests this couple from Portland wanted to live their dream without spending a fortune.
This 2-story house looks like it's been taken out from a movie about some Italian rich families. There is no doubt this design is classy and tasteful. The living area measures 2,374 sq. ft. and you have a pretty large garage too: 372 sq. ft. You have a lot of storage space and you can easily fit 2 cars in that garage.
Spacious front porches with columns Low-pithed protective rooflines Built-in aesthetic comforts like cabinetry and shelves Wide windows
The plan costs around $1600 if you don't want to modify it, but if you want to make changes prepare to pay as much as $3000 for the AutoCAD file. You have to admit it's a gorgeous home, but there's a major downside too: the average U.S. cost-to-build settles at around half a million dollars.
Here's another design of Method Homes but this time they opted for a classic style that looks amazing anyway. You can choose between 6 floor plans depending on your preferences but the overall design will stay pretty much the same. The covered porch, the small square windows and the shape of the roof are common in the US.  What's great about this design is that you get 1-2 sleeping lofts in addition to the 2-3 bedrooms. Having a loft suitable for a person to sleep in is a huge plus because loft conversions are not cheap. You could opt for a 4 bedroom model that lacks the loft if you don't like it though. As for the price, a 1,484 sq. ft. house made of 4 modules with 2 bedrooms, 2 sleeping lofts and 2 baths costs $239.052.
This beautiful 2-story house has 5 bedrooms, 4 full baths and 2 half baths. There are 3 garage stalls. The plan costs around $2000.
This is a cheap yet fashionable house. The plan costs a bit less than $600 whereas the cost-to-build doesn't go beyond $130k. As you would expect, this house is small. It has a living area of only 888 sq. ft. and 2 bedrooms. There is only one bathroom and you don't have a garage. This is the perfect house for a 1-2 people who don't fancy driving around with a personal car. If you have always dreamt of living near a beach but you don't have much money, this is the best you can get.
The outside design suggests a contemporary architectural style. The large windows call for openness and make you feel one step closer to the outer world. The era of tight dark places has gone by as people began to embrace modern architectural features. The design comes in many sizes that influence the price. You can opt for a completely modular design to keep the costs to a minimum but if money is not a concern, you are free to choose a model that requires on-site customization.
If you are looking for a modern natural retreat for the days when you want to escape the city chaos, this is the right choice. The model costs a bit over $500,000 plus a 12-15% tax for installation in the US. It will take approximately 6 months to deliver the house because that's how much it takes to manufacture and transport the modules to your piece of land. In addition, it takes 3-5 days to put the modules together.
The plan is quite expensive ($2000), and so is the average cost-to-build: $540k.
Did you spend your childhood at a ranch and you want to see some of those architectural elements in your own house? Look no further than this beautiful ranch style house. It has 1 floor that measures 2,910 sq. ft. The garage is huge, you can fit 3 cars in there.
Made of black stained wood (traditional to Scandinavia), this house measures only 260 sq. ft. Upstairs, there is the bedroom that's basically made of a bed and a small space to deposit your clothes. The price starts at $74,000. Once again you see large windows on the front of the house. It seems this is a popular way to draw attention away from how small the construction really is.
This 240 sq. ft. floating cabin in Maine belongs to Foy and Louisa Brown who spent a decade building it with their own hands. The foundation is made of pontoons on top of which you see a cottage built mostly of pine shiplap. This house is totally off the grid, so if you enjoy the perks of modern life, you will hate living here. The best part is that there are not property taxes and no permits required to build such a house, according to Foy.
Slip into anything a tad bit more comfortable!. Slip protects frequently get an awful rap but they are usually truly wonderful things. That they can function as a means that of changing your furniture`s look to reflect typically the seasons. These easily taken away coverings improve a complex look without constantly being concerned about people dirtying or even spilling on your home furniture . Slip covers are perfect for rooms used often by children. Over the white slip-covered couches provides air of an informal , comfortable, easy yet complex elegance.
Change your workout. Mix way up patterns and textures. Combine up old and fresh , expensive and cheap. There`s nothing wrong with putting family heirlooms alongside the modern couch. Great rooms decorators will tell a person that one of typically the most important aspect in order to decorating your property is that that reflects who you happen to be , your personality and your own style. A vintage Chippendale workplace that was your grandfather`s tells a story. This tells the story involving your past. The contemporary couch you became adoringly obsessed with and just had to purchase likewise tells a story, your existing story, and there will be no reason the found and past can`t co-exist beautifully together. The identical may be said for artwork. You might not would like to place an artwork by Salvador Dali on a single wall next to the Monet, but there`s simply no reason why they cannot end up being in the same area together. With fabrics no matter if it be furniture, mats or pillows, varied hues and patterns would bring friendliness and texture with your being space.
Whether or not you`ve just moved and looking for a rapid , little home pick-me-up, or even perhaps something better, presently there are some well-known interior design tricks that designers use that you just too can effortlessly do with minimal hard work and cost. Sometimes the particular smallest things associated with finest impact. It could get digging in a looking glass , a painting, a light or even a vegetable. You want to ease your walls, brighten some sort of room, or then add heat to your living place. Look into these clever design and style as well as notice how they can encourage you!
Make use of what you already possess to decorate. All of us include items in our control , probably packed up within boxes somewhere and don`t have given them a 2nd glance. Your property needs a few accessories. Rather than running to be able to the store, take the good look at whatever you already have. Trays, solid wood , acrylic, metal or sterling silver can be on best of luggage racks, herbal tea carts, trunks, bedside furniture and coffee tables with regard to extra texture and dimensions . Arrange candles on these people , frames or pile guides on top of these people . Plates can be strung to create wonderful walls art. Art from kids books can be presented and hung in nurseries, children`s rooms or their particular bathrooms. You will end up being amazed at your expertise with what you previously have!
Work with decorative mirrors to incorporate immediate light to your liveable space . As seen above, wall mirrors could also be used to make the small space feel bigger . For larger rooms, or even any room with the more limited amount involving natural light, mirrors located directly across through the home windows , will add instant light-weight . Decorative mirrors doubles inside lieu of art in order to fill empty wall place . Large or small, showcases add light and sizing to your liveable space.
Employ area rugs to ease hardwood floors. Throw carpets give warmth and could add great texture, coloring and personality to your current living space. Hardwood floor surfaces are beautiful and quick to take care of but they be short of the comfort that carpeted floors offer, particularly within the cooler months. Region rugs can also put fun and functionality in order to your living area . Use various of varying patterns plus fabrics together to display your character. Or put several rugs of the particular identical pattern and textile , or different textures yet the same color. The particular possibilities are endless. A person can change your place rugs to reflect typically the seasons using warmer shades and fabrics for chillier months and lighter types for the warmer periods of the year. Right now there are many lovely 100 % cotton , washable area rugs which often are well suited for those properties with children. There genuinely is no reason the reason why a residence with young young children cannot become an elegant one.
Add a suspending pot holder to your current kitchen. Kitchens are supposed to be warm and even inviting. We spend very much of our time within them whether it end up being for preparing meals, helping meals or entertaining. Some sort of hanging pot rack pays to elegance. Kitchens are intended to feel as nevertheless they are in continuous use and a dangling pot rack certainly can make one feel this method . In addition to searching so wonderful, (there are numerous sizes and styles available) additional cupboard space listed below is actually freed up to be able to store other items. Hardly ever has anyone complained regarding having too much storage area.
Wicker baskets. Straw-plaited baskets are an affordable and elegant solution to put storage to any area . Baskets can be employed to store and screen books, architectural and interior decoration magazines, toys, towels in addition to blankets to name some sort of few. Place a number of tiny wicker baskets for the counter-tops in your kitchen to be able to beautifully display and shop your fruit and greens
Car paint or wallpaper your bookcases. This instant pop involving color will brighten in addition to re-energize any room! It can amazing how something consequently simple as a coating of colorful paint may instantly energize and enhance your space. This pre-installed bookcase would be basic and ordinary minus the shiny blue interior. Probably the easiest and most inexpensive method to transform a boring place would be to apply a coating of paint somewhere unforeseen . Bookcases are an best place to start since you don`t need to color a large area. Various other fun places to incorporate the pop of color incorporate painting fireplace mantels, the particular insides of closets, hallways and ceilings.
Live green . Add plants to be able to your living area . Add these people to every room, little or large, few or even many. Plants is surely an economical means to accessorizing the space and adding colour and texture. Not just are plants beautiful yet many can clean family air and balance moisture . They can absorb impurities and remove harmful smells from the air. Simply no home should be without having these wonderful greens!
Paint smaller areas in softer, lighter hues which will make the room experience larger. The living area above is a wonderful sort of how to be able to maximize a small living area . A room of this specific size provides the tendency to be able to seem cramped, nevertheless the significant windows, light colored wall space and ample utilization of showcases not only reflect typically the natural light pouring throughout in the doors and typically the windows however the use associated with mirrors also provides optic illusion of space, producing the room seem greater than it actually will be . Conversely, darker colors can make a room think smaller. Even with typically the abundance of natural lighting and the strategic hanging on to of the mirrors, this specific room in a dark shade may have an extra boxed-in feel with it.
IMAGE COLLECTIONS : Top 20 Prefab Home Designs And Their Costs Modern Home Design