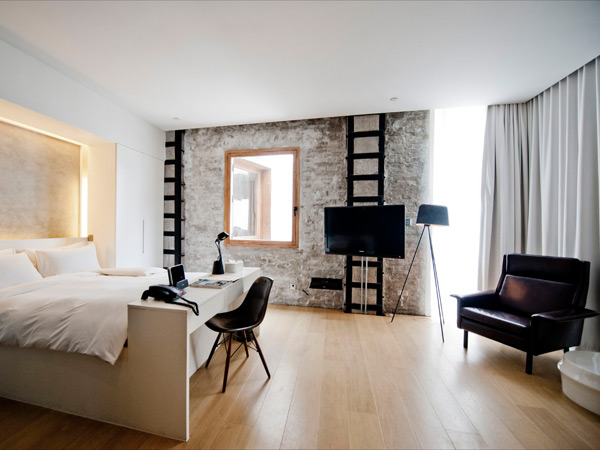 The Waterhouse At South Bund An Injection Of Contemporary Design
The Waterhouse At South Bund An Injection Of Contemporary Design
The Waterhouse At South Bund An Injection Of Contemporary Design
. . . . . . . . . . . . . . . . . . .
While each of the 19 guestrooms is different, they all adopt a uniform vocabulary: oak floors and beds, concrete bathrooms with tinted-glass walls, and built-in desks and cabinets along white walls. Along walls where the building's old fabric was retained, freestanding elements have been used, such as mirrors and metal rungs. Making the most of the building's idiosyncrasies, some rooms enjoy private decks while others get glassed-in viewing platforms, the better to spy on neighboring lots and catch glimpses of the Huangpu River.
No prepayment required (you do not pay until check out, unless otherwise stated).
Find the best accommodation for your upcoming stay. Why book with us?
—Behold towering Shanghai from a low-rise, riverside neighborhood in a transformed 1930s building with unprecedented boutique comfort and views.
Rooms 19 /Architecture neri & hu /Interior Design neri & hu /The Original Loh Lik Peng
Get 50% off at select new hotels and other great exclusive Community benefits.
Rooms 19 Architectureneri & hu InteriorDesign neri & hu The Original Loh Lik Peng
Loh Lik Peng's global lifestyle draws him to different places for different reasons. The intimate scale of Dublin reminds him of his childhood, while London's East End is all about the energetic vibe and the sense that new things are happening all the time. He opened his first venture, Hotel 1929, in a former brothel in Singapore's red-light district in 2003. With its swank design and instant buzz, 1929 became a popular destination for travelers and locals alike. Three years later he opened the New Majestic and upped the style quotient in Singaporean hospitality even further. New properties have opened recently in Singapore where he now lives, Shanghai, London, and Sydney. And not one of them is located in what your average guidebook would have considered the "right" kind of neighborhood—that is until his properties have put their once-undesirable districts on the style map.
Rooms 19   Architecture neri & hu   Interior Design neri & hu The Original Loh Lik Peng
From a concrete shell of abruptly ending staircases to a contemporary-cool boutique hotel with a copper-colored top, The Waterhouse wows with an unrefined, non-conformist exterior.
Inside is a different story—one that sees the exposed brick juxtaposed by stylish contemporary furniture and an abundance of smooth natural wood.   
OverviewRooms & SuitesDealsMade by OriginalsArchitecture & DesignAvailable with SPG
Hotels & Resorts Asia / Pacific China Shanghai The Waterhouse at South Bund
The Waterhouse at South Bund, located on the banks of Shanghai's Huangpu River, inexorably raises the city's boutique hotel stakes. Its 19 guestrooms, destination restaurant, rooftop bar, and enormous all-purpose event space produce an exhilarating atmosphere and breathe new life into the Shanghai market. Neri & Hu Design and Research Office, one of China's leading architectural voices, entirely transformed the 1930s building but maintained the original facade. Lyndon Neri explains the design ethos for The Waterhouse: 'This is a hotel that puts the emphasis on the traveler in search of some meaning, and not just the luxury component of living.' A conceptual blending of the antique and the contemporary, the hotel offers magnificent views of the Pudong skyline, where the city's quaint low-rise architectural heritage is still largely intact. The Waterhouse at South Bund prides itself on integrating into the traditional local environment while challenging its boundaries.
Related Images of The Waterhouse At South Bund An Injection Of Contemporary Design