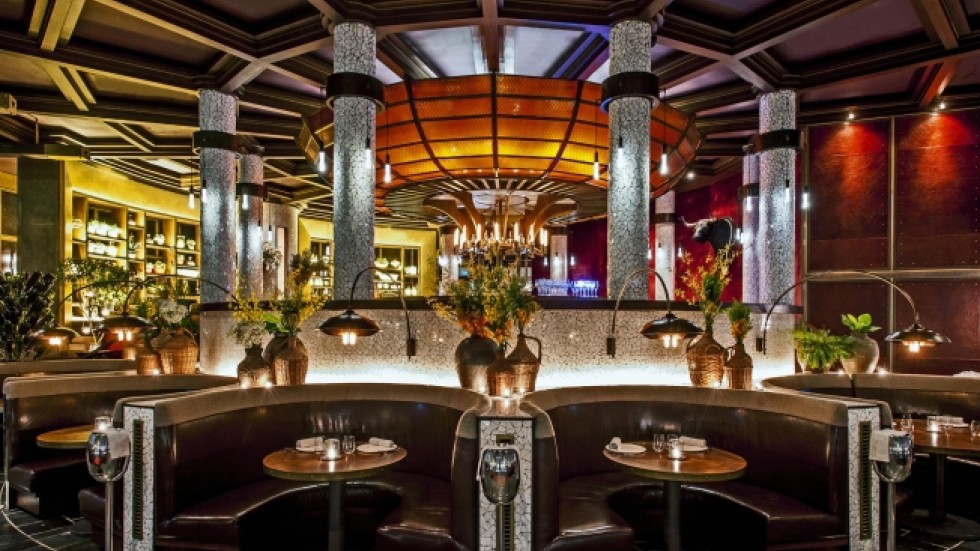 The Next Avroko 20 New York Restaurant Designers To Watch
The Next Avroko 20 New York Restaurant Designers To Watch
The Next Avroko 20 New York Restaurant Designers To Watch
. . . . . . . . . . . . . . . . . . .
The minds behind AvroKO, from left: Greg Bradshaw, Adam Farmerie, Kristina O'Neal and William Harris. Today the firm has a staff of more than 60 spread across three different cities. Photo by Yuki Kuwana
It's clever design, and whichever route they take, it's appropriate and it works, and in each space, their attention to detail, use of materials, light design and graphics is second to none." Echochamber
Sharpe acquired the Crown's collection of prints and engravings from various sources, including 1stdibs and flea markets. Photo by Adam Macchia
Brian Goggin Who He Is: The Lower East Side's Preserve24 is actually a sculptural installation that functions as a restaurant. Multidisciplinary artist Brian Goggin, who's based in San Francisco, is the the creator, designer, and partial owner of the restaurant, which spans three 111-year-old tenement buildings and includes a bar made out of repurposed pianos and an 1860s oyster boat. It's the only restaurant project he's completed. Projects: Preserve24 What's Next: Goggin designs site-specific sculptures, and he says he's open to housing a permanent installation inside another restaurant. He's currently working on a 100 x 30 foot piece called "Caruso's Dream" in San Francisco, which will consist of salvaged steel, wood, and factory glass to create pianos that hang off the side of a building.
The partners' design styles harmonize beautifully. Their collective adds up to an award-winning creative agency that has the hospitality world clamoring for its services." Rhapsody
The Musket Room's dining room overlooks a pretty garden, where chef Matt Lambert grows micro-greens. Photo: Emily Andrews
The Lion, which opened in 2010, quickly became a downtown destination (DeLucie, after all, is behind the other crowd-magnets Waverly Inn and Monkey Bar), and, not long after, Sharpe started her own firm. Her collaboration with DeLucie has continued, encompassing the Crown, on the Upper East Side; Bill's, in Midtown; and the newly opened Redhouse, in London. And beyond her DeLucie projects, she also has a Times Square supper club, a Paris-inspired Chelsea coffee bar and an Art Deco hotel project in Miami in the works.
Osmose Design Who It Is: Portland-based Andee Hess has only completed one project in New York: the stunning West Village Stumptown outpost. She lined the coffee shop with paperback books as an homage to the space's past life as a bookstore, wrapped walls in custom screen-printed plaster wallpaper tiles, and created a separate Brew Bar space as a stage for coffee cuppings. Projects: Stumptown What's Next: Hess says that she'd love to work on more projects in New York, and is currently engaging in a few "promising" conversations.
Business of Home featured the four founders in a round-up of the leading designers changing the hospitality scene.
Leroy Street Studio Who They Are: This award-winning architectural firm has been around for a while, but the owners just completed their first restaurant project: Charlie Bird. "We took on the project because we're friends with Ryan Hardy and Robert Bohr," says partner Shawn Watts. "They wanted the interior to feel like the essence of New York, where they both came to practice their art." Def Jam ended up inspiring the design: The restaurant's filled with boom-box artwork and vintage microphones. Projects: Charlie Bird What's Next: LSS focuses primarily on commercial and residential projects, but Watts says the group would happily construct and design another restaurant "if the right group of people came along."
The four partners are featured in an interview from Rhapsody, United Airline's luxury lifestyle magazine.
A diner's first impression of a restaurant doesn't come from the food or service — it comes from how a place looks. Companies like Roman and Williams (Lafayette, the Dutch, and the Breslin) and AvroKO (Saxon + Parole, Beauty & Essex) have monopolized the city's design scene for a while, but now there's a new crop of artists equipping the city's restaurants with things like pristine fairy-tale gardens, vintage Scandinavian furniture, and sleek all-wood beer taps. You should keep an eye on these eleven up-and-coming designers.
Don't be surprised if walking into the latest restaurant by the New York design firm AvroKO feels like stepping into another time and place" The New York Times
This design firm, one of the most famous in the industry, is who you expect to knock it out of the park. Every time." Eater
Left: Stairs in Rosemary's, located in New York's West Village, lead to a rooftop garden whose fresh produce inspires both the decor and the menu. Photo by Brian Park; Right: Rosemary's features a take-away counter in addition to its sit-down offerings. Photo by Brian Park
Left: When dining at the Lion, a clubby eatery in New York's West Village, it's easy to get distracted by the assemblage on the walls. Photo by Adam Macchia; Right: Sharpe bought all the Lion's mismatched dining room chairs individually. Photo by Adam Macchia
While their look has evolved with the laid-back chic of their newer West Village hotspot, Rosemary's (2012), and with the understated sophistication of Trattoria Nervosa (2011), in Toronto, their interest in creating a hybrid of home and restaurant continues. Rosemary's, for example, features a bar that looks like a cheerful residential kitchen, with painted cabinets, a colorful vintage-tile backsplash, hanging cooking utensils and lemon trees.
Once inside Beauty & Essex, diners are rewarded with an interior that, its creators say, is meant to recall "a fashion doyenne's 1930's department-store fantasy." Photo by Jason Lang
AvroKO's latest expansion into the New Zealand hospitality scene is featured in an interview in New Zealand magazine, Interior.
Creating a successful restaurant requires a special kind of alchemy. The same ingredients — concept, food, location, service, design — can be combined in infinite ways with widely varying results. And while it may not be as front-and-center as what's on the plate, a restaurant's design often proves just as important as its cuisine.
Everyone can recall a great-tasting meal marred by bad lighting or a stale environment. But when a restaurant hits that sweet spot — convivial crowds, a glowing warmth, a feeling of escape, if only for a few hours — it is pure magic.
In that spirit, we turned the spotlight on a trio of New York-based interior design firms that specialize in creating just this sort of food-focused social space: one, AvroKO, well-established, and two others — Dekar Design and Meg Sharpe Interiors — on the rise.
Though they have different approaches and varying aesthetics, all three have the ability to draw in the crowds and keep them coming back. Restaurants as Fantasy AvroKO
Sway Design Collective Who They Are: Partners Craig Montoro and Bryan Mesenbourg started Parts + Labor Workshop — which has no affiliation with the aforementioned Parts and Labor Design — to focus on custom furniture and architectural millwork. They recently created a second wing of their business, Sway Design Collective, specifically for design work. Projects: Pearl & Ash What's Next: They're in talks to do custom millwork for Kickstarter's new Greenpoint office and penthouse rooftop bar, as well as design the communal dining setup at Good Eggs' new Brooklyn outpost.
At the visionary design firm AvroKO, the vastly different ideas of four individuals come together in transcendent, emotionally powerful spaces, that turn heads, stir critics, and always surprise." InStyle
A detail of the Lion reveals the old-world aesthetic created by its designer. Photo by Adam Macchia
Founded in 2001 and comprised of four partners — William Harris, Greg Bradshaw, Kristina O'Neal and Adam Farmerie, who work out of offices in New York, Bangkok and San Francisco — AvroKO designs every aspect of a project, from furniture to branding, menus to uniforms. They even own and operate several of their own restaurants, including Manhattan's Saxon & Parole and the Thomas in Napa Valley, lending the team a unique view into the industry's realities. "Every week we learn something clever about how to optimize clients' spaces through experimentation in our own," says Farmerie.
Books, artwork and personal effects lend the second-floor dining room of Bobo a distinctly personable elegance. Courtesy of Dekar
The design for Eight Tables of China Live was named Eater's Stone-Cold Stunner of the Year. Click here for more.
Dekar Interior Design Who They Are: Dolores Suarez and Caroline Grant are the designers behind Rosemary's, the impressive, forever-packed restaurant in the West Village owned by Dolores's cousin Carlos Suarez. The space itself required a complete gut renovation: "There were no walls, and the ceiling was about to cave in," says Suarez. "The idea was to make it an urban-European farmhouse. We wanted to create a space where you're outdoors as much as you're indoors." Projects: Rosemary's, Bobo, and Ribot What's Next: Suarez and Grant are working on Wallflower, a West Village wine bar that's set to open in October. Suarez says to expect hand-painted tiles, a gold tin ceiling, and a "jewel box feel."
No other firm marries concept and aesthetics with as much depth and personality as AvroKO does; they have an uncanny ability to make spaces feel old, new and timeless all at once." Surface, Chef Seamus Mullen
Parts and Labor Design Who They Are: In 2009, two AvroKO alums, Andrew Cohen and Jeremy Levitt, launched this small firm so they could design and fabricate all their own furniture and lighting. "We try to make our business chef-driven," says Cohen. "People work hard their whole lives to open a restaurant; we just put our hand-crafted spin on it." Parts and Labor has become the go-to group for owners who want "whimsical but refined" restaurants. Projects: The Elm and Atera What's Next: Their team is working on furniture and lighting for the new Brooklyn Fare in Hell's Kitchen, a beer-and-bitters bar, and two top-secret projects in Tribeca and Union Square.
IT'S ALMOST IMPOSSIBLE TO CLASSIFY THE NEW YORK ARCHITECTURAL AND DESIGN FIRM AVROKO – AND THAT'S WHAT MAKES THEM SUCH A CREATIVE FORCE" Tastemaker Award, Food & Wine
Arlo recently took home the award for Best Emerging Hotel Concept at the Gold Key Awards in New York. Click here for more.
hOmE Who They Are: Brothers Evan and Oliver Haslegrave grew up helping their father construct houses, and five years ago, after getting hired to design Elsa, they started their own company. The Haslegraves favor salvaged materials that create a vintage aesthetic. Projects: Alameda, Tørst, Goat Town, Paulie Gee's, Elsa, Donna, and Telepan 2.0 What's Next: hOmE is designing Telepan Local in Tribeca, as well as a Greenpoint bar called Ramona from the owners of Elsa.
From left: Caroline Grant and Dolores Suarez, both native New Yorkers and graduates of Georgetown University. Courtesy of Dekar
To reach the restaurant Beauty & Essex on the Lower East Side, one must first pass through a faux pawn shop complete with vintage guitars and other rock-and-roll paraphernalia. Photo by Jason Lang
Dekar Design co-founders Caroline Grant and Dolores Suarez made their mark on the New York restaurant scene in 2007 with Bobo, a charming hideout ensconced in a West Village townhouse. Decorative painters and interior designers, the pair created the townhouse space to feel less like a restaurant and more like the home of a quirky, well-traveled aunt, all mismatched dining chairs, vintage family photos and novels stacked on fireplace mantles. From the black-and-white striped foyer to the pale blue-and-red dining room, Grant and Suarez gave each room and floor its own palette and style. "We really look at commercial spaces from a residential design perspective," explains Grant of their approach.
When Meg Sharpe initially got an offer to design the West Village restaurant the Lion, her initial response was a firm, "Absolutely not." To be fair, Sharpe hadn't even applied for the job. She already had a full-time position at Ralph Lauren in the international store development division. But after months of listening to her friend John DeLucie — the Lion's chef — and his co-owners complain about other designers not understanding their vision, Sharpe pulled together a few tear sheets to help them in their discussions. When they saw her ideas, however, they immediately wanted Sharpe to be their collaborator. "They wore me down," Sharpe says with a laugh. "They told me I had to do it."
Alexander Waterworth Interiors Who They Are: The Musket Room is this two-year-old London-based firm's first project in New York, and it made a strong impression. (Platt allocated one of the two stars in his review to the "small, elegant back room.") Founders Alexander and James Waterworth specialize in sourcing rare antique pieces, like the Musket Room's mid-century Wegner-style chairs, old bar flooring, and bespoke brass fittings. Projects: The Musket Room What's Next: James says that they're working with a hotel group to redesign public spaces for the end of 2013, but they can't divulge details. In 2014, the ten-person design team will also open its first New York office.
AvroKO went on to cement a reputation as the tastemaker of highly creative and efficient restaurant aesthetic concepts." South China Morning Post
JAMES BEARD FOUNDATION AWARDS FOR OUTSTANDING RESTAURANT DESIGN AND OUTSTANDING RESTAURANT GRAPHICS. AVROKO IS THE FIRST FIRM IN THE JBA HISTORY TO SWEEP BOTH CATEGORIES" The New York Times
Left: In addition to designing restaurants, AvroKO owns several as well, including downtown Manhattan's Saxon & Parole, which is named for two turn-of-the-century racehorses and has a subtle equestrian theme. Photo by Jason Lang; Right: At Public, another AvroKO-owned and -operated restaurant, the "municipal" look contrasts with the "free-spirited fusion" cuisine, which includes grilled kangaroo and Szechuan-crusted tenderloin. Photo by Jason Lang
The space beautifully blurs the line between indoors and out, reflecting the farm-fresh menu that showcases veggies grown in the restaurant's own rooftop garden: Plants are sprinkled throughout, fruits and vegetables hold pride of place as design elements and, in the warmer weather, tall windows are thrown open, letting the roaring buzz of happy diners leak outside. Regardless of the project, the two are always after one goal: "We want our spaces to have character and soul," says Suarez.
Influential purveyors of throwback modernism." Travel + Leisure
The four partners who run AvroKO are architects, graphic artists, interior designers, and restaurant owners themselves who, as a company, create spaces you want to hang out in around the world" Esquire
Young, visionary and provocative, design and architectural team AvroKO are transforming some of Asia's top restaurants into revolutionary spaces." Hong Kong Tatler
In her mid-20s at the time, Sharpe juggled the Lion project with her Ralph Lauren duties, working on it at night and during the weekends. Ultimately, she gave the place a clubby, old-world feeling, one marked by art-covered walls, vintage lighting and green leather banquettes.
Looking at AvroKO's work, one gets the feeling that the firm, which is behind nearly 30 restaurants in more than a dozen cities worldwide, doesn't just focus on designing fresh spaces: They make it a goal to create transformative experiences. Their restaurants — whether a futuristic floating eatery in Singapore or a Mediterranean bathhouse–inspired lounge in Las Vegas — feel like inhabitable stage sets but with none of the hokeyness that might imply.
The partners of AvroKO have developed a distinct visual language for some of New York's most popular restaurants. Their aesthetic may have been duplicated, but their narrative-based approach makes it hard to match." The Architect's Newspaper
Connecting meaning and purpose in hospitality" MOLD Magazine
For the patio of Bobo, also located in the West Village, Grant and Suarez repurposed vintage Chinese doors as the seatbacks of the banquettes. Courtesy of Dekar
Crème Who They Are: This Williamsburg-based architectural, interior, and graphic design firm launched in 2004, and is best known in the industry for overseeing Jose Garces's restaurants in Philadelphia and Atlantic City. Founder Jun Aizaki is steadily building up his company's New York portfolio: He's behind several big restaurants that are set to open within the next year. Projects: Bistro La Promenade, LT Burger, Marc Forgione, Danji, Veritas, Woodland, Motorino, and RedFarm What's Next: Crème's working on the soon-to-open RedFarm on the Upper West Side and Decoy, Ed Schoenfeld's Peking-duck-centric restaurant under the original RedFarm location.
Mauricio Zermeno Bessonart Who They Are: This Mexico-based designer broke out onto the scene here with a big first Stateside project: Corvo Bianco. "I moved to New York four years ago to do my masters at Parsons, and I met Luis Gonzalez, Corvo Bianco's owner, through a friend," he explains. "I'm a huge fan of natural palettes; I like allowing materials to speak for themselves in their original and natural forms. That fit perfectly into our overall concept of creating an outdoor experience inside the space." Projects: Corvo Bianco What's Next: Bessonart wants to divide his time between Mexico and New York so that he lines up new projects.
For each project, Sharpe designs with a specific muse in mind: for Crown, it was Coco Chanel; for Bill's, a photo of a sharply-dressed Old English gentleman sitting on a chaise, smoking a pipe, with brandy in hand. "I really imagine the person that I want to use the space," says Sharpe, "and then I create the restaurant for them."
Three fresh-thinking firms are transforming our dinner, one eye-popping space at a time.
So what's their definition of a successful eatery? "The patron should feel loved," says O'Neal. "It's hard to get the trifecta — the food preparation has been done lovingly by the chefs, the service done with joy and the space designed with affection in the details — but the most memorable restaurants give you the overwhelming sensation that a very quiet love is everywhere."
Consider, for example, two New York projects. Of Madam Geneva, a sexy, secreted bar in Noho, New York magazine wrote that it "feels like a backroom bar for 19th-century governors in Singapore." A few blocks away, at their restaurant Public, a wooden library-card catalogue, clipboard menus and vintage mailboxes filled with wine suggest the municipal look of post offices, libraries and civic buildings, thus signifying, as AvroKO puts it, their desire to make quality food a common commodity. (In a first-time sweep for a single firm, AvroKO won the James Beard Award for Outstanding Restaurant Design and Outstanding Restaurant Graphics for Public in 2004).
The firm's eclectic style has been widely imitated, but few can match the sophistication and quality of AvroKO." Surface
Berman Horn Studio Who They Are: Founders Brad Horn and Maria Berman are both academics: He's the director of the master of architecture program at the City College of New York, where she's a professor. They launched their small six-person company, which is based in a townhouse in Harlem, in 2006. Beyond designing restaurants, furniture, and lighting, they also work on high-tech spaces for television and film production companies. Projects: Maysville, Txikito, El Quinto Pino, and Char No. 4 What's Next: Horn says that they're in the discussion stages for a new project, but it's not yet official. Stay tuned.
Related Images of The Next Avroko 20 New York Restaurant Designers To Watch