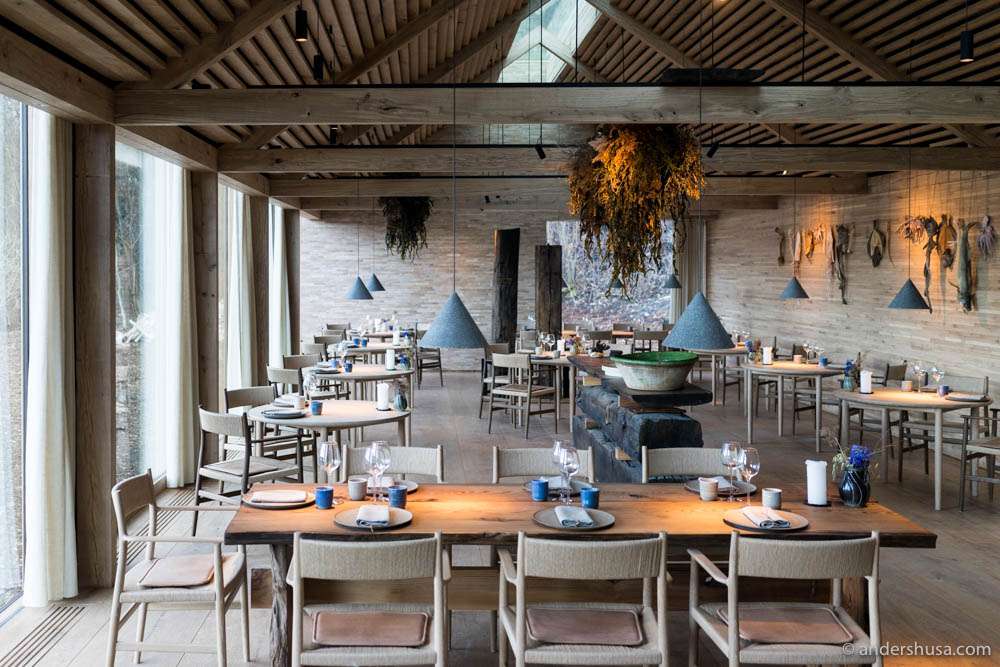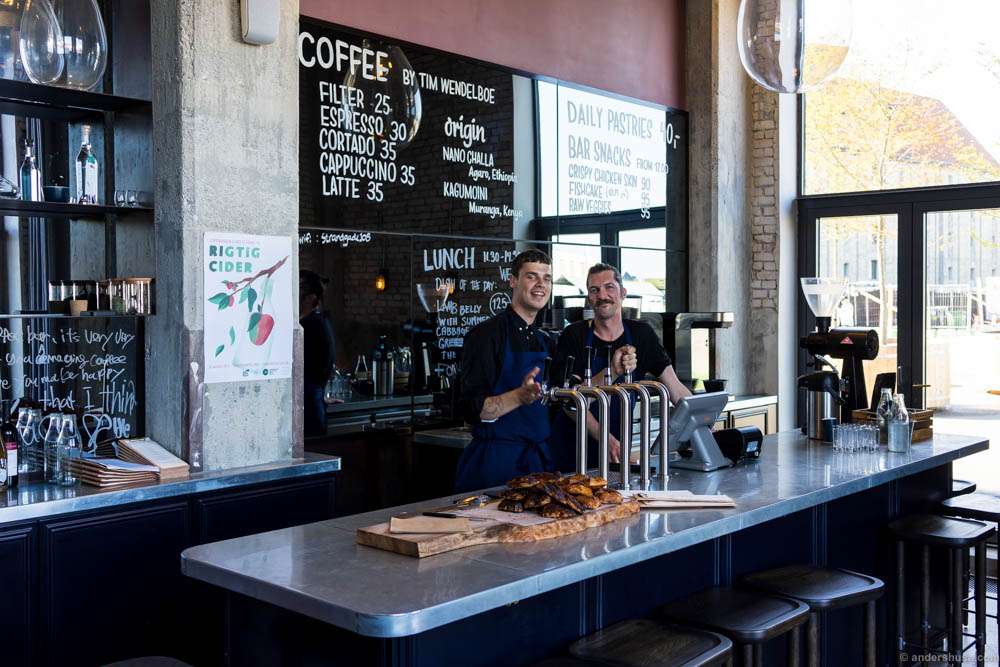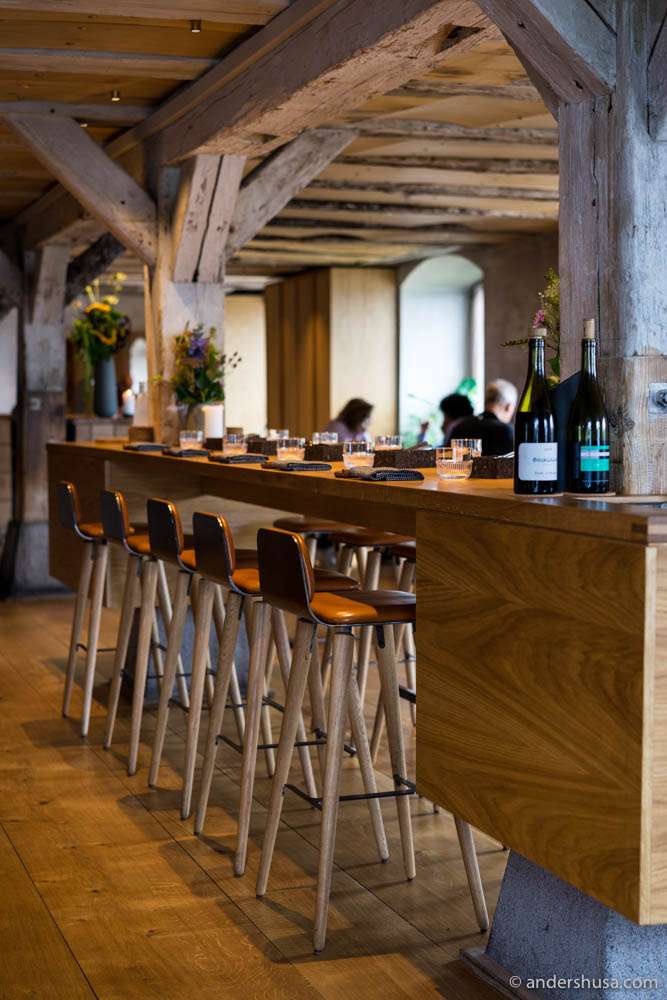 "I persuaded a couple of my friends, who were not really into fine dining, to join me at Noma in 2012. I wasn't sure how they would react to the new atmosphere and concept behind fine dining, and of course fine dining "Noma style," but they were overwhelmed and said that they had experienced a meal of a lifetime.
If you can enjoy wine or cheese without understanding their metabolic underpinnings, you will be fine. But when you are eating something at Noma that tastes like much more than the sum of its parts, when you realize that few of the restaurant's many imitators load as much depth and complexity into their cooking, when you start to lose your bearings and can't quite figure out what is happening, it can be helpful to recall that just out of sight is an entire room full of special sauce.
René Redzepi's restaurant Noma changed pretty much everything in the history of Scandinavian cuisine. In 2003, no one spoke of Nordic cuisine, but with the help of Redzepi and business partner Claus Meyer in 2004, chefs from all of the Nordic countries came together in Copenhagen to discuss the creation of a 'New Nordic Cuisine' based on simplicity, freshness and seasonality. The simple, minimalist approach to ingredients that is characteristic of Nordic cooking is now a major part of the culinary psyche and has influenced and guided chefs from all over the world.After opening in 2003, Noma went on to be voted No.1 in The World's 50 Best Restaurants four times – in 2010, 2011, 2012 and 2014. When the restaurant closed after its final service on New Year's Eve in 2016, Redzepi opened pop-ups in Sydney, Australia and then Tulum, Mexico, from where he returned last June full of ideas and inspiration for Noma 2.0.
The menus are more tightly focused. The old Noma restricted itself to ingredients that grew in the Nordic countries. The new one narrows the scope even more, with three major themes a year that stick to what Mr. Redzepi thinks is best at the time. The menu in late spring and summer will revolve around plants, although it will not necessarily be vegetarian. "We will have things we think belong, like ants and snails," Mr. Redzepi said during one of his frequent trips to the dining room. "They're there, in the garden." Foragers and hunters will supply the late-fall and early-winter kitchen with wild mushrooms, nuts, game birds, deer, moose, bear. Every course in the current menu, in effect until late spring, contains something from the ocean.
An earlier version of this article misstated the year when Christiania was taken over by residents. It was 1971, not 1961.
The restaurant is one of several buildings, including a greenhouse, on the bank of a pond in the city's Christiania section.CreditSigne Birck for The New York Times
Not necessarily. One current dessert is a plankton mousse under a toasted-milk crumble. It does not taste weird at all. Neither do the two desserts made with kelp, but none of them is as likable over the short term (and probably the long term, too) as the icy cloudberry soup with snowdrifts of frozen yogurt and tiny candied pine cones, as chewy as jelly beans.
A ring of pink lumpfish roe is visible beneath a jellyfish.CreditDitte Isager for The New York Times
An earlier version of this article misspelled the name of the Copenhagen area where the new Noma has opened. It is Christiania, not Christiana.
All these small portions look as if they'd been put on the plate by a team of synchronized hummingbirds. Will I get enough to eat?
today's artsart & designbooksdancemoviesmusictelevisiontheatervideo: arts
The kitchen layout with free-standing work stations was first tried out at a pop-up in Mexico.CreditDitte Isager for The New York Times
In a manner of speaking, yes. You won't see a printed menu until the meal is over, but hanging to the right of the entrance is a framed beachcomber's collage of shells, seaweeds, starfish, sea horses and other saltwater creatures. Nearly every course is represented somewhere.
Just before the finale of desserts, when you may be second-guessing Mr. Redzepi's decision not to serve any bread with this menu, something close to perfect happens. It is a dish called "head of the cod." It is not an entire head, but the meatiest chunks on sharp blades of bone that have been as carefully trimmed as any Frenched rack of lamb. The fish has been brushed with seaweed and mushroom glazes reminiscent of soy and miso and then grilled, something like the way yellowtail collar is cooked in an izakaya. There are four cuts and three garnishes, so you have the option of, say, dipping the cheek in horseradish oil and dredging the tongue in a tart pesto made from ground Danish wood ants. The fish is soft, extravagantly rich, and by the time you have found the last shred of flesh you are ready for something sweet.
HomeListThe World's 50 Best Restaurants 2017THE WORLD'S 50 BEST RESTAURANTS 51-100 2017Previous Lists2016 List2015 List2014 List2013 List2012 List2011 List2010 List2009 List2008 List2007 List2006 List2005 List2004 List2003 List2002 ListDISCOVERY SERIESASIA'S 50 BEST RESTAURANTSLATIN AMERICA'S 50 BEST RESTAURANTSAwardsMIELE ONE TO WATCH AWARD 2018elit Vodka World's Best Female Chef 2018The Diners Club® Lifetime Achievement Award 2018The Ferrari Trento Art of Hospitality Award 2017Highest Climber Award 2017Chefs' Choice Award 2017The World's Best Pastry Chef Award 2017Sustainable Restaurant Award 2017Highest New Entry Award 2017Continental Restaurant Awards 2017ArticlesVideoVotingHow The Voting WorksAbout the AcademyPartnersBecome A PartnerGovernment of BiscayS.
Pellegrino & Acqua PannaMieleelit® VodkabbvaDiners Club International®Ferrari TrentoLavazzaThe DalmoreGrana PadanoEstrella DammBeroniaSosaDekton® by CosentinoAspire LifestylesCinco JotasGin MareOpenTableSeafood from NorwaySeedlipCaliaJaén SelecciónSustainable Restaurant Assoc.
Farm AfricaMediaCentrePress ReleasesMedia ContactsMedia PhotographyRestaurant ProfilesScholarship50 Best BBVA Scholarship 2018About BBVAAboutAbout UsContact UsHow The Voting WorksAbout the AcademyTastehuntersFAQs
In lieu of a paper menu by the door, Noma displays a beachcomber's collage representing nearly every course, and some decorative creatures that are not served.CreditDitte Isager for The New York Times
Litti Kewkacha, 50 Best TasteHunter"I really look forward to eating the first season of seafood, but most exciting will probably be the vegetarian season – I'm sure René would say the same, knowing how much they have been working on this vegetarian project. Their pop-ups worldwide are a prelude and form a research basis for what's to come in Noma 2.0, especially the vegetarian season. I don't want to get too far ahead of myself, but I'm pretty sure it will revolutionise the concept of 'vegetarian meal' – if anyone can turn me, you and every discerning foodie into a vegetarian, it's René Redzepi." NomaRefshalevej 961432 Copenhagen KDenmark
Subscribehome deliverydigital subscriptionsCrosswordemail newsletterscorporate subscriptionseducation ratemobile applicationsreplica edition
Noma seats about 42 diners in comfortable, understated style.CreditDitte Isager for The New York Times
The cod-head dish sums it up. Noma's strategy in all things is to get rid of any received notions of luxury in restaurants and replace them with something seen as more humble (pottery spun on a wheel instead of Bernardaud porcelain), eccentric (natural wines rather than blue-chip Bordeaux), overlooked (horse mussels instead of no horse mussels), or undervalued (cod heads for lobster). Mr. Redzepi and his colleagues have rebuilt the template of high-end, destination dining piece by piece with stuff that has been thought about, considered and chosen for a reason. Sometimes the cook or dining-room worker bringing the food to your table tells you the reason, but even when you're not told, you can still sense that everything has a purpose. That's what Noma is about as a business serving food. As an aesthetic project, it is also about questioning received hierarchies of value. The stray plant in your backyard or window box is a weed only if you pull it out. Let it grow and it could be a wildflower, or a tasty addition to tonight's salad.
"I expect that with the new Noma, René will continue to show strong pride in the products and the cuisine of the North. He was among the first to conceive a fine dining that applied international cooking techniques to local ingredients. He created a movement and became a source of inspiration for many young people." 
You might. Less than a day after its online ticketing system opened, in November, journalists, cooks, locals and destination-restaurant pilgrims from around the world had booked every seat through the end of April. This critic, not very quick on the draw, failed to get a table, but a former colleague who has written about Noma did, and offered a seat at his table. Sporadically, the restaurant seems to find additional space and puts new tickets up for sale. More usefully, the second batch of tickets, running through the end of September, has not quite sold out yet. A table for eight, in particular, is up for grabs on many dates.
A version of this article appears in print on , on Page D1 of the New York edition with the headline: The New Noma, Explained. Order Reprints | Today's Paper | Subscribe
About $375 for lunch or dinner without drinks, paid in advance when you reserve on the restaurant's website. Wine pairings cost about $166 and the slate of juices runs about $133. Each night four students, randomly chosen from a waiting list, are seated and charged about $165 a person, including wine or juice pairings.
Mr. Redzepi will bring one or two, stopping to chat about, say, snails and starfish. Others will be brought by cooks. You will probably be served by Lars Korby, who helps herd the wine collection; James Spreadbury, a kindly Australian who manages the restaurant; Mette Soberg, who as head of Noma's research and development department works out the first drafts of many dishes. There is no discernible hierarchy in the service staff, although Mr. Redzepi is obviously the boss.
Every course contains something from the ocean; one of the desserts is a plankton cake.CreditDitte Isager for The New York Times
You may look for a sign. You will not see one, but if you see greenhouses and a long concrete bunker built into a 17th-century earthen rampart, you are in the right place. Somebody will greet you at the gate, perhaps Ali Sonko, who immigrated to Denmark from Gambia, started at Noma as a dishwasher and is now one of Mr. Redzepi's partners. If you are a repeat customer, he may hug you before leading you to the restaurant. When you enter, most of the kitchen and dining room staff, including Mr. Redzepi, will be standing inside the door. They will act as if they have been particularly looking forward to your arrival and had all the time in the world to greet you. It is a little like meeting the von Trapp children. Once this ritual is over, they return to their posts and you are brought to your table. A glass of sparkling wine will probably materialize quickly.
I neither know nor care how fermentation works. Will I still appreciate the food?
They are, and they must be among the best mussels on earth. Four or five of their stout bellies have been joined together after being separated from the stringier bits, which are ground up in a smoked butter sauce that is insanely good.
Follow The World's 50 Best Restaurants on YouTube, Instagram, Facebook and Twitter for all the latest news, photos and videos.
Now hear Redzepi talk about his foraging initiative at #50BestTalks:
Employees and the chef, René Redzepi, third from left in the front row, assemble by the door when a new party arrives.CreditDitte Isager for The New York Times
The laboratory and its director, David Zilber, used to work out of a shipping container outside the old restaurant. Now both have moved indoors, and have been given a walk-in refrigerator stacked with various garums and "peaso," a relative of miso made with yellow peas. Something fermented turns up in every course on the current menu, including the esoteric juices — saffron and Arctic thyme is a typical example — that can be had in place of a wine pairing. The restaurant's work with fermentation is so extensive that it fills a book, "The Noma Guide to Fermentation," by Mr. Zilber and Mr. Redzepi, to be published this year.
You may reach an answer in the negative if you drink the green liquid of plankton and raw pumpkin-seed milk thinned with yogurt whey. And then you may find yourself reflecting that to explore the boundaries of deliciousness it is sometimes necessary to go beyond them.
Theresa Aves and Michael Chorr, The Neverfull, 50 Best TasteHunters
What is the black-and-white shell, the size of a soapdish, in the bottom-left corner of the collage?
Unless Mr. Sloan is a friend of yours, the scallop is likely to be the sweetest you have ever tasted. The clam is briny and tart and chewy, and affects you like a splash of Norwegian water in the face.
Site Information Navigation© 2018 The New York Times CompanyContact UsWork with usAdvertiseYour Ad ChoicesPrivacyTerms of ServiceTerms of SaleSite MapHelpHelpSubscriptions
Follow NYT Food on Facebook, Instagram, Twitter and Pinterest. Get regular updates from NYT Cooking, with recipe suggestions, cooking tips and shopping advice.
Not for a minute. At around two hours, the meal skates along briskly and pulls a greater variety of flavors out of the Nordic waters than another restaurant would get by importing seafood from around the world.
The menu's oceanic theme is foreshadowed by sea creatures preserved in jars.CreditDitte Isager for The New York Times
Both are decorative items in the collage, like the polished rocks, although the test kitchen gave ground starfish the old college try. "We did not enjoy it," Mr. Redzepi said, emphatically. Instead cooks paint a starfish on the plate with a pearlescent sauce of egg yolks and pumpkin-seed oil and cover it with wild Danish trout roe. Studded with tiny flecks of dried fermented plum, it is wonderful to eat, although you could see trompe l'oeil plating as a small betrayal of the all-natural ethos that animates most of Noma's cooking.
Not as the word is commonly understood, no. With its rooftop garden, its cluster of outbuildings and a main structure where work is carried on in a cluster of "huts" connected by glass-roofed corridors, it more closely resembles the campus of a tech firm or a small progressive college.
At the 15th Anniversary celebrations of The World's 50 Best Restaurants in June last year, Redzepi told 50 Best that the restaurant will be making bold moves without fear of failure. "The point is that we dare again to fail, whereas with the old Noma, it had to be perfect." True to his word, Redzepi has been posting Instagram Stories to record his 'failures' or dishes that were tested and didn't make it onto the menu. The list already includes scallop tostadas, fish pastry with rose custard, sea snail and pickles, fresh water clams, hermit crabs and sea stars.
Yes, despite continuing conflict over hashish vendors on Pusher Street. The Noma complex, parts of which were still behind plywood early this month, is an island within the island of Christiania. It is cordoned off by a chain-link fence through which you can see the closest neighbor's home, a makeshift yurt in the woods. At the edge of the property is a pond where swans, mallards and coots paddle around. It is as if Mr. Redzepi had located Copenhagen's back door and walked through it, carrying the restaurant with him.
Laura is responsible for all content across The World's 50 Best Restaurants global portfolio, including the print guidebooks, website, social media, and event coverage. After working for several years as a financial journalist, she joined the 50 Best team in 2014 with a view to combining her three main passions: food, travel and writing.
Laura has a soft spot for Latin America and has lived in Argentina, Brazil, Mexico and Ireland. She is fluent in Spanish and Portuguese and is also a qualified translator.Laura Price
A horse mussel. Horse mussels are almost never eaten, not even by horses. After throwing away the nondelicious parts, which Mr. Redzepi estimates at roughly two-thirds to three-quarters of the animal, Noma's cooks stew the rest with chanterelles they preserved in oil last year. It tastes meaty, a bit like lamb, or at least more like lamb than anything else on the menu, and its flavor is considerably perked up by some tart foraged mirabelle plums, salted and dried before the winter.
The mailing address is Refshalevej 96, 1432 Copenhagen K, Denmark. More generally, the new Noma is in the part of the city called Christiania, where fortified walls were built on landfill in the 1600s to defend the city. The area was neglected until it was taken over by residents in 1971, first as a playground and then as the base of Freetown, an experimental anarchist community that proclaimed itself self-governing and self-sufficient. "It is so far the biggest opportunity to build a society from scratch," one of the founders wrote. "For those who feel the beating of the pioneer heart there can be no doubt as to the purpose of Christiania."
The architect Bjarke Ingels conceived the kitchen and other areas as huts connected by glass ceilings.CreditDitte Isager for The New York Times
It's what the tasting-menu set calls the compound in Copenhagen where the chef René Redzepi recently transplanted the restaurant that invented New Nordic cuisine. The original Noma operated in a 1765 warehouse for dried fish and whale oil on a city pier from 2003 until February 2017. The new Noma served its first customers on Feb. 16, 2018.
The final course before dessert is sections of cod head with grilled ramson leaves.CreditDitte Isager for The New York Times
"I remember as if it was yesterday a dish from the old Noma called "The Jensens' Hard Winter of 1941" (Jensen is the most common surname in Denmark, so the title of the dish referred to a typical Danish family), made of tubers, turnips and marinated roots. It brought to mind what was cooked in Denmark in the coldest winter of the last century, during the Nazi occupation, but with the class and elegance of the modern kitchen of René. That shows how sensitive Redzepi is about his country, his people's history and the metaphoric meaning of food.
Header: René Redzepi and Noma's old exterior (images: Laura Lajh Prijatelj)As one door closes, another one opens – or at least that is the case this week, with Restaurant André doing its final service yesterday and Noma 2.0 doing its first today.
"We experienced first-hand the movement of ingredients from the earth to the plate and the importance of using what nature provides us. We eagerly await what Noma 2.0 will bring as they work more closely with the seasons. We anticipate a menu that will be educational, inspirational and even shocking, because we expect nothing less from the mastermind chef who brought us beef tartare and live ants!"Beef and ants at Noma (image: The Neverfull)
The Danish architecture firm BIG, led by Bjarke Ingels. (BIG is also responsible for the trash-burning power plant that you can see from the dining room, and that will have a 2,000-foot-long ski run on its roof when it is finished.) According to Mr. Ingels, the layout was inspired by the clustered structures on a traditional Danish farmstead. Mr. Redzepi, who as the son of a Muslim father of Albanian descent and a Christian mother from Denmark is something of an outsider in Danish culture, has told people that the central building where the kitchen and dining room sit is derived from Viking longhouses.
today's opiniontoday's opinionop-ed columnistseditorialseditorialscontributing writersop-ed Contributorslettersletterssunday reviewsunday reviewtaking notevideo: opinion
Many of the shellfish are procured by a diver from waters near the Arctic Circle.CreditDitte Isager for The New York Times
There are around 20 dishes, a few of which come at the same time. Matchstick strips of the firmer bits of a mahogany clam, decorated with seaweed fronds and little salt-preserved unripe gooseberries and black currant buds, arrive in its shell in a bath of mussel juice and oil pressed from black-currant wood at the same moment as a bay scallop and its roe, pulled from Norwegian seas by a diver named Roderick Sloan, who must be immune to hypothermia.
Visit Sponsor…Visit Sponsor…Visit Sponsor…Visit Sponsor…Visit Sponsor…Visit Sponsor…Visit Sponsor…Visit Sponsor…Visit Sponsor…Visit Sponsor…Visit Sponsor…Visit Sponsor…Visit Sponsor.
..Visit Sponsor…Visit Sponsor…Visit Sponsor…Visit Sponsor…Visit Sponsor…Visit Sponsor…Visit Sponsor…Visit Sponsor…Visit Sponsor…Visit Sponsor…Visit Sponsor…Visit Sponsor…
tools & servicesN.Y.C. events guidemultimediaphotographyphotographyvideoNYT storetimes journeysmanage my account
Probably not, unless you precede your meal with a score on Pusher Street. Viking longhouses were windowless, underfurnished, smoky and probably smelly, given that farm animals slept in them. Noma's dining room, by contrast, is meticulously carpentered together, from the peaked ceiling to the bare floor, out of sanded oak and Douglas fir. It has spindle-legged, custom-built Danish-modern tables and chairs beside glass walls with a view of the pond and woods. The kitchen, which you can see from the dining room, is well ventilated. From time to time you might hear chords of whatever music the cooks are listening to. The animals living inside the complex — king crabs and mollusks in shades of pink and aquamarine generally seen only on the residents of Bikini Bottom — are kept in tanks with no noticeable odor. The 42 or so diners are typically well groomed and carefully, if not formally, dressed. Although they are not given to marauding and pillaging, they are not particularly solemn, either. Noma is not a place of worship.
home pageworldU.S.politicspoliticsNew Yorkbusinesstechsciencesportsobituariestoday's papercorrectionscorrections
If I get a reservation, will eating at Noma make me feel like a Viking?
"Our most cherished memory is foraging on the beach with chef Redzepi and learning about the edible landscape that shaped Noma's cuisine. What appeared to onlookers as a typical walk along the shore was actually a lesson from chef on the local and seasonal ingredients that are all-surrounding. Our day culminated in an epic 20-course tasting menu with many of the foraged flora we had learned about on the beach earlier that day. 
What is on the menu at the new Noma will be for its first diners to discover, as Redzepi has kept relatively schtum before the big reveal. But what we know is that the restaurant will divide its year into three seasons and the menu will change dramatically to reflect the ingredients available. Noma reopens this week during seafood season, with vegetables in the European summer and early autumn, and game and forest from autumn to January. Bookings are strictly via the Noma website and there are special discounts for students.
newshome pageworldU.S.politicspoliticsNew Yorkbusinesstechsciencesportsobituariestoday's papercorrectionscorrectionsopiniontoday's opiniontoday's opinionop-ed columnistseditorialseditorialscontributing writersop-ed Contributorslettersletterssunday reviewsunday reviewtaking notevideo: opinionartstoday's artsart & designbooksdancemoviesmusictelevisiontheatervideo: artslivingautomobilesautomobilescrosswordfoodfoodeducationfashion & stylehealthjobsmagazinereal estatet magazinetravelweddingsmoretools & servicesN.
Y.C. events guidemultimediaphotographyphotographyvideoNYT storetimes journeysmanage my account
So will the four-time No.1 in The World's 50 Best Restaurants live up to expectations with its newest incarnation? Here are a few thoughts from the wider 50 Best family.Hear Redzepi talk about daring to fail with Noma 2.0:
automobilesautomobilescrosswordfoodfoodeducationfashion & stylehealthjobsmagazinereal estatet magazinetravelweddings
"I know that whatever comes out of Noma 2.0 will be fantastic – it will all be thoughtful, detailed, focused and above all sustainable in many, if not all, aspects. I want to see which, if any, things you can spot from the past, what is kept and what has evolved. Above all, I'm most excited about getting a table – so bring it on Noma 2.0. I'm ready for you!"Moss and ceps (image: Alexander Westrup)Amelie Vincent, The Foodalist, 50 Best TasteHunter"With the new Noma, I expect René to make people more sensitive to the environment and the future of planet earth by choosing producers and the origin of each product carefully. I expect a big scale revolution among chefs and foodies to set another mindset and to show the right way of feeding the planet." 
Make use of decorative mirrors to include quick light to your livable space . As seen above, mirror could also be used to make a new small space feel greater . For larger rooms, or even any room with some sort of more limited amount involving natural light, mirrors put directly across through the home windows , will add instant light source . Decorative mirrors may also be used within lieu of art to be able to fill empty wall place . Large or small, mirror add light and dimensions to your living area.
Color or wallpaper your bookcases. This instant pop involving color will brighten and even re-energize any room! Really amazing how something thus simple as a coating of colorful paint can easily instantly energize and change your space. This integrated bookcase would be very simple and ordinary with no shiny blue interior. Possibly the easiest and most inexpensive solution to transform a boring room would be to apply a coating of paint somewhere unforeseen . Bookcases are an best place to start as you don`t need to color a large area. Additional fun places to incorporate a new pop of color consist of painting fireplace mantels, the particular insides of closets, hallways and ceilings.
Add a suspending pot holder to the kitchen. Kitchens are supposed to be warm and even inviting. We spend substantially of our time inside them whether it become for preparing meals, providing meals or entertaining. A new hanging pot rack pays to elegance. Kitchens are supposed to feel as although they are in regular use and a dangling pot rack certainly helps make one feel this method . In addition to seeking so wonderful, (there a wide range of sizes and styles available) additional cupboard space beneath is actually freed up to be able to store other items. Hardly ever has anyone complained regarding having too much storage area.
Wicker baskets. Straw-plaited baskets are an cost-effective and elegant approach to include storage to any space . Baskets can be utilized to store and screen books, architectural and interior decoration magazines, toys, towels plus blankets to name some sort of few. Place a few little wicker baskets within the counter-tops in your kitchen to be able to beautifully display and retail store your fruit and greens
Fluctuate your workout. Mix upward patterns and textures. Combine up old and innovative , expensive and cheap. There`s nothing wrong with putting family heirlooms alongside the modern couch. Great rooms decorators will tell a person that one of the particular most important aspect in order to decorating your house is that this reflects who you happen to be , your personality and your current style. A vintage Chippendale table that was your grandfather`s tells a story. That tells the story involving your past. The contemporary couch you became adoringly obsessed with and basically had to purchase in addition tells a story, your existing story, and there is definitely no good reason that the offer and past can`t co-exist beautifully together. A similar can easily be said for fine art. You might not desire to place an art work by Salvador Dali about the same wall next to the Monet, but there`s zero reason why they cannot end up being in the same area together. With fabrics regardless of whether it be furniture, mats or pillows, varied shades and patterns brings warmness and texture with your lifestyle space.
Paint smaller areas in softer, lighter shades which will make the room experience larger. The living area above is an excellent sort of how in order to maximize a small livable space . A room of this particular size provides the tendency to be able to seem cramped, however the huge windows, light colored wall surfaces and ample using wall mirrors not only reflect the particular natural light pouring within in the doors and the particular windows however the use associated with mirrors also shows the optic illusion of space, producing the room seem larger than it actually is definitely . Conversely, darker colors may make a room experience smaller. Even with the particular abundance of natural lighting and the strategic holding of the mirrors, this kind of room in a more dark shade could have an additional boxed-in feel into it.
Live green . Add plants to be able to your living area . Add all of them to every room, little or large, few or perhaps many. Plants invariably is an economical means to accessorizing the space and adding coloring and texture. Not just are plants beautiful nevertheless many can clean house air and balance humidness . They can absorb contaminants and remove harmful gas from the air. Not any home should be with no these wonderful greens!
Regardless of whether you`ve just moved and looking for a speedy , little home pick-me-up, or perhaps perhaps something better, presently there are some well-known interior design tricks that designers make use of that you simply too can effortlessly do with minimal work and cost. Sometimes the particular smallest things make very best impact. It could end up being digging in a looking glass , a painting, a light or even a herb. You want to become softer your walls, brighten the room, or then add friendliness to your living room. Look into these clever style as well as notice how they can stimulate you!
Employ what you already possess to decorate. Most of us include items in our control , probably packed up inside boxes somewhere and have not given them a next glance. Your property needs several accessories. Rather than running to be able to the store, take a new good look at whatever you already have. Trays, wood made , acrylic, metal or sterling silver can be on leading of luggage racks, teas carts, trunks, bedside dining tables and coffee tables regarding extra texture and aspect . Arrange candles on all of them , frames or pile guides on top of all of them . Plates can be strung to create wonderful wall membrane art. Art from kids books can be frame and hung in nurseries, children`s rooms or their own bathrooms. You will get amazed at your talent with what you previously have!
Work with area rugs to ease hardwood floors. Throw area rugs give warmth and could add great texture, shade and personality to the living space. Hardwood flooring are beautiful and simple to keep but they be lacking the comfort that carpeted floors offer, particularly inside the cooler months. Location rugs can also include fun and functionality to be able to your living area . Use a number of of varying patterns plus fabrics together to display your character. Or put several rugs of the particular identical pattern and material , or different textures yet the same color. Typically the possibilities are endless. An individual can change your location rugs to reflect typically the seasons using warmer shades and fabrics for chillier months and lighter kinds for the warmer occasions of the year. Presently there are many lovely 100 % cotton , washable area rugs which often are suitable for those houses with children. There genuinely is no reason exactly why a residence with young youngsters cannot become a fashionable one.
Slip into some thing a bit more comfortable!. Slip includes frequently get a negative rap but they are usually truly wonderful things. They will can act as a means that of changing your furniture`s look to reflect typically the seasons. These easily taken away coverings improve a superior look without constantly having to worry about people dirtying or even spilling on your home furniture . Slip covers are best for rooms used often by children. Over some sort of white slip-covered couches shows the air of an everyday , comfortable, easy yet advanced elegance.
IMAGE COLLECTIONS : The Making Of The New Noma Copenhagen's No 1 Restaurant