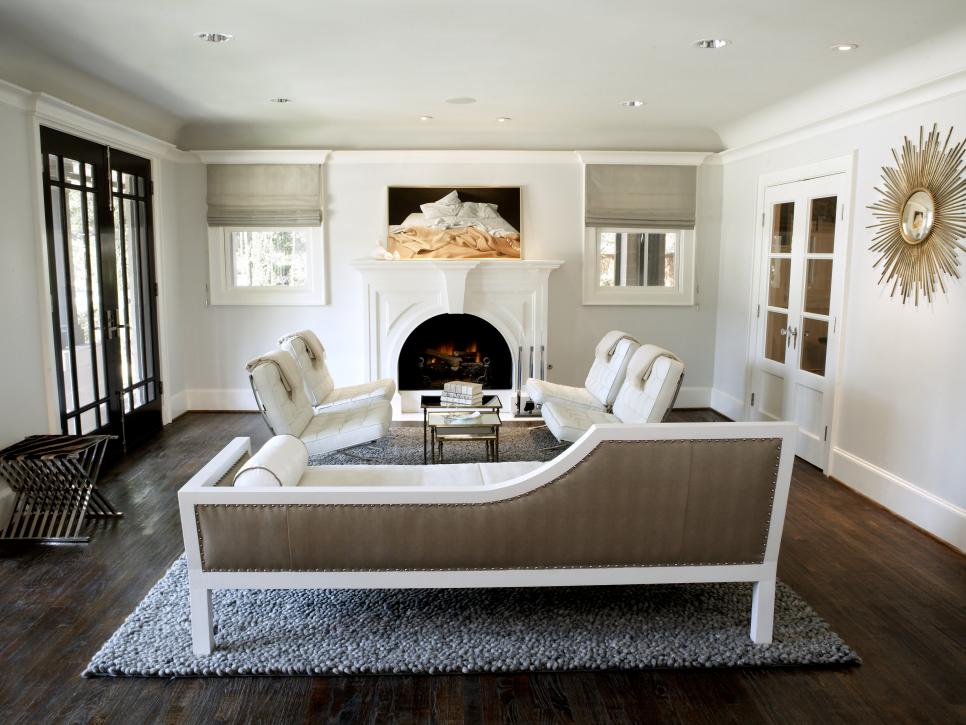 Neutral Colors In Home Interiors And Why You Need Them
Neutral Colors In Home Interiors And Why You Need Them
Neutral Colors In Home Interiors And Why You Need Them
. . . . . . . . . . . . . . . . . . .
We hear you. You want a unique interior that speaks to your vibrant personality, so you think a neutral home wouldn't work for you, right? Wrong!
If your space is large and has access to plenty of natural light, you really have the entire neutral color spectrum to choose from; you really can't go wrong. But if your space is perhaps a bit smaller and/or has limited natural light, you might be better off selecting a lighter tint of neutral that will brighten the space a bit. Darker walls are perfect when you want to create a cozy, intimate feeling in the room, but the effect can be off-putting when the room begins to feel cramped and dark.
Before we dive too deeply into the merits of using neutral colors in your interior decorating, let's briefly review what neutral colors are. Technically, in the context of interior design, neutral means without color, although even neutrals have undertone that play a critical role in their successful use. Neutral colors are not typically found on the color wheel because they include shades of black, white, grey, beige, ivory, taupe, and brown.
Grey is definitely a popular neutral right now, but there are many things to consider when choosing which shade of grey (or any neutral, for that matter) you should use. While contrast in décor and design is good, clashing and inconsistency is not. Warm taupe walls, for example, will work well with a rich navy sofa but would look out of place with an orange-based red sofa. Ultimately, the use of neutrals in your décor will help you to love your classic space longer.
This can be a benefit or a detriment of neutral colors, perhaps, depending on the shape of your furniture and architecture. But neutral colors are an excellent way to cut out the visual clutter of a variety of bolder colors, which in turn creates an emphasis on and subsequent appreciation for beautiful lines, curves, angles, and silhouettes within your design.
In this scheme, as with the all-neutral room, start with neutral walls. Choose the neutral based on what other colors you wish to use, how much natural light the room receives and your personal preference for lighter or darker walls. Be mindful that darker walls seem to close the room up and make it feel smaller, as well as darker, especially if there is little natural light.
This is the best feature of neutral colors—you will never grow tired of them. Neutral will always be a classic. If the mood strikes and you decide you need some vibrant hues in your life, then you simply add a few inexpensive pillows in a bold color, or buy a beautiful bouquet of bright flowers.
Are you getting ready to redesign a bedroom, or throw some new paint up on your living room walls? You may be wondering what neutral colors are in interior design.
If walls are painted in a bright orange, for example, then the bold color takes center-stage, making any textural elements disappear into the backdrop. This is not necessarily a bad thing, when done properly, but it can make a room feel unwelcoming by omitting a layered, textural design.
Look to the bathroom in the image below— the neutral color scheme allows the modern tub, shiny tiles, rustic wooden ladder, and modern dark wood vanity to come to the forefront and tell the story of the room design.
Neutral colors don't have to be boring! In fact, a calm, neutral backdrop allows you to bring out some pretty bold elements into your design that may otherwise look garish. So, put down that can of red paint, at least for a moment, and read this first…
Putting together a custom neutral color palette that perfectly fits your taste and space is so rewarding. Neutral-on-neutral décor has a distinct aesthetic impact without feeling garish or over-the-top. The key is to keep accent color(s) involved but minimal and to use neutrals with similar saturation and tone.
She adds that these neutral colors work with any style or range of taste, allowing prospective home buyers to envision their own furnishings in the space.
Neutral colors are very calming and are perfect for a bedroom retreat. Image Source: Amy Studebaker
Some might feel like this is the opposite order of decorating – shouldn't you start from the foundation (neutral colors) and work your way up (accent colors)? The answer is: not usually. If you have an idea of what other colors you want in your space, it will be much easier to work backward to find the neutral that will best complement those accents. Also consider other space constraints, such as natural light (or the absence of it) and your personal preferences for spaciousness/coziness.
Use Neutral Colors After You've Determined Your Full Color Palette.
Home stager, Barb Schwarz, notes that white and grey neutral walls (which are very popular right now) allow a room to seem larger, more airy, clean and welcoming.
So if your room is large and light, you can consider all options. If it is small and on the dark side, a lighter neutral would likely be a better choice.
There is a reason designers commonly choose neutral walls, especially in modern interiors, it allows the lines of high-quality furniture and the architecture of a room to come alive and be noticed. Look at the bold black-and-white chevron cushions in the image below— they work because the backdrop is neutral and they certainly show-off a bold personal style.
NEWEST VIDEOSDIY Modern Letter Message BoardMake Your Own Trendy Concrete Plant and Candle Holders
The textural elements of a room often get over looked. Interior designers are schooled and excel at this textural  design secret— a neutral backdrop creates a welcoming interior when mixed with warm textures such as rough hewn wooden elements, shiny tiles, nubby linens, and brushed velvets.
What is your favorite neutral color scheme and why do you love it?
Most popular Top 20 DIY Kitchen Backsplash IdeasContemporary vs. Modern Style: What's the Difference?20 Ways To Incorporate Wall-mounted TVs and Shelves Into Your Decor35 Light And Stylish Scandinavian Living Room Designs17 Ideas for a Merry Scandinavian ChristmasBest 35 DIY Easy And Cheap Mason Jar Projects
SMART HOMEWhat is the Best Smoke Detector for Safety, Function, & Price?Top of the Class: The Best Smart Light BulbsA Beginner's Guide to a Home Automation SystemSEE MORE SMART HOME DEVICES
If you are going for an all-neutral look, layer different hues of the same color for a classy and sophisticated look. Follow the suggestions of paint chip families to choose colors that are harmonious. Choose a lighter shade for the walls, with darker upholstery. Choose an area rug in a color that complements the wood flooring but also is just a shade darker than the walls so the furniture stands out; choose the same color if you prefer carpeting. Tie the room together with accessories that include some or all of the shades you have used. This color scheme lets hardwood flooring; beams; fireplace surrounds of wood, brick or stone; and window frames make a warm statement within this understated room.
Although they are versatile and appropriate (and necessary) for any style of interior design, neutral colors work particularly well in contemporary interiors. This is because neutral colors allow fantastic architectural elements in modern design to become the focus (as opposed to bold colors taking that focus away from architecture).
This concept goes against the mindset of some people, but it's the absolute truth. When neutral colors are used as the primary backdrop for your interior design, your personal style is able to shine. It comes to the forefront, and all the details and pieces and accents that make your style what it is are in the spotlight. This impact is much harder to achieve (or even impossible) when your style is competing with statement colors.
With a neutral backdrop, this bathroom shows off its modern tub, textural tiles and wood flooring. Image Source: I Custom Designs
For example, beige might have an undertone of pink, tan or gold. White might be slightly ivory, yellow, bluish or peachy. Neutrals can be used in decor in two basic ways — either as a soft, neutral only, quiet look or as background colors for dramatic accents. 
We  have already touched upon why neutral is best for modern interiors, but here is the great thing about neutral colors—they literally work with any style! Whether you are modern, traditional, eclectic, or love rustic country charm— a neutral backdrop is ideal for you.
Regardless of style, neutral works with everything. Image Source: AJI
You will never grow tired of neutral colors, and you can liven it up with textiles such as the zebra club chairs in this photo. Image Source: Thompson Custom Homes
Simply put, layering textiles is the key to creating a warm, well-designed space, and neutral colors allow you to create this space more easily. Scandinavians have had this design style down-pat for centuries.
Neutral colors are sometimes referred to as "earth tones," meaning that the foundational colors found in and around the earth are neutral. It's important to always consider, however, the undertone of any neutral color you're wanting to use, whether or not it seems like an "earth tone" or not. Case-in-point, ivory might have pink or golden undertones, whereas white might be more yellow or even blue. Recognize these undertones as you choose the neutral palette for your space.
If you like gray, also decide whether you prefer a warm or cool shade; the same goes for shades of white. Say you choose a rich taupe for the wall color. Turn up the volume with a navy blue sofa and chairs covered in a stripe of ivory, taupe and navy. Add an area rug or carpeting in the same shade of taupe as the walls or a bit lighter. Pair throw pillows in taupe and the same pattern as the chairs with a taupe throw for a cohesive look. Place books and art objects with dashes of brick red on a brass and glass coffee table to add interest and color. In this color scheme, you have taupe walls and floor accent or carpeting for a neutral canvas, with drama, added via the upholstery in navy and small bits of red in decorative pieces for further interest. 
Do you think neutral colors are boring? We are going to debunk the myth that bold is better. Of course, there is always room for pops of color in your life, but there are a lot of good reasons to stick with a neutral color scheme for your interior design.
The living room in the image below certainly attests to that statement. The grey-on-grey color scheme is anything but cold. The room appears very clean, welcoming, well-designed and warm!
In the context of interior design, neutral means without color. Neutrals such as beige, ivory, taupe, black, gray and shades of white appear to be without color, but in many applications these hues often have undertones. Be aware of these underlying tones as you match colors or choose paint.
WHAT'S HOT11 Spectacular Sunset Views Around The GlobeThe Eames Lounge Chair: Iconic, Comfortable And VersatileFuture Furniture Design Talent at IMM Cologne 2016 35 Timeless Black And White Bedrooms That Know How To Stand OutFall In Love With Homedit's New eBook: "100 Inspiring DIY Ways To Reinvent Your Home"SEE MORE POSTS IN THIS CATEGORY
Neutral colors are literally appropriate for and effective in any style of space. It doesn't matter if you prefer modern or Old World style, traditional or eclectic, contemporary or farmhouse – neutrals will be your go-to for great design. What's more, neutrals will actually alter the feeling of your styled space, with white and light grey walls (popular neutrals right now) creating a clean, spacious feeling and taupe and darker grey walls creating an instant feeling of coziness and warmth.
Great furniture is the pride of anyone who loves decorating and interior design; it stands to reason that you'd want to show it off, right? Neutral colors, particularly on large-scale spaces such as walls, provide the perfect "invisible" backdrop against which furniture with great lines and curves can pop. This is particularly the case in contemporary and modern interior design, where the clean lines of one's furniture lines are key to the overall style.
Neutral colors combine to create versatile neutral color schemes that are an ideal palette for any space's style. Neutrals are not only reliable for use in decorating, but they also play a critical role in providing visual relief, backdrops, and a calming atmosphere. We'll take a look at each of these benefits of neutrals in this article.
This is perhaps one of the most appealing aspect of neutral colors: They are classic and, most likely, you won't grow tired of them quickly, if ever. You can easily incorporate trendy and/or vibrant colors and prints into your décor whenever you feel like it if your decoration foundation is built around neutral colors. Some might consider neutral colors as an investment that ensures an interior that never grows old, unlike, say, that lipstick red accent wall or bright blue "coastal" bedroom that you just had to have.
Have you ever painted a room in a bold, bodacious color? If you did, how long did it take for you to pick up the paint brush again, covering the once-loved color with something more calm?  Another example of bold-gone-wrong— the bright red couch that you thought you just had to have.  Fast-forward three years later—yeah, you are pretty sick of it now aren't you?
RECENT ARTICLESArchitectural Landmarks Old and New Are Highlights of New York CityHow To Design and Decorate Your Dream BathroomHow To Make Your Own Stock Tank Pool This SummerWorld-Class Homes Are Created by Houston's Top Interior Designers
Similar to their ability to emphasize your personal design style, neutral colors also have the ability to effortlessly and seamlessly highlight texture. Texture is a vital element for creating a warm, welcoming, and comfortable interior design. Think of soft pillows, touchable cushions, cozy area rugs. All of these elements combine to create a really friendly space.
Neutral colors are also great options for modern interiors, allowing the architectural elements of your design to take center-stage.  Plus, if you get bored of your neutral backdrop, then you simply add a few inexpensive, brightly-colored cushions.  Proving, that neutral is anything but boring, rather it is for the savvy home designer that loves keeping their options open.
Here are the top reasons to stick with a simpler, more neutral tone-on-tone color scheme for your home interior:
Consider the fact that, sometimes, complex designs and architecture are going to exist in your home or space. In order to cut down on the potentially overwhelming visual assault, neutral colors will even the playing field, so to speak. You can then use bits of color as strategic emphasis on only those parts and pieces you want to be noticed.
So there you have it, neutral color schemes are the ideal choice for any interior style statement. Use neutral colors in your home to ensure that you never grow tired of your design choices, thereby creating a classic home that never gets old.
Oversimplifying things here, neutral colors are best used in interior design in one of two ways: (1) as a soft, often monochromatic space that exudes quiet warmth, or (2) as a nearly invisible backdrop for more dramatic colors and accents. For example, consider the difference in a room filled with soft hues such as beige, ivory, and elephant grey (calming) and one that incorporates black and white (dramatic). Tone-on-tone neutrals will always be more subtle than vibrant splashes of saturated neutral colors.
There are a lot of reasons to use neutrals in your interior design. image Source: Jamesthomas, LLC
There are a number of reasons to opt for neutral colors to use in your home; we will go over several of them in this section. Perhaps the versatility of neutrals appeals to you, or the fact that using neutral colors actually makes decorating easier. Let's take a look at a variety of benefits of neutral colors in your home interior design.
This is all the more reason that you should choose a neutral backdrop for your interior. With a neutral background, your personal tastes can come to the forefront, allowing you to show-off all your cool design choices and personal style.
Think of a neutral color scheme as an investment, allowing you to avoid buyers remorse and ensuring an interior design that will never grow old.
A major part of interior design is being able to display your personal style through your home décor. It is unfortunate, then, that neutral colors have gotten a bad reputation among certain circles as being "boring," "builder grade," and "generic." Neutral colors are a critical element of any successful home interior for a number of reasons, not the least of which is their ability to support any style.
The bedroom in the image below is a perfect example of neutral done right. Imagine this bedroom with bold walls…it certainly wouldn't be the same calming bedroom retreat that it is now.
Also, the  architectural elements in this photo come alive thanks to a calmer color scheme. The wooden wall and vaulted ceiling would have been lost within a bolder backdrop.
A neutral backdrop and neutral couch allow the bold chevron to take center stage. Image Source: Johnson Mcleod
Related Images of Neutral Colors In Home Interiors And Why You Need Them