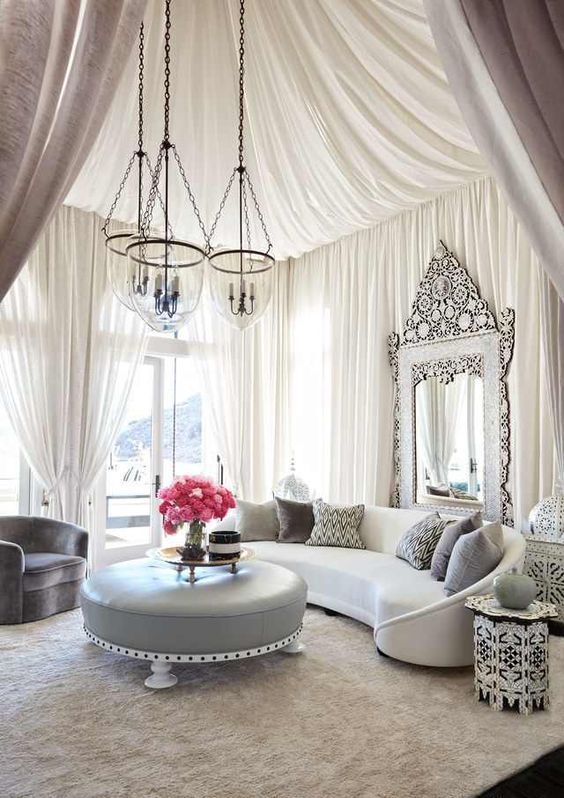 Use patterns, tilework and architecture to bring the enticing feel of Morocco to your home
11 | Designer: Mimar InteriorsThe horseshoe arches are extremely common in Moroccan design and are characterized by a large round arch atop a straighter, narrower doorway (or in this case, indentation).
In fact, they may also be referred to as Moorish arches (or keyhole arches).
9 | Designer: Mimar InteriorsThe design comes from the Mimar Interiors, and incorporates the stunning colors and contrast that are so common in Moroccan-inspired designs.
9. Metalwork. Moroccan metalwork has been passed down from generation to generation, resulting in beautiful and intricate decorative accessories for the home. Metal mirrors, vases, lanterns, kettles and trays are just a few of the traditionally hand-crafted metal items that adorn Moroccan interiors.
More metal wall artGet this look: Don't limit metal Moroccan accessories to the main rooms of your home. Sometimes it's easier to introduce new accents in less-used spaces. Swap out a plain bathroom mirror with a more intricate metal one.
Include a Moroccan frame on an art wall, a metal serving tray to hold remotes or a cluster of metal vases on an entry table.
34 | Designer: Mimar InteriorsHere, the use of interior plantings in the center of the room is clearly a reference to the riad design.
Situated in Northern Africa, as one of the only three countries to have a coastline along both the Atlantic and Mediterranean, Morocco has often been the subject of lush and romantic fantasy. The country is extremely diverse, with residents that are Arab, Berber, and many European and sub-Saharan African immigrants. The interior design that originates in Morocco reflects this diverse area, rich in cultural traditions and history. Characterized by intricate carvings, arched doorways, and colorful fabrics, it should come as no surprise that Moroccan interior design has become quite popular around the world. The images in this post are representative of some of the most stunning and vibrant modern examples of Moroccan interiors, both in and outside of the country itself.
1. Architectural details. Traditional Moroccan architecture is shaped by centuries of cultural and religious influences. Beautiful archways and curved doorways in the Islamic keyhole design are some of the style's most recognizable elements.
Get this look: Try adding these details through less permanent and less expensive paint finishes — just tape off your design on a wall, bookshelf or canvas, and paint over it in the color of your choice.
29 | Designer: Mimar InteriorsA Moroccan riad is usually characterized by an elaborately carved skylights that were open to the air.
2. Courtyards. Traditionally Moroccan homes were designed with privacy in mind, which meant no front yards or backyards. Instead, homes were built around a central courtyard, often adorned with fountains or pools.
This Americanized version has colorful and comfortable seating, accessories and even a little fire to contrast with the water. Get this look: Most of us don't have the opportunity to change the footprint of our homes to include a new central courtyard.
But that doesn't mean that we can't include some Moroccan elements in our outdoor spaces. Try adorning your outdoor space with a simple, store-bought central water feature. Fragrant flowers, colorful pottery, low bench seating and hanging lanterns can all add some Moroccan spice in subtle and affordable ways, too.
Add ambiance to your yard with an outdoor fountain
40 | Designer: Mimar InteriorsApart from religious issues, a riad also provides climate control for homes in areas like Morocco that can be punishingly hot. The open air and water features commonly found there can have a pleasant cooling effect on the rest of the home.
5 | Designer: Mimar InteriorsSome of the most common characteristics of Moorish architecture including arches, domes, courtyards, and decorative tile work, all of which are well represented in the homes included here.
20 | Designer: Mimar InteriorsFor the layman, it may indeed by archways that are most indicative of Moroccan design.
If you're looking to bring an exotic yet elegant feel to your home, you should consider the elegantly mysterious elements found in Moroccan style décor. From vibrant colors to intricately designed wood and mosaic products, this luxurious, dramatic, and exciting style is becoming increasingly popular in modern homes.
80 | Designer: Amine El HammoumiAlso from Amine El Hammoumi, this loft uses intricate carvings and rich textiles to evoke the Moroccan spirit.
6. Textiles. Moroccan fabrics, such as silks or other gauzy textiles, can be used and layered as room dividers, draperies or furniture protectors.Get this look: Hit your local fabric store and keep an eye out for colorful, intricately patterned or gauzy textiles.
Mix and match patterns and colors to get the eclectic Moroccan look. You can always turn these textiles into pillows or floor cushions, or drape a few yards over furniture or above outdoor spaces.
Nestled between Europe and Africa, Morocco is a country of blending, influenced by the many cultures surrounding it.
Luxurious and Lush FabricsFabrics in rich colors with intricate textures and designs are typical of Moroccan décor. Add throw pillows and cushions in abundance, and drape luxurious fabrics from furniture, window frames, and even the ceiling.
Tie loosely draped fabric back with heavy cords in high traffic areas to keep them out of the way and for extra space and added style.Lighting for an Exotic InteriorLighting is an important element of Moroccan décor.
Moroccan lighting focuses on dim lighting created by lamps and pendants made from colored glass, cut metal, and carved wood. Using candles in traditional lamps will add the romantic element of moving light to your décor and exotic scents.
Floors in Moroccan InteriorsFloors of dark hardwood are covered with plush Boucherouite or Beni Ourain rugs and stacked floor cushions to create the perfect base for a Moroccan style room. Ceramic tile is often on used for flooring and gives a coolness much welcomed in the hot weather.
Reflect Colorful DécorMirrors enhance the ambiance of a Moroccan interior by subtly reflecting light and adding adornment to walls. Look for mirrors with decorative wrought ironwork, deeply carved wood, onion dome-shaped frames, and metal or jewel embellishments.
Click "Embed" to display an article on your own website or blog.
Embrace the easy style and romance of the Mediterranean through color, texture, classic accents, and light
3 | Designer: Mimar InteriorsMoorish architecture was quite common and continues to be seen throughout the Arab regions of North Africa as well as on the Iberian Peninsula.
21 | Designer: Mimar InteriorsAny room or home with a peaked doorway can immediately be categorized as having at least some influence from Moroccan design.
8. Lanterns. Moroccan lanterns are one the most recognizable parts of this design style. Intricately made from metals such as brass or copper, these pieces cast amazing shadows on their surroundings when hung from the ceiling.
Get this look: Metal lanterns come in various styles and finishes that pay tribute to Moroccan interiors. Hang a small cluster in a room corner or as a focal point over a dining area.
Acting as a crossroads between the east and west, north and south, Moroccan décor blends styles from France, Portugal, and Spain from the northwest, with the strong Mediterranean, African, Persian, and Islamic influences from the south and east. This results in a unique and inspirational style specific to Morocco.
From the glittering coastlines of Casablanca and Tangier to the snake charmers and spices in the air of bazaars in Marrakesh, inspiration can be found, whether you are looking for just a touch of exotic flair or a full make-over.
70 | Designer: Nabeel RiazThis types of decorations can be made from brick, stone, stucco, or wood and common in palaces and mosques as well as luxury homes.
7 | Designer: Mimar InteriorsThis particular house is rich with Moroccan details, but also draws inspirations from the simplicity of Scandinavian design, despite the fact that the home is actually situated in Doha, Qatar.
16 | Designer: Mimar InteriorsColorful textiles, from upholstery to wall hangings, can indicated Moroccan influence as well.
27 | Designer: Mimar InteriorsThe term "riad" can refer either to a palatial house, or to the house's interior garden or courtyard.
50 | Designer: Mimar InteriorsIn modern Moroccan design, colorful cushions on the floor have been replaced with cozy sofas that sit low to the ground but still offer support.
88 | Designer: Kenan OsmanThis final home is one of the most elaborate and fuses both classical and Moroccan elements.
1 | Designer: Mimar InteriorsMuch of what can be described as Moroccan interior design has its origins in Moorish architecture.
73 | Designer: Nabeel RiazThe elaborate archways in this room defy categorization, but are clearly Moroccan-inspired with splashes of lovely turquoise.
7. Tiles. Bold Moroccan tiles focus on geometric forms, framing doors and windows and decorating floors, walls, fountains and accent and art pieces. Get this look: Many Moroccan motifs can be found at tile retailers.
Their classic, bold look works well in traditional or modern settings. Try adding some to a backsplash, floor or fireplace. Tight budget? Just choose a few to put on a tabletop or outdoor entryway. Ask your local supplier for Moroccan-style tile
85 | Designer: Kenan OsmanThe tilework and archways bring the lush history of Moroccan design into the modern space.
77 | Designer: Amine El HammoumiThe floral patterns in this Moroccan space from designer Amine El Hammoumi give it a feminine bent.
69 | Designer: Nabeel RiazMuqarans are another common and intricate element included in many Moroccan designs.
3. Bold color choices. The colors embraced in traditional Moroccan interiors ranged from bold and brilliant to subtle and subdued. Most often the color scheme reflected either desert or ocean hues. It was common to see brilliant reds, oranges, greens and blues dominate the interiors, with a neutral or color-washed background.
Get this look: Go high contrast with brilliant-hued accents set against a neutral backdrop or wash all of your walls in color. Not ready to paint? Plenty of pillows, rugs and poufs can add bold color to your home, too.
Plants for Moroccan DecorPlaced in large, colorful pots or baskets, exotic plants such as banana trees or papyrus help to create an oasis-like feel in a Moroccan style home.Canopies OverheadRichly hued sheer silk swagged over seating or dining areas or mosquito netting over beds adds a mysterious touch, reminiscent of desert bazaar tents.
Sensual Moroccan ScentsThe right fragrances can instantly link the mind to Moroccan bazaars and can give your new Moroccan styling the perfect finishing touch. Choose candles, incense, or diffusers in scents rich with spices like cinnamon, nutmeg, saffron, or any exotic spices.
Moroccan architecture and interior design express the country's diverse history through detail, texture and geometry. Influenced by multiple cultures and religions, this style can feel at home in traditional or modern homes.
Rich, luxurious and exotic, the style has bold colors and shapes that make it a favorite of many interior designers. Want to bring this warm and bright style into your life? Here are nine Moroccan design elements to try introducing.
4. Ornate and plush furniture. Delicately carved furniture and plush upholstered pieces are staples of Moroccan interiors. Carved seat bases, chests, coffee tables and side tables often contrast with plush couches, poufs or floor cushions in a single room.
Get this look: If you're on a budget but still love that Moroccan flair, add a pounded metal tray to the top of a table, or a few inexpensive Moroccan poufs or floor cushions to a room. Carved elements can be added to existing pieces via affordable wooden appliques — although the more ornate, the better.
71 | Designer: Nabeel RiazThe ceiling here is a subtle reference to this style while managing to blend into an entirely modern space.
A transplanted design connoisseur shares ways to conjure the enticing feel of Morocco in your home and outdoor rooms
5. Rugs. Moroccans have created some of the world's most distinct rugs for centuries. Traditionally, these rugs were used as bedding, blankets or saddles. Their designs focused on abstract and geometric patterns with colorful and neutral palettes.
Get this look: Authentic or vintage Moroccan rugs can cost a lot of money these days. Reproductions are available, but you can also re-create the bold design with a modern twist using tape, outdoor paint and a sisal or jute rug.
DIY: How to Paint a Sisal Rug
68 | Designer: Mimar InteriorsThis skylight is a more traditional example of the riad design.
25 | Designer: Mimar InteriorsRiads are an extremely notable and gorgeous aspect of Moroccan design and architecture.
The blazing African sun causes Moroccans to bring the outdoors in where they can enjoy an exotic oasis inspired by the landscape around them, in cool comfort. Vibrant colors are mixed with highly adorned furniture and accessories, potted plants, and gentle lighting to achieve the perfect indoor oasis.
14 | Designer: Mimar InteriorsThe following images are also from the designers at Mimar Interiors, but represent more modern and varied takes on Moroccan styles.
Can you pull off design harmony with pieces of different eras and styles? You can with these tips
Share it on any of the social media channels below to give us your vote.
Get a rich and exotic look minus the souk haggling, using these shortcuts to Moroccan style
Other related interior design ideas you might like… 3 One-Bedroom Homes with Sharp Geometric DecorNordic Interior DesignReally Regal InteriorsA Charming Eclectic Home Inspired By Nordic Design
Souk style infuses this Houston home with energy, texture and enough color to fill a casbah
Bring vacation-style comfort to your patio with cushy all-weather furnishings and accessories worthy of a posh getaway
89 | Designer: Kenan OsmanThe water feature room divider and detailed ceiling could easily be Moroccan and even riad-inspired.
31 | Designer: Mimar InteriorsThis decidedly modern bathroom uses the Moroccan style as a jumping off point for contemporary decor. The archway, for instance, is a classic example of the Moroccan look, but instead of using brightly colored tile mosaics, here we see flashy silver.
Moroccan ElementsStrong Color for Moroccan Style InteriorsColor is the focal point of Moroccan decorating. Drawing inspiration from Morocco's landscape, look for shades of blue and green from the Atlantic and Mediterranean, shimmering gold and silver invoking the Sahara sands, and rich reds and oranges that conjure images of African sunsets.
Moroccan Style FurnitureInterior spaces are busy in pattern but simple in furniture. Sofas and tables are inviting and set low to the ground. Moroccan furnishings rely on elaborately wrought iron scrollwork, mother of pearl inlay, ornately carved wood in high relief, richly hued upholstery, and intricate mosaic or terra cotta tile details.
13 | Designer: Mimar InteriorsIt is not unusual to find these types of arches in mosques. Here, they act as a lovely framing device for interesting art pieces.
23 | Designer: Mimar InteriorsAlthough not the most common arch found in Moroccan interior design, this equilateral archway, combined with the surrounding interior elements, is certainly notable.
36 | Designer: Mimar InteriorsIt is interesting to note that the concept of riads was originally due to Muslim influence. Since women were generally not allowed outside of the home alone, they could relax and enjoy an interior garden such as a riad without compromising their faith and modesty.
83 | Designer: Kenan OsmanThis home, from designer Kenan Osman, is a sleek and modern take on the Moroccan style.
Work with area rugs to become softer hardwood floors. Throw mats give warmth and could add great texture, shade and personality to your own living space. Hardwood flooring are beautiful and simple to keep up but they be lacking the comfort that carpeted floors offer, particularly inside the cooler months. Region rugs can also include fun and functionality in order to your liveable space . Use various of varying patterns and even fabrics together to show off your character. Or put several rugs of typically the identical pattern and cloth , or different textures nevertheless the same color. The particular possibilities are endless. A person can change your location rugs to reflect the particular seasons using warmer shades and fabrics for chiller months and lighter kinds for the warmer occasions of the year. Right now there are many lovely organic cotton , washable area rugs which in turn are well suited for those properties with children. There actually is no reason precisely why a house with young kids cannot become a fashionable one.
Slip into a thing more comfortable!. Slip addresses frequently get an awful rap but they are usually truly wonderful things. These people can act as a method of changing your furniture`s look to reflect typically the seasons. These easily taken out coverings improve a complex look without constantly being concerned about people dirtying or perhaps spilling on your home furniture . Slip covers are perfect for rooms used often by children. Over some sort of white slip-covered couches shows the air of an informal , comfortable, easy yet complex elegance.
Wicker baskets. Straw-plaited baskets are an inexpensive and elegant method to include storage to any place . Baskets can be utilized to store and screen books, architectural and design magazines, toys, towels and even blankets to name some sort of few. Place a number of tiny wicker baskets for the counter-tops in your kitchen in order to beautifully display and shop your fruit and greens
Car paint or wallpaper your bookcases. This instant pop regarding color will brighten in addition to re-energize any room! Really amazing how something thus simple as a coating of colorful paint can easily instantly energize and enhance your space. This integrated bookcase would be very simple and ordinary with no shiny blue interior. Possibly the easiest and most inexpensive method to transform a boring room would be to apply a cover of paint somewhere sudden . Bookcases are an perfect place to start as you don`t need to color a large area. Various other fun places to include some sort of pop of color consist of painting fireplace mantels, the particular insides of closets, hallways and ceilings.
Change your workout. Mix upward patterns and textures. Combine up old and innovative , expensive and cheap. There`s nothing wrong with positioning family heirlooms alongside the modern couch. Great rooms decorators will tell a person that one of typically the most important aspect in order to decorating your house is that this reflects who you will be , your personality and your current style. A vintage Chippendale office that was your grandfather`s tells a story. This tells the story involving your past. The modern day couch you became adoringly obsessed with and merely had to purchase furthermore tells a story, your existing story, and there will be no reason the offer and past can`t co-exist beautifully together. A similar could be said for fine art. You might not need to place a piece of art by Salvador Dali about the same wall next to the Monet, but there`s not any reason why that they can`t become in the same place together. With fabrics no matter if it be furniture, mats or pillows, varied shades and patterns brings friendliness and texture into the lifestyle space.
Work with decorative mirrors to include fast light to your livable space . As seen above, showcases doubles to make the small space feel much larger . For larger rooms, or perhaps any room with some sort of more limited amount involving natural light, mirrors located directly across in the home windows , will add instant light source . Decorative mirrors doubles within lieu of art in order to fill empty wall room . Large or small, mirror add light and dimensions to your living area.
Make use of what you already have got to decorate. All of us possess items in our control , probably packed up throughout boxes somewhere and have not given them a 2nd glance. Your property needs several accessories. As opposed to running to be able to the store, take the good look at everything you already have. Trays, wood , acrylic, metal or sterling silver can be on leading of luggage racks, teas carts, trunks, bedside dining tables and coffee tables regarding extra texture and aspect . Arrange candles on all of them , frames or pile textbooks on top of all of them . Plates can be strung to create wonderful walls art. Art from kids books can be frame and hung in nurseries, children`s rooms or their particular bathrooms. You will get amazed at your talent with what you previously have!
Live green . Add plants to be able to your livable space . Add all of them to every room, tiny or large, few or perhaps many. Plants could be an affordable means to accessorizing the space and adding coloring and texture. Not just are plants beautiful yet many can clean house air and balance dampness . They can absorb impurities and remove harmful smells from the air. Not any home should be without having these wonderful greens!
Paint smaller bedrooms in softer, lighter colours which will make the room sense larger. The living area above is a fantastic sort of how in order to maximize a small livable space . A room of this kind of size has got the tendency in order to seem cramped, however the significant windows, light colored wall space and ample using mirror not only reflect the particular natural light pouring inside through the doors and typically the windows however the use associated with mirrors also provides optic illusion of space, generating the room seem greater than it actually will be . Conversely, darker colors will certainly make a room sense smaller. Even with typically the abundance of natural light source and the strategic holding of the mirrors, this kind of room in a more dark shade may have an even more boxed-in feel with it.
No matter if you`ve just moved and looking for a rapid , little home pick-me-up, or perhaps perhaps something better, generally there are some well-known interior design tricks that designers make use of which you too can effortlessly do with minimal hard work and cost. Sometimes the particular smallest things associated with best impact. It could get digging in a hand mirror , a painting, a light fixture or even a flower. You may want to make softer your walls, brighten a new room, or exercise . friendliness to your living place. Check out these clever style as well as notice how they can motivate you!
Add a suspending pot holder to your own kitchen. Kitchens are designed to be warm and even inviting. We spend very much of our time within them whether it become for preparing meals, providing meals or entertaining. The hanging pot rack is advantageous elegance. Kitchens are designed to feel as although they are in regular use and a dangling pot rack certainly helps make one feel this approach . In addition to searching so wonderful, (there are numerous sizes and styles available) additional cupboard space under has become freed up in order to store other items. Almost never has anyone complained involving having too much storage space.
IMAGE COLLECTIONS : Moroccan Style Interior Design