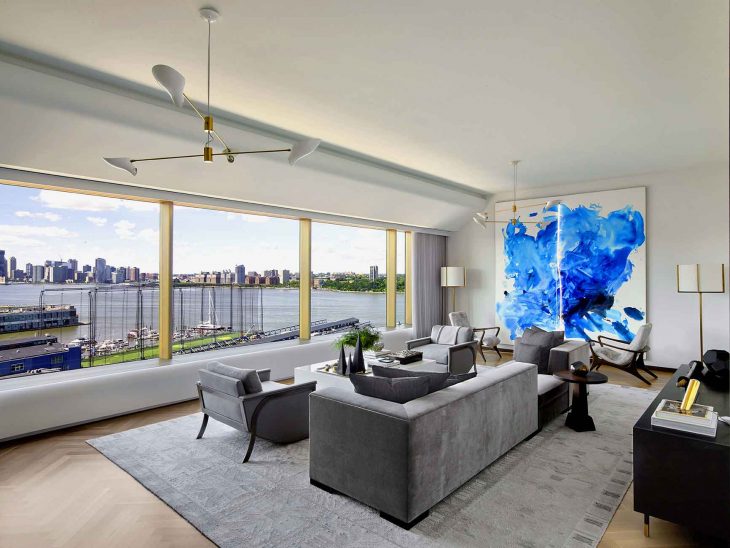 Markzeff Architecture Interior Design Firm New York City
Markzeff Architecture Interior Design Firm New York City
Markzeff Architecture Interior Design Firm New York City
. . . . . . . . . . . . . . . . . . .
MARKZEFF is counted among the Top-200 Interior Design Giants and the top 75 Hospitality Giants in Interior Design magazine. MARKZEFF is an award wining firm whose many accolades include: Best of the Year Award by Interior Design for Hospitality and Office Design, Hospitality Design Award for Best Hotel/Day Spa, Gold Key Award for Excellence in Hospitality Design, How International Design Award for Environmental Graphics, and Print magazine's Design Annual Award and Creativity + Commerce.
Zeff, who began his career in residential design, has created homes for clients including Hilary Swank, Annie Leibovitz, Alexis Bittar, and Gabriel Bryne, among others.
Yanling LIN New York, NY, US Interiors, Graphic Design / Signage
Maison Gerard, one of the world's leading furniture galleries specializing in fine Art Deco and contemporary design, debuted the Bronze Age: Constantine Series by Mark Zeff. For this collection, Zeff took inspiration from his favorite Art Deco and 1940's French modernist designers. Bronze is the material that forms the foundation of this collection that consists of a desk, console, club chair, armchair, and ottoman.
Hotel Van Zandt and BLACKBARN Home both won Interior Design's Best of Year Awards in 2016 and 2017. Mark Zeff was inducted into the Hall of Fame for 2017.
Attention to detail in every project is paramount to the company's success and is a characteristic the firm has maintained since its incipience. Their original and distinctive environments seamlessly integrate the highest quality craftsmanship, handmade items, custom furniture, lighting, and hardware with the latest technology. Each project tells its own story, and it is through the design they enable their clients' visions to shine through.
Interior renovation for a Joie de Vivre Hotel in San Francisco.
Interior & Landscape design for the barn house in East Hampton, NY.
MARKZEFF was tapped to be the interior designer for all the public spaces and the residences for the luxury condominium development and sales office for 500 W 21st Street for Sherwood Realty. Located along the Highline in the Chelsea Section of New York City, this extraordinary property sold out within six weeks of the opening of the sales office for the property. For the residences, the firm created interiors that have a modern, industrial-chic design. Each apartment has
Based in New York City, MARKZEFF is an international, full-service design-consulting firm. Following its philosophy of natural fusion, MARKZEFF blends interior and environmental design and brand development to create experiences that inspire and stimulate the senses. Mark Zeff, founder and president of MARKZEFF approaches each project, from luxury yachts to the development of global brands and revolutionary hospitality ventures, with a holistic design methodology that embodies its natural fusion philosophy. With innovation as its bedrock, Mark Zeff delivers cutting edge design with an eye for elegance and style.
Branding and Interior design for BLACKBARN Café & Bar in Chelsea Market, NYC.
Over the last 25 years, MARKZEFF has evolved from a residential design firm into one of the nation's leading multi-disciplinary boutique design agencies.Zeff believes the attention to detail given to its private residential clients is essential to its success and is a characteristic the firm has maintained through its evolution. Mark Zeff, founder of MARKZEFF, began his career in the United States working with private clients throughout the world including Hilary Swank and Gabriel Bryne among others.
MARKZEFF is an interdisciplinary architecture and design firm that emphasizes innovation and originality in every project. Founded in 1985 by Mark Zeff, the firm has created extraordinary environments all over the world. Based in Dumbo, Brooklyn, the company specializes in a broad range of work from luxury residential, hospitality, and retail to high-end real estate development to product and brand development to super yacht design. This award-winning practice has earned its reputation for delivering cutting edge design with an eye for elegance and style.
MARKZEFF's work has appeared in numerous publications including: The New York Times, Wall Street Journal, Interior Design, Architectural Digest.com, Vogue, Vanity Fair, Los Angeles Times, Travel + Leisure, Elle Décor, Financial Times How to Spend It, Conde Nast Traveler, I.D., Details, Hospitality Design, New York, Food & Wine, Wallpaper, New York, Las Vegas Review-Journal, and Philadelphia Inquirer among others.
MARKZEFF has been tapped to design the flagship Virgin Hotel that will be located in NoMad, the hottest new area for residential real estate, design and restaurants in New York City. This highly anticipated property includes 450 guestrooms with three floors of pool and restaurant space. The design firm will also be designing the 240-room Virgin Hotel in Nashville, Tennessee on Music Row, which takes inspiration from the music scene.
Residential Commercial Hospitality Corporate Entertainment Mixed-Use
Mark Zeff launched his own lifestyle brand, BLACKBARN, in the spring of 2015, which includes real estate development, a restaurant, a book, and a workshop/retail. The name comes from the home the South African-born designer built in the Northwest Harbor section of East Hampton. A sedate, sexy modern black barn that stands in contrast to the area's myriad, out-of-place, oversized dwellings, BLACKBARN is a blend of industrial, artful, refined, and understated. BLACKBARN is a lifestyle that redefines luxury,
Interior design for Kimpton Hotel Van Zandt in downtown Austin.
Related Images of Markzeff Architecture Interior Design Firm New York City