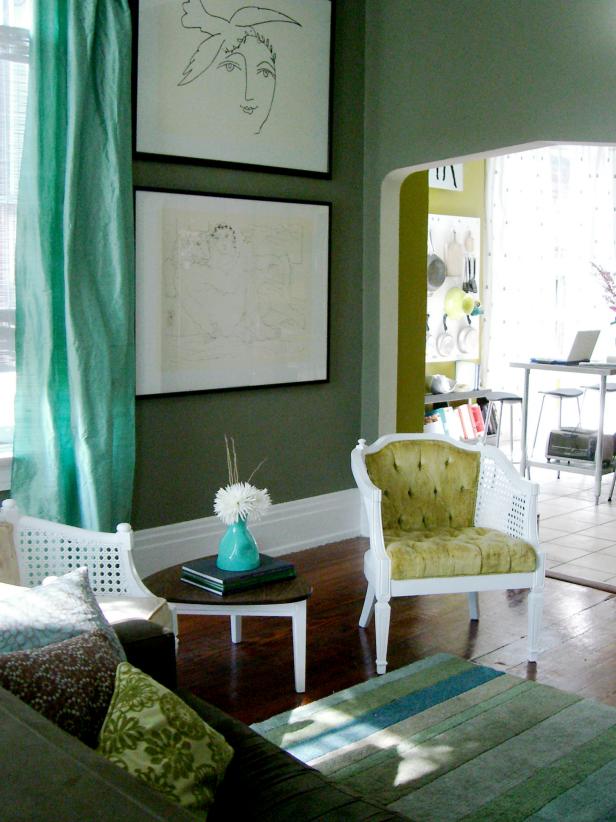 Living Room Colors
Living Room Colors
Living Room Colors
. . . . . . . . . . . . . . . . . . .
Your color palette can be inspired by anything, including your love of the great outdoors. Designer Fawn Galli uses natural greens and turquoise to create a calming palette that brings the outside in. Image courtesy Fawn Galli Interiors
This classic interior by Thom Filicia is a celebration of the color green. Kelly green is used from the floor to the ceiling to envelop the room in this stunning hue. A mix of emerald and black is presented through a vibrant ikat rug.
For a spectacular statement, black wallpaper covers a feature wall in the space. Image courtesy of Thom Filicia
"Strongly hued colors, like exotic chinoiserie red, give homes a sense of impactful design," designer Scot Meacham Wood says. And this is proven by the book shelves in this living room, designed by Marshall Watson.
To open up floor space in his New York City living room, designer David Kaihoi built a corner banquette, with hidden storage beneath the seats. "Everything has to have more than one purpose," he says. The walls are painted in Purple Haze by Benjamin Moore to distract from the small size.
Located in an iconic Manhattan apartment building, Sarah Bengur's studio has a personality all of its own. The warm coral walls, painted Colorhouse Clay .07, set off the neutral and colorful decor brilliantly.
The custom yellow paint job in this New Jersey living room is warm and offset by blue, coral, and ocher accents. "You've really got to sell your client on a yellow-lacquered living room," designer Michael Maher says.
A new house on Alabama's Lake Martin takes on the look of an old cabin with soft, washed-out colors and ebony wood walls. Designer Susan Ferrier chose a chandelier by Phillips Metal Works to make a lofty living room feel more intimate.
Philadelphia-based interior designer Mona Ross Berman used a baby-blue shade that extends to the flooring with a blue- and green-patterned carpet in this cozy living space. Grass-green elements are added to the soothing color palette with accent pieces: an upholstered ottoman, X-bench and cushions.
For a room with a bright color palette like this one, temper it with a large neutral piece, like this cream-colored sofa. Image courtesy Mona Ross Berman Interiors
Hot pink may be associated with girly-girl style, but the color can also be used to brighten a neutral space. In this seating area by Abbe Fenimore, a cream sofa becomes the perfect backdrop for various shades of the juicy color.
Meanwhile, green textiles on the side chair complement the bright hue. The painting in the seating area, with its brown, green and peachy tones, ties the whole room together. Image courtesy Abbe Fenimore of Studio Ten 25
Designer Suellen Gregory gave this Virginia townhouse a feminine update by painting the center parlor a custom high-gloss pink from Fine Paints of Europe. The patterned chairs add even more playfulness to the space.
Mixing and matching similar shades is an unexpected way to create a room's color palette. Shades of burnt orange and citrus are layered together in this room for a lively mix. Image courtesy Hilari Younger of Ufunkshen
To bring a feeling of nature into a New York living room, designer Fawn Galli used a custom minty green: "I don't think a color should be too saturated or strong on a wall."
Go for glamour with a regal shade of purple. Hilari Younger pairs purple with black and white to create a room that has an Old Hollywood feel. A cool gray wall adds the final sophisticated touch to this seating area.
Image courtesy Hilari Younger of Ufunkshen
Designer Kristin Kong hid a door to the basement behind millwork painted in Sherwin-Williams Black Fox in her home near Atlanta. The ­trick "makes the room look less choppy," she says, since the dark color helps everything blend together.
Beautiful shades of turquoise and hot pink pop in this cheerful Los Angeles living room created by Design Star winner Emily Henderson. Use big hits of color in a living room's palette to create a bright, airy and happy space that integrates both feminine and masculine details.
Image courtesy Emily Henderson
Warm up your living room with rustic shades. Hilari Younger layered this living room with a variety of warm tones like burnt orange, brown and gold to create a cozy, inviting space. Image courtesy Hilari Younger of Ufunkshen
When designer Justine Cushing moved into her New York apartment in 1970, she had the living room walls painted a custom orange — a color she has never considered changing. It's a dynamic backdrop for artworks by her grandfather, Howard Gardiner Cushing, and a red lacquer chinoiserie desk that is a family heirloom.
Color Is Everything Color Inspiration Room Ideas Designer Living Room Decorating Ideas Beautiful White Living Rooms Designer Family Rooms Rustic Living Room Decor Stylish Green Living Rooms Genius Ideas for Small Living Rooms living room decor and decorating ideas color
In a San Francisco house designed by Stephen Shubel, the living room walls are painted Benjamin Moore's Bridal Pink, a soft color balanced by the deep browns and the earth textures in the room.
Discover a unique color palette through the accessories in your home. Designer Fawn Galli's living room, with a pastel palette of pink and green, was inspired by a pair of ikat drapes from Cambodia. Image courtesy Fawn Galli Interiors
Yellow, orange and red details stand out in this minimalist living room. Use art as the focal point of your room's color palette — a white backdrop keeps a bright palette from becoming too intense. Image courtesy Fawn Galli Interiors
The walls are painted a subtle shade of blue, Benjamin Moore's Lookout Point, in a New York living room designed by Christopher Maya.
Just because a rental might be short-term, doesn't mean it has to lack style. In her historic Charleston rental, stylist Jill Sharp Weeks painted the entire interior a sophisticated gray that felt period-appropriate — Sherwin-Williams Pussywillow, to be exact.
The classic black-and-white color palette is given a refreshing twist when blue is added to the mix. Designer Abbe Fenimore painted the walls a crisp blue to present black-and-white furnishings in a bold new way.
Blue accents add hints of the wall color to the living area. Image courtesy Abbe Fenimore of Studio Ten 25
Mixing navy blue and brown may seem dark for a living room, but the color palette works beautifully in this cozy seating area. Designer Lindsey Coral Harper covered the wall in a lacquered navy blue, and added bits of brown with wooden frames on the side chairs and art.
Image courtesy of Lindsey Coral Harper
Be playful with color in a creamy interior. Red details take this living room space from traditional to bright and modern. Red accents come through in the side chairs, cushions and media cabinet. With warm golden finishes, this room's color palette feels elegant and luxurious.
Image courtesy Fawn Galli Interiors
Designer Sam Allen transformed the main room in his Connecticut apartment by painting it in Benjamin Moore's Split Pea. "I love green and purple together," he says. "It's very Palm Beach."
Designer Sara Story lacquered the walls in a custom ocean blue color in the family room of this pre-war New York City apartment. The shiny walls help bounce light across the space, giving a bright and open feel.
To warm up the new Sheetrock interior in a Palm Beach house, the expansive living room is glazed a "juicy cantaloupe color that makes everyone smile," designer Ashley Sharpe says. Even the coffered ceiling subtly picks up the tropical punch.
Interior designer Abbe Fenimore plays with a turquoise, neon yellow and gray color palette in this cheerful living room. A soft blue modular sofa shines with electric neon pillows atop it. A slate-gray wall is the perfect backdrop to this living area's bright shades.
Image courtesy Abbe Fenimore of Studio Ten 25
In a colorful Park Avenue apartment by Mark D. Sikes, walls in Benjamin Moore's Misty Lilac help ground the lively patterns used throughout. In a way, the soft purple shade almost acts like a neutral.
Spice up a white room with golden hues, a rich peacock blue and warm gray tones. Emily Henderson has turned this living room's reading nook into an inviting space with splashes of color that take the space from boring and basic to bold and beautiful.
To get the look at home, create a feature wall with paint or wallpaper. Here, Emily added gray and gold tones with Joy Cho's Petal Pusher wallpaper. Image courtesy Emily Henderson
In a Manhattan apartment designed for a couple in the fashion world, designer Miles Redd lacquered walls in Farrow & Ball's Hague Blue, "a great way to do a moody color because of the way it reflects light. It doesn't look dark so much as rich."
Mariah O'Brien filled this living room with a mix of strong, warm hues to create a stunning color palette. Yellow, red and orange details pop off the brown shelving units. A turquoise-blue vase brightens the coffee table, and a hot-pink swan chair works like an exclamation point.
Image courtesy Mariah O'Brien Interiors
In a North Carolina house designed by Lindsey Coral Harper, the celestial airiness of walls lacquered in Benjamin Moore's Antiguan Sky is grounded by a pair of Addison corner chairs from O. Henry House upholstered in Neptune-blue velvet — and covered in a Kravet fabric.
Get this paint color: Benjamin Moore Million Dollar Red 2003-10
Black and navy blue may be on the dark end of the color spectrum, but they can work together to create a modern living space. In this living room designed by HGTV Design Star finalist Hilari Younger, beige, brown and white elements lighten the dark color palette.
Image courtesy Hilari Younger of Ufunkshen
To give your family's go-to spot a fresh new vibe, look no further than these designer-approved picks. Each living room color is just the right amount of daring to ensure your space will take on a stylish sophistication after a few brush strokes.
Mona Ross Berman uses happy shades of lemon yellow and bright orange for a house by the beach. Play with a mix of bright shades to create a room that is instantly smile-inducing. Image courtesy Mona Ross Berman Interiors
In this oceanfront Palm Beach house, designer Allison Paladino glazed the living room walls bright green to capture the light and painted the woodwork white to calm it down. "The bright green in the sunroom is gutsy, but the room is actually quite relaxing because I restricted the palette to green and white to create calm," she says. "If I'd added another color the room would be jarring."
Lindsey Coral Harper designed this daring living room study using berry delicious shades like raspberry, blueberry and mint green. In a room with bold blocks of color on the walls or built-ins, look at bringing in calming tones through furnishings.
Here, light-colored seating and carpet grounds this vibrant space. Image courtesy of Lindsey Coral Harper
Create a lively living room with energetic shades. Designer Abbe Fenimore mixes decorative accents in color-wheel opposites peacock blue and tangerine to enliven this living room's color palette. For a softer look, try tangerine and mint.
Image courtesy Abbe Fenimore of Studio Ten 25
Get this paint color: Glidden Tranquil Light Green 70GY 83/060
In a Connecticut house designed by Philip Gorrivan, living room walls painted in Farrow & Ball's Tanner's Brown — with trim in Benjamin Moore's White Dove — set off an eclectic art collection and a classic Bridgewater sofa, covered in Josef Frank's Windows.
Related Images of Living Room Colors