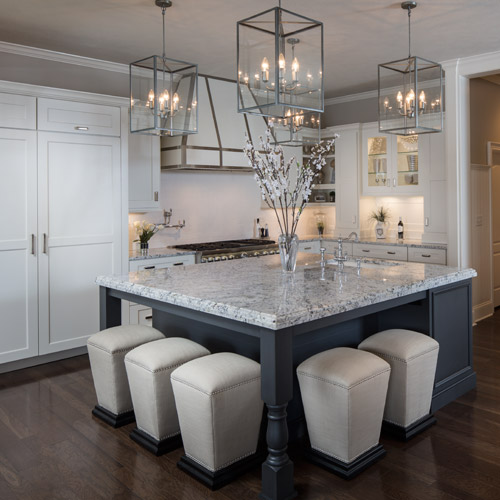 Kitchens By Design
Kitchens By Design
Kitchens By Design
. . . . . . . . . . . . . . . . . . .
Our full kitchen remodeling takes only 3 to 4 weeks on average. We only work on one job at a time and will be at your home working everyday until it is complete.
We offer kitchen design, bathroom design, granite, finished basements and custom bars.  
Our client's vision was to have a luxury master bath with the feel of a classic high end suite at the Ritz.  White Carrera marble subway tiles, chair rail, base moldings and a traditional basket weave floor help accomplish that along with the free standing cherry cabinets and classic lighting.  We have done many projects in her home over the years.
A Kitchen by Design provides over 20 years of experience for your remodeling needs. Get your projects completed without taking time out of your busy schedule. Whether you're building new or looking to update your current household cabinets, our experts will provide you with dedicated service in order to make your dream living space a reality.
We stake our reputation on paying close attention to every detail on our projects. Scroll down to check out some of our latest work or read our testimonials.
After 30 years in business and hundreds of kitchens under my belt, I'd have to say this is one of our favorites! We created a vintage look with distressed black cabinets, pitted glass display doors, large subway tile, industrial lighting and a furniture piece for an island.  Over the years we went on to remodel several bathrooms in this home.
We are dedicated to your complete satisfaction and we have the experience and expertise to capture your dream in design and make it happen. 
We took what was a little 10'x10' U shaped trap of a kitchen and removed the dining room wall to make a grand Gourmet Cherry kitchen to be proud of with plenty of storage, lighting, and work space. The kitchen was just one piece of a whole house remodel.
A true Gourmet kitchen with all the right stuff.  The 9' ceilings allowed us to go with the stacked cabinet look enhanced with LED lighting and glass shelves.  A WOLF range and powerful fan say "start cooking" along with a beefy dark color island with seating and plenty of work space.  
"We were blown away with the skills and speed in the rough carpentry construction. Our friends and family have offered many compliments on the cathedral ceiling. We are so glad we chose to work with Kitchens by Design, Inc.
and look forward to a bathroom remodeling in the future."
"To Fran, Bev, Jean, John and Vinny. We love our kitchen! We have entertained in it, shown it off, always to great accolades and enjoyed it on a day by day basis. Our friends and family are most impressed with it, but best of all is that our kitchen really works for us.
With all of your help, guidance and expertise, we were able to realize our dream kitchen. Thanks."
"I just wanted to say thank you again. When we had the sink issue, we were so grateful for your running interference for us. It made all the differences to know that you stood by your work and that you were there for us.
This is when you are sure that you have chosen an excellent kitchen design and construction company."
Related Images of Kitchens By Design