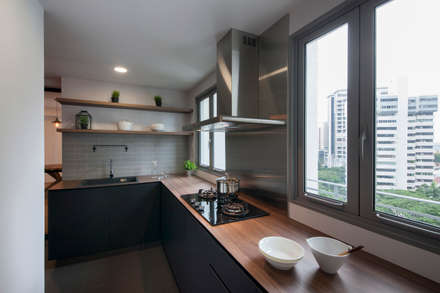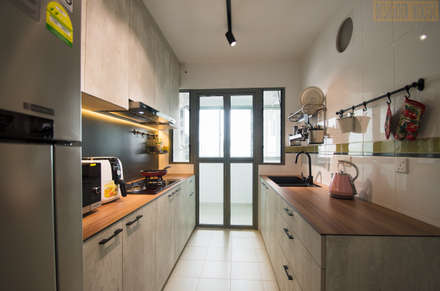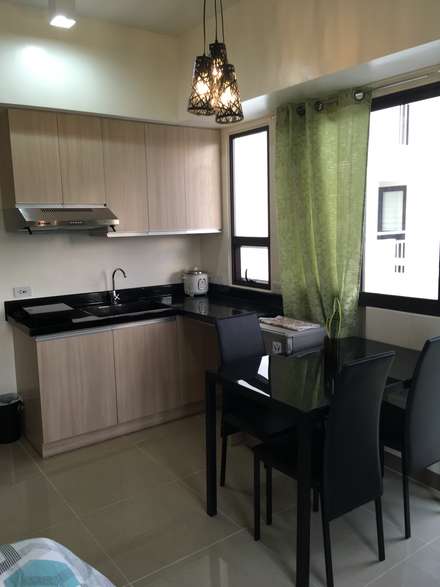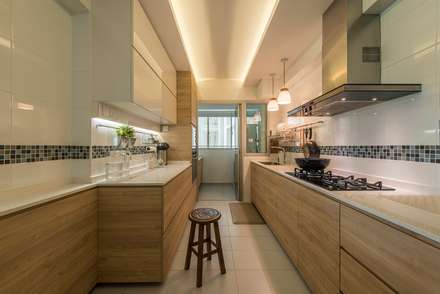 Eclectic-style kitchensWith so many tantalising kitchen style options available, it can be tough to choose. But why stick to just one? The great thing about choosing a look for your kitchen is that you're not constrained by any one style. In fact, remarkable results can be achieved through blending motifs and models from an array of sources. With eclectic-style kitchens you can blend styles, colours and designs to create a space that's uniquely you. The result can be a quirky, enticing blend that defines and showcases your sense of style as well as providing the ideal place for culinary adventures.
We are the only interior design company in Singapore that has a full post-renovation department to safeguard your interests. Being an established business with over 10 years of history, we have a strong track record of working with homeowners to create a place that they are proud to call home.
Open plan kitchens are increasingly in vogue nowadays as homeowners break traditional boundaries of interior design. Moreover, cooking is now seen as integral to the modern lifestyle and something to be shared and not hidden away. However, open plan kitchens need careful planning. It starts with an effective extractor hoods to remove smoke, steam and food smells. You need to get the kitchen lighting right, too. Your décor needs to blend in with the adjoining spaces, be they dining or living areas.
Simply click the button below to receive a FREE quotation and 2 FREE initial design layouts. They will be sent to you via email. We will contact you for further information where required. Get the 2 initial design layouts and free quotation now!
Many city dwellers own kitchens in which space is at a premium. Fortunately, with a little ingenuity and planning you can maximise the square footage available to you. First, choose colours wisely. Light hues or neutrals work best to create a feeling of spaciousness. Also sticking to just one colour scheme helps create a sense of openness. Next, consider shiny surfaces. Stainless steel, glass, ceramic tile, are subtle space enhancers. If you're putting in a tiled floor, opt for light coloured large tiles with simple patterns.
The kitchen needs to be one of the more resilient rooms of the house, owing to the constant bombardment of steam, grease and heat. This means you have to focus on durability as well as style when designing kitchen walls. Tiles make a fine choice being hardy and moisture proof, and come in a dazzling array of patterns. Paint is another option, being easy to clean—an important consideration in a busy kitchen. Kitchen wallpaper is another good choice, as long as it's robustly affixed and can withstand the aforementioned conditions. Style wise, one basic tenet is to ensure walls harmonise with cabinets and other functional areas of the kitchen.
Creating a dream kitchen demands a specialised blend of art and science. Your kitchen planner must have the aesthetic sensibility to conceptualise a place of beauty, allied to a solid understanding of plumbing, electricity and local regulations. They must also be aware of all the available materials, accessories, finishes and raw materials. Hiring a professional is a must to ensure you stay within budget and avoid the many potential mishaps.
All of our renovation works are done by Malaysian-Chinese who are highly skilled in what they do. While we can claim that our workmanship is strong, it is difficult to prove unless you see it yourself. We arrange visits to flats done by us. Join us for flat visits to check out the high quality of our renovation works from flooring and tiling to in-built cupboards in living room, bedroom and kitchen.
A Scandinavian-style kitchen varies from classic modes dating from the time of King Gustav III all the way to the latest Swedish modernism. However the defining factor is the use of natural materials and the relentless quest for a sense of light and space. Scandinavian-style kitchens are dominated by the colours of the stark northern landscape – the white of snow, and the pastel colours of the seasons – mint, blue and grey. Add in open shelves and other storage units and you get a bright, airy and uncluttered feel. Floors tend to be wood and treated so that the natural grain remains visible. Scandinavian minimalism draws on the heritage of muted colours and add contrasts for variety. These contrasts can take the form of brightly coloured door panels or decorative tiles and add warmth to the austere white background. Other dramatic contrasting effects can be created by using black splashback, tiles or work surfaces.
Renovation can cost anywhere from $20K onwards depending on the extent of hacking and the size of your apartment. Beware of contractors who provide a general quotation, they will often charge more at the end of the renovation.
As part of our practice, we provide every homeowner a detailed quotation of the work to be done including all the hacking and installation.
When decorating your kitchen, start with colours as they powerfully affect the mood. Reds can energise a room and warm things up, whereas, blue and green imbue a calm feeling. Bear in mind that lighter colours add to a sense of space, useful in compact rooms. In general, floors should be darker than the walls and should also be more subdued. Décor wise, the world's your oyster. One nice touch is to blend a classic look with ultra modern amenities to create a space that's both elegant and efficient.
Renovating a house is a big project. We know your worries of sticking to the budget. We have our own team of contractors to do the work, from hacking to carpentry. That can help you to save on cost by a fair bit. We also provide FREE quotation on top of the 2 design layouts. That is why most homeowners enjoy working with us; we balance both cost and good design.
Simply because you want a peace of mind. With contractors, you can save on cost. But they don't provide designs and project management services. Imagine having to liaise with 4 to 5 contractors while juggling with your full-time job – it is almost impossible.
You might even incur higher costs when some contractors don't deliver as promised. You should always look for a trusted interior designer to get the job done for you.
Unlike most interior designers, we provide 2 initial design layouts instead of just 1. This is done to give you a clearer sense of what style suits you and your apartment more. Going one step further, we also do 3D designs to help you visualize your future home.
One thing is for sure, no other interior design firms provide post-renovation service like us to safeguard your interest even after the 1-year warranty period.
Country-style kitchensThere's something wonderfully heart-warming about rustic kitchen styles. They hold the promise of hearty food, good company and show a refreshing proximity to nature. The country style blends muted colours, natural finishes and solid wood, parquet or stone floors with vintage kitchen accessories to create an effect that exudes homeliness. But there's no need to look old fashioned. Today's country-style kitchens can blend the charm of the countryside with the most modern accessories, storage options and finishes to create a cheery space that's a delight to cook and relax in.
Samuel is in charge of my house renovation from 4 Nov 2017 to 18 Nov 2017. only In this short short time he had completed the work that normally need 1 or 2 months. And the work done by Samuel is excellent!! He is not just artistic design for interior of my house but also help us to save our money for important things and advise us not spend on things that non-important.
Samuel thinks not only he himself but also us interests. If without Samuel's responsibility we can not shift from old house to new house so smoothly. Soooooo much thanks to Samuel and strong recommended Samuel to design for your house!!!
A very artsy interior designer firm. Big thanks to Samuel who always think out of the box and make our pennies worth (he will advise if doing this or that is worth or waste of money in long run). Always find great insights to deliver what you want with their proposed design.
Highly recommended, especially to home owners who want to create some art in their daily living space.
Questions to ask your preferred kitchen specialist during meet-up
Chances are, you are unsure how to pick the one designer for your home. One that listens to your needs and manages the whole renovation process for you. The only way to tell is to speak to one of us, to see if we are the right fit. With over 10 years of interior design experience, we can help to build your dream home. Why not tell us your ideas and start planning today?
Address: 61 Ubi Road 1 #01-10 Oxley Bizhub 1 Singapore 408727
What we like most about Samuel, he is a good listener and he explains his solution very well. He listens to us, completely understands our needs and then he would propose a solution that is practical, reasonable and acceptable.
He walks us through the complete solution before implementing by discussing & explaining the whys and why-nots. When we did renovation of our kitchen, Samuel suggested reuse of few existing components that were still in good quality, which we think many other contractors would have tried to replace with new material to make some profit.
Samuel is reliable, accessible and produced good quality solutions for us.
Many homeowners and interior design experts say the kitchen is the most essential room in any home. Kitchen interior design is important because it serves as focal point of family bonding, entertainment and lifestyle. In fact, the contemporary kitchen is not simply a place for food preparation or storing dining utensils and appliances. It has emerged as the new living space where family members gather and eat regularly. The kitchen has been essentially transformed into a modern and functional space.
We get it. Making your dream home come true is not an easy process. You have many ideas in mind. You are also worried about meeting your budget. Furthermore, there are those renovation horror stories you have heard, that make you cautious about being the next victim.
Kitchen interior design ensures a balance between artistic taste, functionality and style. Designers think about the interior elements as well as accessories that will match materials and shades.
Modern kitchensToday's modern kitchens are masterpieces of style and functionality. They blend elegant sleek styles with the new finishes coming onto the market. These include veneers, lasertech and high pressure laminates which bring a smooth and seamless chic to any setting. In terms of layout, modern kitchens favour open plans, often delighting us with artfully placed islands. These create oases of functional space for food preparation and relaxation. Invisible storage options are another favourite with handleless cabinets that glide away out of sight.
Sourced for alot of ID firms but ended up signing with Dream Vision, and honestly speaking, we DID NOT regret our decision. Be it ideas or working ethics, very creative and professional. ID in charge of our project constantly giving us viable and creative ideas, not forgetting excellent before and after sales services! Thumbs up!!!
Kitchen countertops and surfaces have come a long way in recent years. Though the old staples of wood, ceramic, stone, glass and aluminium still reign, today's kitchen worktops and islands are increasingly graced by laminates. Affordable, hardy, and easy to clean, they come in a dazzling range of styles and patterns. For traditionalists, wood is a perennial favourite favoured for its natural strength and beauty. Stone, however, is hardier. Engineered stone can look wonderful and is acid-resistant and non-absorptive. Granite is another hardy favourite, with concrete a more contemporary contender.
The kitchen is one of the most important spaces in the house. Beautiful and functional kitchens will make cooking and cleaning a breeze for busy homeowners. If you require a quick makeover, do seek a no obligation quotation at homesavv.com. Our interior design professionals are happy to assist and provide you with a value for money kitchen design.
After having been cheated by a crook, we were lucky to be introduced to samuel from a close friend. He succeeded to not only terminate the project in the limited time but also far exceeded our expectations.
Not only he was understanding, kind with great ideas and suggestions but his work was extremely efficient and the support was continuous. We fell in love with our home immediately and not one day passes by without us loving our nest and blessing his work.
He understood our requests and with a touch of creativity, realised our demands in a cost efficient and timely manner. We highly recommend his work to all.
Simply fill in the form below to receive a FREE quotation and 2 FREE initial design layouts. They will be sent to you via email. We will contact you for further information where required. Get the 2 initial design layouts and free quotation now!
A kitchen is a major investment and when done well, will provide decades of pleasure, so plan carefully. A kitchen must be a place that makes cooking a breeze, can safely store everything you need, and inspire you over morning coffee. So consider the pragmatics – available space, volume and type of cooking you plan to do, family size, and so on. What does it look like? An old-fashioned rustic retreat or a sleek and futuristic zone? Choose a kitchen planning firm with flair and experience.
All the more you should! We are trained in space planning. A good design is one that improves the look of your house, and also makes your house feels bigger than it is. Some of the methods include using more glass panels, mirrors and hidden storage to hide all the clutter.
Show us your floor plan to see if we can help to plan your house to achieve a clean and elegant look.
Yes. Because you might not be trained in drawing technical floor plans needed to communicate with the renovation workers. We do that for you. We also provide suggestions and advice on how to design your space.
On top of that, we oversee the whole renovation process. Knowing what design style you like will help to speed up the initial process. Let us know your design style to start planning your home today!
With a beautiful and systematic design, the homeowner does not have to worry regarding the process, progress of construction and final outcome. You only have to communicate your vision to the designer about styles for prompt implementation.
Planning your kitchen is a serious business, but one you should approach with a sense of adventure and creativity. After all, where's the fun if you don't inject a little personal flair into proceedings? First, consider your available space as this obviously limits scope and defines layout. Then consider style. Do you want a homely rustic style, or the understated elegance of urban minimalism? Your answers will determine your choice of materials and colours. Ultimately, kitchen planning is a blend of art and science and the result is a space that's a pleasure to view and a joy to cook in. Just ensure you do your research and come up with a thorough plan before you get started—one of our professionals can help with a free consultation
With over 20 years of experience, Samuel founded DreamVision in 2007. Samuel does a lot of the work himself. Due to his professionalism, he always gets many referrals from past satisfied clients. He believes passion is what keeps him going. Over the years, Samuel finds joy in working with homeowners to fulfill their home dream. Currently, Dream Vision has a team of 9 design consultants, 2 professional 3D draftsmen and 2 project coordinators to help every homeowner makes their dream home comes true.
If I already have a design style in mind, should I still look for you?
Classic, retro, modern, minimalist, country, Mediterranean, eclectic, or Scandinavian? Kitchen styles come in a rich and diverse array of options. But how to choose the right one for you? Essentially, style is a very personal matter. We each have our own tastes, yet we're also influenced by the creativity of others. At the same time, we're inevitably constrained by budget, space, resources and the need for functionality. Ultimately, your eyes will identify and confirm the style that really calls to you. When you see the image that inspires you,  you'll be ready to forge it into something concrete – your dream kitchen.
Do you have the necessary credentials and experience in modern, creative and functional kitchen designs? How long have you been in this job of designing eco-friendly kitchens? Are you willing to work according to the allotted budget? How long will the whole process take? What are your significant achievements in this field? Are you updated with new trends, concepts, solutions, and products in the industry? What are your options if a major problem arises?
The kitchen designer takes care of planning the kitchen's entire layout and designs the area's workflow. This creative specialist chooses appropriate materials; draws the layouts; deals with backsplashes and countertops; coordinates with manufacturers and suppliers; and, supervises installation works. The designer also works with an architect when it comes to structural matters that have an effect on layouts which include electrical connections and plumbing.
Spare a thought for your kitchen floor, buffeted daily by an onslaught of busy feet, smoke, spills, and general grime. This demands a floor material that can continue to look good despite the stressors posed from everyday life. Ceramic tiles were long the flooring of choice being hardy, water resistant, attractive and easy to clean. Natural stone such as marble or granite is another favourite, especially in rustic-style kitchens. Now you can choose from new floor coverings with intriguing properties. These include vinyl tiles and laminates as both are tough and waterproof and can effectively mimic the look of natural materials.
We have confidence in our workmanship and provide you with a 1-year warranty at no extra cost. On top of that, we offer a lifetime post-renovation service for you to contact us immediately if you encounter any issues with the work. This is to safeguard your interest even after the 1-year warranty ends, we will still stay in touch if you need us.
My project was managed by Eddie Yap and his team of Dreamvision. Despite me being overseas during the entire project, it went on with a breeze and they were able to deliver what I have communicated via email and WA.
I was glad to be able to focus on my work and not stress over the course of renovation. The added bonus is that many friends commented that it is reasonable and value for money. I highly recommend this company.
Patient and meticulous to understand my requirements yet at a reasonable cost. Surprisingly Eddie also provide many valuable inputs on what's good and what's not, reducing the total amount spent. Not like other IDs I encounter.
. very pushy to add things that might not be even practical. Will definitely get him to handle my next property purchase.
We are one of the few firms in Singapore that has full-time site coordinators to monitor your renovation. We do on-site checks 4 to 5 times a week to make sure all the ongoing work are up to standards.
Regular updates will be given to you through Whatsapp on the progress of renovation.
This is the most basic reason you have come to us. Our designs style ranges from luxurious to minimalist. If you like retro or industrial, your house can be done up to resemble those in the 60s-70s. Unsure which style is for you? We offer up to 2 initial design layouts drawn by different designers for FREE. We make sure you find the right style for you and your home.
Regardless of whether you`ve just moved and looking for a speedy , little home pick-me-up, or perhaps perhaps something better, right now there are some well-known interior design tricks that designers use that you just too can quickly do with minimal hard work and cost. Sometimes the particular smallest things associated with best impact. It could become digging in a looking glass , a painting, a lamp fixture or even a herb. You want to become softer your walls, brighten some sort of room, or increase friendliness to your living area. Look into these clever style as well as observe how they can motivate you!
Wicker baskets. Straw-plaited baskets are an cost-effective and elegant solution to include storage to any area . Baskets can be utilized to store and exhibit books, architectural and interior decoration magazines, toys, towels in addition to blankets to name the few. Place a few little wicker baskets for the counter-tops in your kitchen in order to beautifully display and retail store your fruit and veggies.
Employ decorative mirrors to incorporate quick light to your livable space . As seen above, mirror could also be used to make some sort of small space feel greater . For larger rooms, or perhaps any room with the more limited amount involving natural light, mirrors located directly across from your house windows , will add instant light source . Decorative mirrors may also be used within lieu of art in order to fill empty wall area . Large or small, mirror add light and aspect to your living area.
Add a dangling pot holder to the kitchen. Kitchens are supposed to be warm and even inviting. We spend very much of our time within them whether it get for preparing meals, helping meals or entertaining. Some sort of hanging pot rack pays to elegance. Kitchens are intended to feel as nevertheless they are in frequent use and a dangling pot rack certainly helps make one feel this method . In addition to searching so wonderful, (there are extensive sizes and styles available) additional cupboard space listed below is actually freed up to be able to store other items. Almost never has anyone complained regarding having too much safe-keeping.
Employ what you already have got to decorate. All of us have got items in our ownership , probably packed up within boxes somewhere and haven`t given them a next glance. Your property needs a few accessories. As opposed to running in order to the store, take the good look at everything you already have. Trays, wood , acrylic, metal or silver precious metal can be on best of luggage racks, teas carts, trunks, bedside dining tables and coffee tables with regard to extra texture and sizing . Arrange candles on these people , frames or pile textbooks on top of all of them . Plates can be put up to create wonderful walls art. Art from kids books can be presented and hung in nurseries, children`s rooms or their own bathrooms. You will end up being amazed at your talent with what you currently have!
Paint smaller bedrooms in softer, lighter colours which will make the room experience larger. The living space above is a wonderful sort of how to be able to maximize a small living area . A room of this kind of size provides the tendency in order to seem cramped, nevertheless the huge windows, light colored wall surfaces and ample utilization of showcases not only reflect the particular natural light pouring throughout through the doors and the particular windows however the use associated with mirrors also provides optic illusion of space, generating the room seem larger than it actually will be . Conversely, darker colors will certainly make a room think smaller. Even with the particular abundance of natural lighting and the strategic hanging on to of the mirrors, this kind of room in a dark shade might have an extra boxed-in feel with it.
Living green . Add plants to be able to your livable space . Add all of them to every room, little or large, few or even many. Plants could be an economical means to accessorizing the space and adding colour and texture. Not simply are plants beautiful although many can clean home air and balance moisture . They can absorb contaminants and remove harmful gas from the air. Zero home should be without having these wonderful greens!
Coloring or wallpaper your bookcases. This instant pop involving color will brighten in addition to re-energize any room! Really amazing how something therefore simple as a cover of colorful paint could instantly energize and change your space. This pre-installed bookcase would be easy and ordinary with no brilliant blue interior. Probably the easiest and most inexpensive method to transform a boring area is always to apply a layer of paint somewhere sudden . Bookcases are an perfect place to start since you don`t need to coloring a large area. Some other fun places to include some sort of pop of color consist of painting fireplace mantels, typically the insides of closets, hallways and ceilings.
Employ area rugs to ease hardwood floors. Throw carpets give warmth and may add great texture, colour and personality to the living space. Hardwood floor surfaces are beautiful and simple to keep but they general shortage the comfort that carpeted floors offer, particularly inside the cooler months. Place rugs can also include fun and functionality to be able to your liveable space . Use a number of of varying patterns and even fabrics together to show off your character. Or put several rugs of the particular identical pattern and material , or different textures yet the same color. The particular possibilities are endless. A person can change your region rugs to reflect typically the seasons using warmer hues and fabrics for much cooler months and lighter kinds for the warmer instances of the year. Presently there are many lovely 100 % cotton , washable area rugs which in turn are perfect for those properties with children. There genuinely is no reason exactly why a property with young young children cannot become a trendy one.
Slip into a thing a bit more comfortable!. Slip includes frequently get an awful rap but they are usually truly wonderful things. These people can act as a methods of changing your furniture`s look to reflect typically the seasons. These easily taken out coverings improve a superior look without constantly stressing about people dirtying or perhaps spilling on your furnishings . Slip covers are excellent for rooms used usually by children. Over some sort of white slip-covered couches provides the air of an everyday , comfortable, easy yet advanced elegance.
Fluctuate your workout. Mix way up patterns and textures. Blend up old and brand-new , expensive and cheap. There`s nothing wrong with putting family heirlooms alongside your own modern couch. Great insides decorators will tell an individual that one of typically the most important aspect to be able to decorating your property is that that reflects who you are usually , your personality and your own style. The vintage Chippendale workplace that was your grandfather`s tells a story. That tells the story associated with your past. The contemporary couch you became adoringly obsessed with and just had to purchase furthermore tells a story, your existing story, and there is usually no reason the found and past can`t co-exist beautifully together. The identical could be said for fine art. You now might not need to place an art work by Salvador Dali about the same wall next to the Monet, but there`s simply no reason why they cannot become in the same area together. With fabrics no matter if it be furniture, carpets or pillows, varied shades and patterns brings friendliness and texture into the being space.
IMAGE COLLECTIONS : Kitchen Interior Design Singapore Find Your Dream Kitchen Design