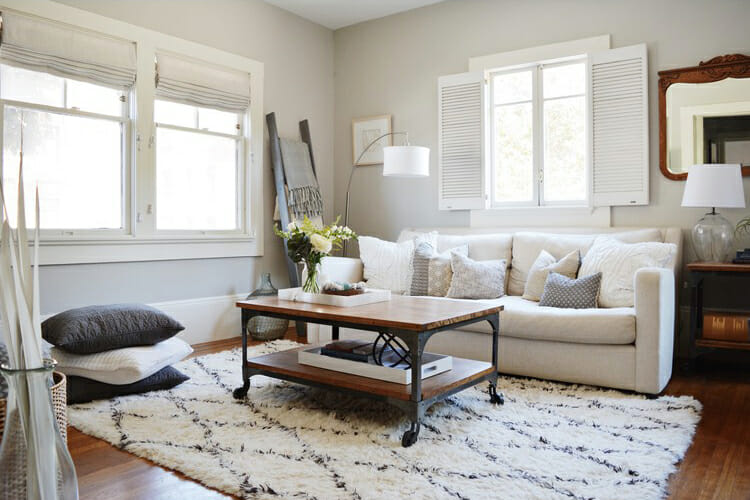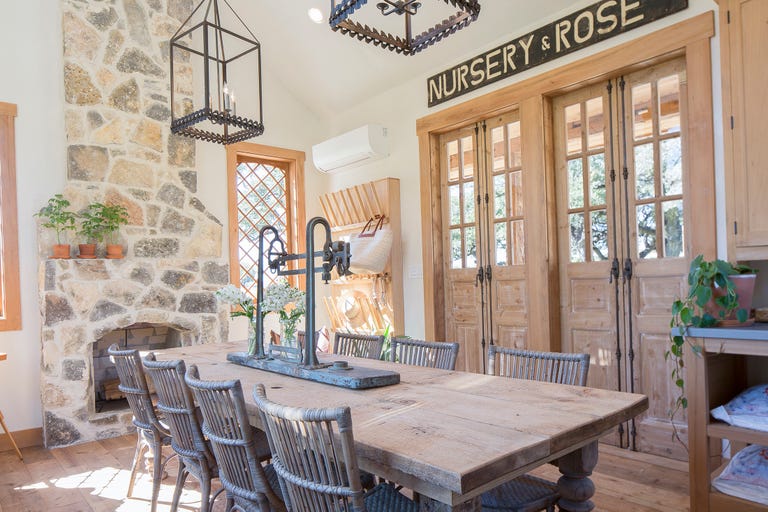 Joanna Gaines Designs
Joanna Gaines Designs
Joanna Gaines Designs
. . . . . . . . . . . . . . . . . . .
It's easy to see why vintage maps are a wall art standby for Joanna: They add instant history to a wall, whether the home was built last century or last year.
A brilliant Chip-and-Jo move that never gets old: Bring more natural light into a dark home by tearing down walls and installing new windows and shutters — the bigger the windows, the better. 
No Fixer Upper home would be complete without a hearth (real or faux) to gather around.
White slipcovers might seem like an odd choice for a home filled with children, but Joanna and lots of cottage design lovers know a secret: White covers can be throw in the washer with a little bleach, making them even easier to care for than dark colors.
Industrial pendants are a go-to for Chip and Joanna, since they combine modern style and a bright, functional light source.
If you're a fan of the show, you know that Chip and Joanna are shiplap-crazy. Here, they used the unpainted version of the material to create a modern-rustic look.
"I like to leave a piece of history in homes I design," says Joanna. A super-easy way to do that: Decorate with windows, shutters and gates scooped up at architectural salvage shops and flea markets.
Or buy new pieces made to look old. Woodland Imports Simple and Minimalist 20″ x 10″ wood and metal panel, $68.50, wayfair.com
Another Joanna-approved trick? Display books spine-side-in for a monochromatic display that lets florals shine. 
Chip and Jo's number-one kitchen backsplash material, white subway tile, works in homes old and new. Dark gray grout is Joanna's top choice — "It highlights the tile, making the backsplash stand out" — but if your kitchen already has a lot going on, stick with white grout.
Flat-weave wool, reliable even in heavy traffic, is a regular in Joanna's rug rotation. Magnolia Home by Joanna Gaines Chantilly 8′ x 10′ wool rug in ivory and black, $959, magnoliamarket.com
Joanna opts for durable furniture with a sense of history, like leather or linen Chesterfield sofas that look even better after a little wear-and-tear.
Joanna loves to add life to a home with lots of plants. No green thumb? No worries! Here, the crew added rustic windowboxes filled with easy-to-care-for spider plants.
Especially in kids' spaces, like this playroom and guest room, Joanna is fond of reminding young minds what's really important.
Leaky, inefficient plumbing from the 1890s? No thanks. Brand new plumbing inspired by the original? Yes, a million times yes.
Joanna is a huge fan of the ambiance-boosting power of a few candlesticks (or more than a few, as seen here).
When it comes to Fixer Upper designs, antique doors often make an appearence in the most unlikely places. These dramatic doors lead into this home's pantry and laundry room.
Snatch these up when you see them at the thrift store; they look as at-home in a Fixer Upper-inspired master bedroom as they do in an entrway.
"I have a thing for metal café chairs," Joanna says. "They carry a hint of industrial that goes with any style." You can find them in tons of colors at industrywest.com and overstock.com.
Natural fiber rugs, like jute or sisal, warm up hardwood floors while hiding dirt, spills and pet hair. Do I need to say more?
Think of it like a set of earrings for your house: Flank that new front door and embrace traditional symmetry with two oversized planters.
Joanna loves to display simple white dishes in front of rough-hewn wood walls or exposed brick. Here, the shelves become a functional focal point.
Whether white or gray, subway tile lends both traditional, classic style and modern simplicity to a kitchen, and also pairs well with the rough-hewn accents of which Chip and Jo are so fond.
Wildflowers are beautiful, easy to find and, oh yeah, free, if you know where to look. Here, Joanna displayed them in vintage-style blue glass demijohn bottles.
"I am always on the lookout for vintage signs," says Joanna. She and Chip find them at flea markets, antiques shops and on Etsy and eBay. They gravitate toward large-scale pieces, which can serve as art.
Sliding barn doors are a staple on the show. Here, they conceal his and hers closets while adding an architectural element to the master bedroom.
Apron-front and farmhouse-style sinks lend even the newest kitchen an air of history, so it's no wonder that Joanna loves to use them in her renovations.
"I tell people black-and-white is my favorite color," says Joanna. Tiles that form a graphic pattern when installed, like in this photo, and 1-inch hexagons both tick off timeless on the couple's style checklist.
Watery colors are always welcome in Fixer Upper renos. "I like lighter blues with gray undertones because you can use them as neutrals," says Joanna. In her new paint line — Magnolia Home by Joanna Gaines — four of the 25 colors are blue.
The closest one to this soft shade is called Rainy Days.
The duo's favorite way to do open shelving: 3-inch-thick floating shelves made from cedar. Minus shelf brackets, the look is clean and simple. 
An entryway bench can double as a staging area for trips or the daily grind. That's why an old church pew is perfect: It's sturdy and spacious, plus scuffs from daily activity will just add character.
When it comes to lighting, Joanna veers between traditional, dainty chandeliers and hard-edged iron fixtures. "I have a closet full of lighting I've collected over the years that I pull from for my clients' homes."
That big island wouldn't be complete without vintage-style stools, perfect for homework, dinner parties and quick breakfasts.
When Chip and Jo roll back that house-sized poster, you'd better believe the yard will be stocked with style to spare. Hallmarks of their front yard game: Curvy stone front walks and mature landscaping, like in this tree-filled lawn.
Joanna's design mantra? When in doubt, paint it white. Here, white bedding and a salvaged white headboard sit against white shiplap walls. Master this monochromatic look and you're on your way to Fixer Upper-level style.
A true signature, Joanna loves to incorporate a magnolia wreath into every home — after all, the family company is called Magnolia Homes.
It's a challenge to find high quality textiles that match your individual style. That's why Joanna has designed a line of rugs, throw pillows and blankets to add warmth, layers and texture to your space.
#FixerUpper Fixer Upper: Behind the Design – All New: Saturdays at 7|6c
…unless, of course, you'd prefer to cozy up on a porch swing.
Galvanized pipe shelving is super-popular with homeowners who love the modern rustic look, for the same reason Chip and Jo love the shelving style: It's easy to build, inexpensive to create and adds industrial style to virtually any space, from a living room to a kitchen to a bathroom.
Mixing wood and metal, a favorite Joanna combo, achieves the old warehouse look she loves. Industrial 34 ¼"-tall wood and steel stool, $229, westelm.com
Once you have that big, roomy front porch, it's pretty much mandatory to enjoy it via rocking chair…
"Galvanized metal is a fun material to work with because it goes with everything," says Joanna. It's a Fixer Upper staple. ANP Lighting 16″H x 18″-diameter aluminum pendant, $187.50, build.com
Large-scale clocks serve as both wall art and as functional pieces that remind kids there's a way to tell time that doesn't involve looking at a screen.
When Joanna realized how many of her clients struggle when choosing the right shade of paint for their space, she was inspired to create a collection of 150 classic paint colors. Her "Top 25" shades are a curated collection of her favorite colors to even further simplify the process for you!
Home is the most important place on earth. It's where life happens and where your family's story is told. The Magnolia Home Collections are each designed and curated by Joanna to simplify the process of turning your house into a home, whether it's selecting paint, furniture, rugs, or wall coverings. The Magnolia Home collections are made available to retailers at wholesale markets in an effort to make these products readily available nationwide. Click below to learn about each collection.
Chip and Jo love to accent their homes with unpainted wood accents, which adds a modern touch to more traditional exteriors.
What's better than one vase of wild alliums? Two, of course! Grouping vases adds more than twice the visual bang for your buck.
"What I love about big clocks is the symbolism — that time is a gift — and the size," says Joanna. "For people who don't want clutter on a wall, just one oversize clock will do the trick." Paris 28″-diameter wood clock, $129, atwestend.
com
Take a cue from Joanna and add something inspirational just inside the door. A glance when you walk in or out could totally change your daily outlook.
Photo By: Sarah Wilson/ Getty Images © 2013, HGTV/ Scripps Networks, LLC. All Rights Reserved.
Chip and Joanna love to remove walls and widen doorways to make one room flow into the next.
Sure, every Fixer Upper home is packed with style. It's also packed with function, especially in the entryway, where Joanna is sure to create space for families to store all the clutter that comes with kids.
Got baseball gloves, soccer balls and backpacks? Assign each kid an under-bench cubby to keep the entryway organized and clutter-free.
A no-fail addition to any living room: custom-fit white slipcovers that are machine-washable. They help achieve the casual, lived-in look Joanna strives to create.
Exposing the rough-sawed wood boards, often found in older homes behind drywall, then painting them white is one of this design duo's favorite reno tricks. "Shiplap adds texture and shows the history of the home," says Joanna.
But not every house has existing shiplap. To get the look, Joanna suggests buying pine boards with tongue-and-groove edges, nailing them to the wall and painting them.
Chip and Joanna work a big island with tons of workspace into almost every kitchen. This one has room for eating, cooking and more, not to mention lots of texture and history thanks to the reclaimed wood used for the base.
No fireplace? That doesn't stop Joanna from adding a vintage mantel to the wall, which adds instant architectural detail, not to mention a ready-made display shelf.
Joanna uses vintag books as the base for colorful plant life, clocks and other accessories. Here, she paired volumes by color to create a cohesive look.
They're so versatile, Joanna uses them all over her houses, even in bedrooms.
Shiplap is practically Joanna's middle name. If Chip and the crew don't find it under the drywall, they add the rough-hewn wood paneling to add texture on the walls.
"I don't think there's been an episode yet where I haven't done a farmhouse sink," says Joanna. While the style exudes traditional charm, Joanna likes to pair it with modern touches, like a pull-down faucet and concrete countertops.
When is a door not a door? When it's a piece of salvaged wall art. Joanna repurposes moldings, doors, windows and more as history-filled wall decor.
As wallpaper makes its resurgence, Joanna has designed an easy-to-apply and simple-to-remove wallpaper line that reflects design styles ranging from modern to farmhouse, and everything in between.
Joanna's furniture line was created to empower you to pick and choose from many different style aesthetics and to help you tell your story of home.
A front door doesn't have to be a bold hue to make a statement. To copy the Fixer Upper look, opt for a dark neutral hue or a natural wood version that hints to the modern-rustic details inside.
Joanna loves to personalize her homes with objects that speak to the homeowners personality — yes, even guitars! The lesson? Even non-traditional art can become wall decor when a frame is added. (DO try this at home.)
Stacked wood boards resembling shiplap are unexpected on a bed but feel totally classic. Magnolia Home by Joanna Gaines Traditional Plank white oak queen bed, $899, magnoliahomefurniture.com for stores
Related Images of Joanna Gaines Designs