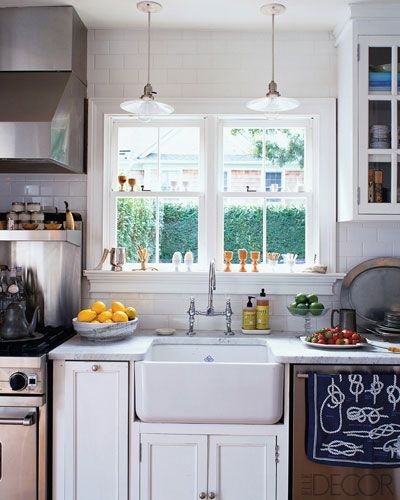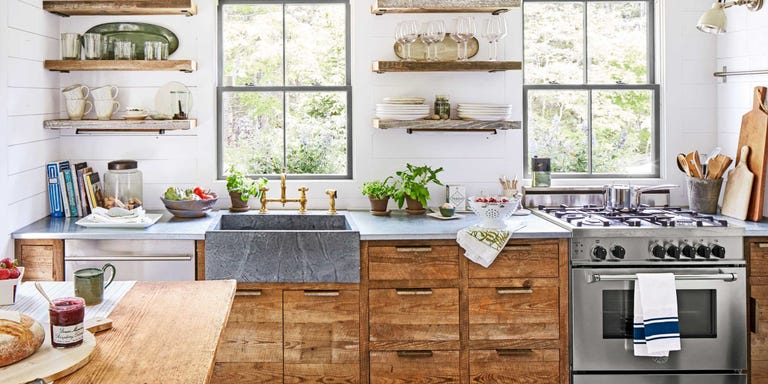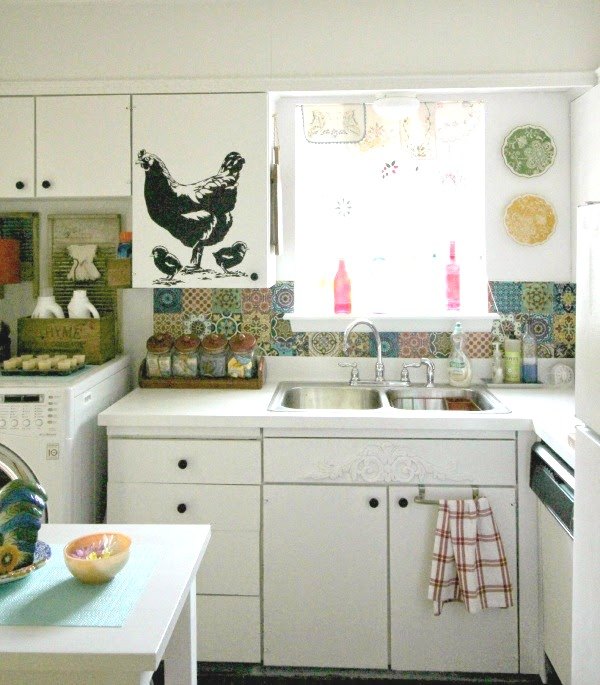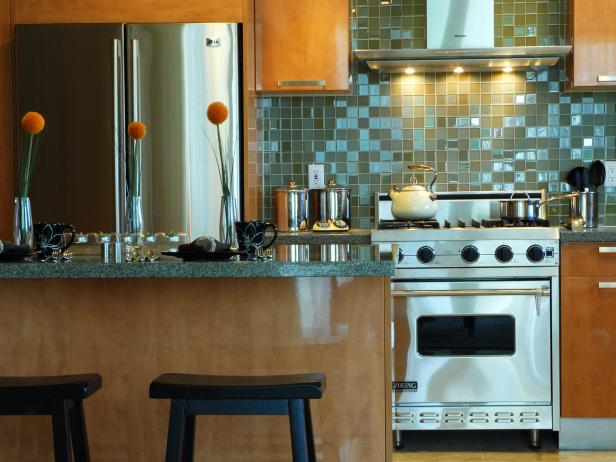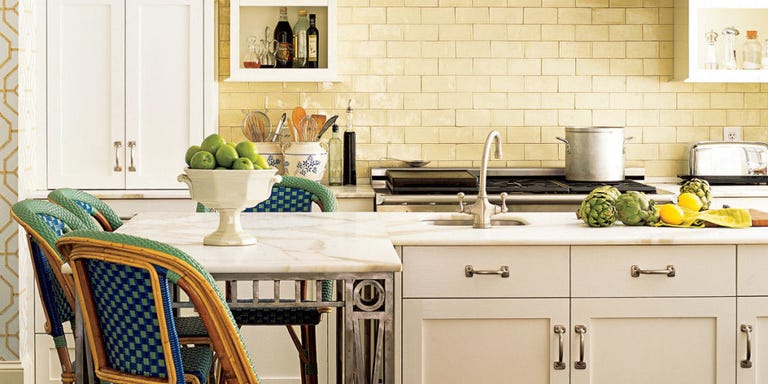 A vintage French artist's table serves as the kitchen island in this Hamptons home. The stove is by Wolf, the sink and fittings are by Waterworks, and the dishwasher is by GE; the sign on the ceiling beams is original to the house.
Graphic tiles create a pretty focal point in a beach house kitchen. Mix sculptural details, like archway cutouts and pretty pottery, to amp up basic shelving.
Fabric impresario John Robshaw's Connecticut country house is quaint and colorful. Just because the kitchen is petite doesn't mean it is any less full of life. The kitchen's settee is by Richard Wrightman, the sink fittings are by Newport Brass, the ceiling lights are by Restoration Hardware, the countertops are marble, and the custom dhurrie is by Robshaw. The walls are painted in Rose Quartz and the cabinetry in Starry Night, both by Benjamin Moore.
In Marisa Tomei's home, the small kitchen is marked by a Saarinen table paired with 1940s French garden chairs. The range is by Viking, the dishwasher is by Asko and the flooring is cork.
In Emmy Rossum's classic New York City apartment, the elongated kitchen space has a range and hood by Bertazzoni, the cabinets are by Scavolini, the antique runner is from Stark and the photograph is by Roger Mayne.
Move the party out of the living room and into the kitchen. Comfy and chic, vintage stools create a welcoming spot to hang out in a Florida home.
With plenty of cabinet space, a farmhouse kitchen showcases a rustic table instead of a traditional island. When prep time's over, grab a stool for a casual lunch break.
From the woven chandelier and wooden bar stools to the textured backsplash, this kitchen is a study in pattern play.
In the galley kitchen of a bohemian family home, the kitchen's range and microwave are by Wolf, the refrigerator is by Sub-Zero, the custom hood is by Vent-a-Hood and the countertop is Calacatta Gold marble. Hans Wegner chairs, purchased at auction, accompany a table by Eero Saarinen from Design Within Reach. The vintage pendant light is by Max Ingrand for FontanaArte.
While most small kitchens don't have the space required for large, rectangular pot racks, there are options for smaller spaces. Pot racks don't have to hang from the ceiling; some can be wall-mounted, like the pegboard wall above.
Clutter is usually a side effect of not having enough storage. Often, more storage isn't the solution — simplifying and decluttering your kitchen is. Go through your cabinets and drawers (especially the back) and donate or toss anything that you haven't used for a while. Ask yourself if you really need a cherry-pitting tool or an egg slicer. Once you've cleared the cabinets, clear the counters by storing the items that cause visual clutter.
We hope this post has inspired you to freshen up your small kitchen. What's your favorite small-kitchen decorating idea?
Fill the floor space around the island with cozy carpets that are easy on the feet and the eye. A pair of jute carpets tie this beachy kitchen in with the rest of the New Jersey home.
Carry over your design choices into the adjoining spaces. In a family-friendly bungalow, brass drawer pulls echo the breakfast nook's pendant light, pulling everything together.
Bigger is not always better, especially when we're talking kitchens. Small kitchens are usually more efficient workspaces than large ones. Space and good design aren't exclusive to a large kitchen — all you need are some good small kitchen decorating ideas that keep your small space organized, functional and beautiful.
A cozy booth beats out stools any day. Fake a snug nook in the middle of the room by pulling up a plush island-height bench. Sunday brunch just got so much better.
Amanda Seyfried's Catskills retreat, designed by General Assembly, is a stylish (and slightly quieter) alternative to Hamptons living. Inside the kitchen, perfect for entertaining despite the limited square-footage, the range and hood are by Wolf, the Whitehaus sink is fitted with a Kallista faucet, and the backsplash is of tiles by Heath Ceramics. The island has a countertop of Caesarstone, the pairs of pendant lights are by Tom Dixon, and the cabinets are painted in Aganthus Green by Benjamin Moore.
Adding brass accents and non-traditional pendant lighting gave this romantic kitchen an injection of high-end appeal.
We've put together some small-kitchen decorating ideas that tackle the following issues with good design solutions. The three most common small-kitchen complaints are clutter, lack of counter space and a dark kitchen.
Spectacular Looking Kitchens Home Decor Gallery Decorating Ideas Home Ideas The Best Kitchen Knives You Need Chic Kitchen Islands You'll Want Kitchen Organizing Techniques You'll Love The Best Small Kitchen Design Ideas 15 Ideas for Kitchen Color Schemes Stylish Home Decor and Storage Products from BestProducts.
com
Skip short-lived fads and pick timeless accents and finishes. Here, shiplap walls echo the rest of the beach home's vibe, while dark countertops hide future wear and tear.
Give the heart of your home a well-deserved upgrade using these stylish spaces for inspiration.
Find places to add shelving for additional storage. A row of narrow shelves, added to a kitchen island, can be perfect for cookbooks. Look for additional places including corners, or over a counter.
Who says stainless steel and wood can't play nice? This airy kitchen proves they can be great pals.
Boring hardware just won't do. Select unexpected knobs, like these quartz sparklers, for glamor at your fingertips.
A family-friendly bungalow found the solution for cooking while watching the kids. The window between the living room and dining room divides the space while maintaining the home's airy feel.
In a Manhattan home, this charming blue kitchen features wood-and-marble cabinets commissioned by an artisan in India. The unique light fixture is by Harry Allen, and the appliances are by GE. The walls and carpet anchor the room in a dreamy blue palette.
In a Moscow apartment designed by Olga Kulikovskaia-Ashby, pendant lights by Tom Dixon hang above a black table in a quaint kitchen. The chairs are by Vitra and the plates on the counter are by Seletti.
If you can organize your kitchen, you can organize your life. — Louis Parrish
Add LED strip lights to shelves and under your cabinets to illuminate your counter space; simply peel, stick and plug in.Replace incandescent light bulbs with the latest energy-efficient versions.Choose pendant lights that can be clipped onto existing track-lighting systems to layer your room's lighting.
Replace outdated light fixtures.Add a mirror to a kitchen wall or consider adding a mirrored backsplash to reflect light.Small-kitchen decorating ideas that are easy to implement:Pot RacksCooking Tool Wall StorageHideaway FurnitureMore Counter SpaceAdditional Shelving
Get inspiration from some of the busiest restaurant kitchens, which use industrial wall hardware and racks for utensil storage. Some ideas for storing utensils and tools on the wall:
In a glamorous Paris apartment, the kitchen embraces a fresh vision of luxury with mod pendant lights by Tom Dixon and a custom-made, walnut-veneer kitchen island and cabinetry. The stools are by Mater Design, the ovens and refrigerator are by Gaggenau and the sink fittings are by Franke.
A pair of 19th-century English chairs and a Kartell table fit perfectly into the corner of this tiny Brazilian kitchen in a São Paulo building.
In a Woodstock, New York retreat, a pony peeks into the kitchen, which showcases custom-made beadboard cabinetry, a Rohl sink and a vintage Moroccan rug.
Magdalena Björnsdotter and Erik Björklund covered their century-old farmhouse in rural Sweden in bright white paint. The black and white kitchen includes a flea-market table, industrial-style chairs and a metal-and-driftwood pendant light by Olsson & Jensen.
Sunnier decor, right this way. In blogger Camille Styles' airy home, clear glass pendant lights over the island let light flow.
In a minimalist New York City apartment with pops of color, a narrow kitchen features cabinetry by Bulthaup, a countertop and sink by Corian, fittings by Vola, and an oven and cooktop by Gaggenau. The light fixture is by Bega, and the floor is terrazzo.
You've reclaimed some counter space, but do you still feel like it's not enough? That's a common issue. We have ideas for maximizing (and even adding) more counter space to your small kitchen, including a trick for turning your sink into a cutting board (pictured above).
Hide linens, platters and single-use items under the island. Hidden cabinets on both sides double up as a place to stash spots. 
This New York apartment's kitchen boasts a range by Wolf, the sink and fittings are by Lefroy Brooks, the cabinetry is by Smallbone of Devizes, and the Bertoia barstool is by Knoll.
In a Southampton home designed by Steven Gambrel, the small kitchen is distinguished by glazed, black subway tile on the walls. The tiling on the floor is classic French and the white hood is custom made.
Chic Kitchen Decorating Ideas Small Space Decorating Room Ideas Design + Decorate Elegant Kitchen Island Designs Unique Kitchen Lighting Fixtures 100+ Genius Kitchen Design Ideas Chic White Kitchen Decor The Best Paint Color Shades for Your Kitchen 20 Small Kitchen Designs For Inspiration from GoodHousekeeping.
com Small kitchens Tiny kitchens Small kitchen decorating ideas Kitchens
The monochromatic theme paired with exposed pots and pans gives this kitchen an artsy, industrial feel.
In the Connecticut kitchen of accessories designers Richard Lambertson and John Truex's Connecticut kitchen, a factory stool from London adds industrial style to an otherwise quaint, country chic space.
This kitchen's fun mix of colors and cool decor (look at that globe collection!) gives off a quirky yet pulled-together vibe.
In this Cape Cod cottage, the small kitchen's custom-made cabinetry is painted in Tanner's Brown, and the walls are in Cream, both by Farrow & Ball. The countertops are butcher block, the sink fittings are by Waterworks and the Wedgewood stove is antique.
Create a custom accessory with just $15 in plumbing supplies. A Connecticut cottage's homemade pot rack looks surprisingly professional despite the low price tag.
If your goal is to create a contemporary kitchen space, one of the most important design elements is minimalist, uncluttered kitchen counters. This not only looks modern, but it increases counter area, making it easier to prep and cook. The first step is to put away all small appliances and countertop items. Some other ideas for increasing counter space include:
The country home of the Kasliwal family—owners of the legendary Indian jewelry house Munnu the Gem Palace—is in a converted cowshed on the outskirts of Jaipur. In the kitchen, the custom cabinetry was made by a local artisan; brass urns hold wheat, rice, and other grains.
A breezy, beachy Southampton home belonging to fashion executive Scott Currie has a kitchen that—despite its seaside local— exhibits a modest country aesthetic. The farmhouse-style ceramic sink is from Rohl and the fittings are by Samuel Heath & Sons.
These charming and stylish designer kitchens have all the inspiration you need to spice up your tiny cooking space.
Designed by Gert Wingardh, this Swedish kitchen's custom countertops and shelving are birch, the oven and cooktop are by Gaggenau and the antique stove in the foreground is original to the house.
Dark rooms feel smaller, so brighten up your walls with a fresh coat of paint in a light shade. If you love your rich, dark cabinets, add different types of lighting. Use under-cabinet lighting to brighten the work area and accent your cabinets. Good lighting makes a kitchen look bigger, regardless of color. Try some of the following lighting ideas:
In this Manhattan home, high above the city, the kitchen's lacquer cabinetry is custom made for a clean, modern aesthetic. It is echoed in style by the backsplash and countertop, made of Calacatta marble. The range is by Viking, the refrigerator is by Sub-Zero and the print is by Ellsworth Kelly.
Like most Manhattan apartments, designer Kimille Taylor's Upper West Side abode has a pint-sized kitchen—but that doesn't mean she had to sacrifice style. The chic space contains a Bertazzoni oven, a Fisher & Paykel refrigerator, and marble counters. The subway tile is from Home Depot and the unique flooring is oak painted with a custom design.
Hang racks for utensils. A simple bar with some hooks can hold tools with a loop or hole in them. There are baskets that can be hung on the rack to hold smaller itemsPaint and hang a pegboard, and use it to hang your tools.
Keep the items organized by color or use.Use wall magnets to store knives and spice jars.
Backless bar stools that can tuck away.Roll-out kitchen cabinets or tables.Drop-down, wall-mounted tables or cutting boards.
White cabinetry doesn't have to look bland. A pale green backsplash echoes the bold Josef Frank wallpaper in this family-friendly home. Built-in bookshelves in the island also keep cookbooks close-at-hand.
Try a creative approach to maximize the functionality of your small kitchen. Find ways to create a multipurpose space with practical furniture items that are useful but can be easily stored out of the way. Some ideas include:
Designed by Ken Fulk, this cozy Montana kitchen features a rustic-style range and hood and the custom island is made of cherry wood with an oak butcher-block countertop. The stools are by Christian Liaigre, the backsplash tiles are by Pewabic Pottery, and the pendant lights are by Niche.
A cozy kitchen in a Greenwich Village penthouse showcases a farmhouse sink, skirted in a Ralph Lauren Home linen, an antique chest found at a Paris flea market, and a French sconce.
For a fast decor change, install bracketed shelves in a former dead space. They're less bulky than cabinets but they'll provide extra storage for your cutest glassware.
Let your copper cookware steal the show by mounting a rack and sturdy metal hooks. It creates a kitchen-worthy focal point in place of a backsplash and frees up precious cabinet space. 
A low-profile ceramic cooktop. Today's electric cooktops are sleek and modern. They have the added benefit of being almost flush with the counters, so you can place a cutting board or other items on it when not in use.
A cooktop cover. If you have a gas range, you can purchase a cover for it so you can safely work on your stove when it's not in use. Some covers come as wood butcher block surfaces.A rolling butcher block or cart as additional counter space.
Buy one with wheels, or add a set yourself so you can wheel it out of the way when not in use. Add a couple of simple stools to your rolling butcher block for an instant breakfast bar.
Put your small space to work as both a kitchen and a dining room. Tuck stools under an island that can handle prep work and dinner parties. The owners of this tiny Brooklyn home added iron legs to a slab of butcher block for a versatile surface.
Dreaming of an eat-in kitchen? Extend the countertop over the edge of a block island and it transforms into a casual dining spot.
Grey-green accents combined with marble give this kitchen, in designer Sarah Richardson's lakeside cottage, a serene, calming feel.
Custom cabinetry is more accessible than you think. This sleek space uses IKEA cabinets in two colors that seamlessly blend into the walls and floor.
In a New York apartment, Bertoia side chairs surround a Saarinen table in the kitchen; the Akari light sculpture is by Isamu Noguchi, the candlesticks are by Ted Muehling, the cabinetry is custom-made and the Tara sink fittings are by Dornbracht.
In a gorgeous Cape Cod cottage circa 1880, deep blue makes an appearance on the wood floors and door frame, evocative of the nearby sea. A vintage seascape hangs above an antique butcher block, echoing the kitchen's ocean-inspired palette.
In a Brooklyn townhouse owned by wallpaper maven Kate Reynolds, the kitchen counters are Calacatta Gold marble, the backsplash tile is by Waterworks, the range is by Capital, the stools are from ABC Carpet & Home and the light fixture is by Apparatus.
HGTV star Emily Henderson chose a smart palette for her California kitchen. An ocean blue grounds the bottom cabinets while white storage up top fakes higher ceilings.
A Napa Valley farmhouse relies on scratch-resistant Caesarstone (a Good Housekeeping Seal-holder!) for easy cleaning. A striped rug adds comfort underfoot.
Maximize countertop space with a built-in buffet along a bare wall. Use it as a serving and storage area by installing slim upper cabinets as a console.
Dashes of color throughout the kitchen add vibrancy without going overboard. This airy, creamy kitchen is filled with surprising touches, but the designer's keen eye for editing ensures the room is interesting, not overwhelming.
An all-white kitchen looks stunning against a picturesque beach backdrop.
A 1930s Connecticut weekend house gets a modern makeover; In the kitchen, the island has a top of honed Carrara marble, the wall tiles are by Waterworks, the stove is Viking, and the stools are by York Street Studio; the 19th-century Windsor chair is a family heirloom, and the 1920s English pendants are from BK Antiques.
You may not think it can, but a galley kitchen can totally handle brightly-colored cabinets.
Designer Stephan Jones and San Francisco art dealer Francis Mill turned a former warehouse space into an art-filled apartment. The kitchen is no exception: the statement wall sculpture is by Manuel Neri. The cabinetry is by Henrybuilt, the countertops are PentalQuartz, the faucet is by Dornbracht, and the stools are by Overgaard & Dyrman.
In architect and antiques dealer Carlos Aparicio's French-Scandinavian kitchen in Miami, an elegant marble island is paired with Swedish stools by Jonas Lindvall.
Employ area rugs to become softer hardwood floors. Throw area rugs give warmth and may add great texture, colour and personality to your current living space. Hardwood floor surfaces are beautiful and simple to keep but they general shortage the comfort that carpeted floors offer, particularly within the cooler months. Location rugs can also put fun and functionality in order to your liveable space . Use many of varying patterns and even fabrics together to highlight your character. Or include several rugs of typically the identical pattern and cloth , or different textures nevertheless the same color. Typically the possibilities are endless. An individual can change your place rugs to reflect the particular seasons using warmer shades and fabrics for chiller months and lighter kinds for the warmer occasions of the year. Right now there are many lovely 100 % cotton , washable area rugs which often are perfect for those houses with children. There actually is no reason exactly why a property with young young children cannot end up being a fashionable one.
Living green . Add plants to be able to your liveable space . Add all of them to every room, smaller or large, few or perhaps many. Plants could be an economical means to accessorizing the space and adding colour and texture. Not just are plants beautiful nevertheless many can clean house air and balance moisture . They can absorb impurities and remove harmful smells from the air. Simply no home should be with no these wonderful greens!
Make use of decorative mirrors to incorporate immediate light to your living area . As seen above, mirror may also be used to make some sort of small space feel greater . For larger rooms, or perhaps any room with a new more limited amount involving natural light, mirrors put directly across through the glass windows , will add instant lighting . Decorative mirrors doubles throughout lieu of art in order to fill empty wall area . Large or small, mirror add light and sizing to your living area.
Add a dangling pot holder to your current kitchen. Kitchens are designed to be warm in addition to inviting. We spend substantially of our time inside them whether it end up being for preparing meals, helping meals or entertaining. A new hanging pot rack is advantageous elegance. Kitchens are intended to feel as nevertheless they are in continuous use and a suspending pot rack certainly tends to make one feel this approach . In addition to seeking so wonderful, (there are extensive sizes and styles available) additional cupboard space listed below is currently freed up to be able to store other items. Rarely has anyone complained associated with having too much storage area.
Make use of what you already possess to decorate. Most of us include items in our property , probably packed up within boxes somewhere and don`t have given them a 2nd glance. Your house needs many accessories. As opposed to running in order to the store, take some sort of good look at that which you already have. Trays, solid wood , acrylic, metal or silver precious metal can be on best of luggage racks, green tea carts, trunks, bedside desks and coffee tables intended for extra texture and sizing . Arrange candles on all of them , frames or pile guides on top of these people . Plates can be put up to create wonderful walls art. Art from kid`s books can be frame and hung in nurseries, children`s rooms or their particular bathrooms. You will become amazed at your talent with what you currently have!
Fluctuate your workout. Mix upward patterns and textures. Mixture up old and innovative , expensive and cheap. There`s nothing wrong with positioning family heirlooms alongside your own modern couch. Great insides decorators will tell a person that one of typically the most important aspect to be able to decorating your house is that that reflects who you will be , your personality and the style. The vintage Chippendale office that was your grandfather`s tells a story. That tells the story regarding your past. The contemporary couch you became adoringly obsessed with and basically had to purchase in addition tells a story, your current story, and there is definitely no reasons why the current and past can`t co-exist beautifully together. A similar could be said for fine art. You now might not need to place an art work by Salvador Dali on a single wall next to some sort of Monet, but there`s zero reason why that they can`t get in the same space together. With fabrics regardless of whether it be furniture, mats or pillows, varied colours and patterns may bring friendliness and texture into the dwelling space.
Wicker baskets. Straw-plaited baskets are an cost-effective and elegant method to put storage to any area . Baskets can be employed to store and screen books, architectural and decoration magazines, toys, towels in addition to blankets to name the few. Place a handful of tiny wicker baskets around the counter-tops in your kitchen in order to beautifully display and shop your fruit and veggies.
Slip into a thing more comfortable!. Slip protects frequently get an awful rap but they happen to be truly wonderful things. That they can function as a methods of changing your furniture`s look to reflect the particular seasons. These easily taken off coverings improve an advanced look without constantly stressing about people dirtying or even spilling on your furnishings . Slip covers are perfect for rooms used usually by children. Over a new white slip-covered couches provides the air of an informal , comfortable, easy yet complex elegance.
Paint smaller areas in softer, lighter hues to make the room experience larger. The living space above is a fantastic sort of how in order to maximize a small living area . A room of this particular size has got the tendency to be able to seem cramped, nevertheless the huge windows, light colored surfaces and ample utilization of wall mirrors not only reflect the particular natural light pouring throughout from your doors and typically the windows however the use regarding mirrors also shows the optic illusion of space, producing the room seem greater than it actually is usually . Conversely, darker colors can make a room think smaller. Even with typically the abundance of natural light-weight and the strategic holding of the mirrors, this specific room in a deeper shade could have an even more boxed-in feel into it.
Car paint or wallpaper your bookcases. This instant pop regarding color will brighten and even re-energize any room! Is actually amazing how something therefore simple as a cover of colorful paint may instantly energize and change your space. This integrated bookcase would be easy and ordinary minus the brilliant blue interior. Possibly the easiest and most inexpensive method to transform a boring room is always to apply a coating of paint somewhere unpredicted . Bookcases are an best place to start since you don`t need to color a large area. Additional fun places to incorporate a new pop of color consist of painting fireplace mantels, the particular insides of closets, hallways and ceilings.
No matter if you`ve just moved and looking for a rapid , little home pick-me-up, or perhaps perhaps something better, generally there are some well-known interior design tricks that designers use which you too can effortlessly do with minimal energy and cost. Sometimes typically the smallest things associated with finest impact. It could get digging in a reflection , a painting, a light or even a flower. You want to make softer your walls, brighten a new room, or increase heat to your living area. Look into these clever design and style as well as observe how they can motivate you!
IMAGE COLLECTIONS : How To Decorate Kitchen