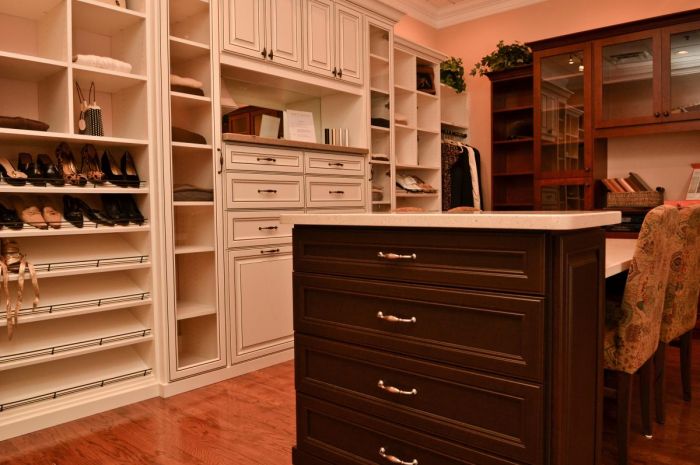 Home Office Design Office Closets Artisan Custom Closets
Home Office Design Office Closets Artisan Custom Closets
Home Office Design Office Closets Artisan Custom Closets
. . . . . . . . . . . . . . . . . . .
We utilize the most effective space maximization techniques to make the smallest workspaces into full-scale home offices. Our Artisan Design Consultants always take a creative approach while overhauling your workspace to ensure the smart utilization of every square inch of space.
Aluminum frame doors with Satin glass inserts add a soft touch and conceal supplies.
A monochromatic color palette and proper accent lighting elevate a home office to a relaxing gathering place.
Superior service from start to finish! Thank you! – W. Deitch, Atlanta, Georgia
Ecoresin Thatch back panel and modesty panel create a seamless look.
European-inspired Virtuoso and Classic construction lend a contemporary, minimalistic aesthetic.
If you are left-handed, for example, our consultants can create a dream workspace that takes common challenges out of the equation. We can also create purpose-built workspace stations that help you complete difficult or time-consuming tasks in record time. The sky is the limit while designing the home office that will work best for your needs.
Custom shelving creates storage and displays books in this elegant library that doubles as a home office.
High-gloss, acrylic Parapan Cobalt door and drawer fronts add a touch of bold color.
Custom-designed bookshelves store large or small collections.
Bronze decorative hardware lends itself to the traditional aesthetic.
Items you use every day will be quicker to access than things that you need less often. That's smart space planning!
Bellissima White 5-piece Shaker fronts contribute to the seamless look.
Individual and shared workspaces, open and closed display areas, finishes, lighting, and hardware create an efficient and enjoyable workspace customized to a specific skill or profession.
Tesoro™ Tuscan Moon and Lago® Milano Grey finishes create a high-contrast look.
Are you overwhelmed by all the 'stuff' you've accumulated? Consider custom closet systems to tame the clutter in your life. From luxury walk-in closets to home offices, garages, pantries, laundry rooms, children's closets, mudrooms and more, you'll be amazed how your new custom-built storage systems perfectly fit your belongings and your life. 
With working and relaxing zones all in the same room, this system allows for productivity and comfort in one tailored space.
Lago® Bellissima White finish with Capri accents create a fresh look.
We customize solutions to any space and any budget. The cost of your storage solution depends on the complexity of the design and the materials you select. Find out how it works.
Thanks for printing!  Don't forget to come back to Artisan Custom Closets for fresh articles!
Modern Fascia top detail enhances the warm furniture-like look.
A perfect blend of open space and plenty of storage, this home office system provides organization with a modern twist.
Your design gal, Heather as well as your install team were awesome!!! 100% happy! Thank you for providing a true professional experience! -H….
Designer (Nicola), Prep & Paint guy (Chris) and Installation crew (Dave & Oscar) were all very professional. Great experience all around. -R….
Brushed Aluminum decorative hardware adds polish to the space.
Getting organized is important. Making sure your spaces are organized is also very important. Getting your life organized starts with organizing the things that are around you. In this post, we will be discussing the importance of organizing your…
Outstanding Service. Teresa is the best! I checked all over the state for the best price, value and workmanship…
Tesoro™ Pietra and Classic Cashmere create a monochromatic color palette.
Our team always provides the best quality of service and support throughout the home office design and customization process – and beyond. We want you to feel completely satisfied with the final layout and finish of your home office space. Whether we are installing custom office closets or fully overhauling your home office design, our team offers their full support every step of the way. We invite you to schedule an appointment with our design team at Artisan Custom Closets by calling 770-790-5368. We look forward to helping you create a truly comfortable and aesthetically-pleasing home office design today. Feel free to contact us today!
Custom closet systems from the best space planners and closet designers in Atlanta and Greensboro.
This home office inspires productivity in style with a well-designed space and ample room to get the job done.
5-piece Shaker fronts with Ecoresin Fossil Leaf inserts add a natural accent.
The overall design and layout of your home office directly impacts your ability to remain productive and reach your professionals goals. An organized office space, that beautifully reflects your personality and home décor elements, can make a huge difference in your daily work output. If you are currently working in a cluttered, disarrayed office environment, you need the support of our Artisan Design Consultants right away. We are ready to help you complete the total transformation and personalization of your home office space.
Lago® Sorrento 5-piece Modern Miter fronts lend a timeless aesthetic.
Your new closet starts with a— complimentary design consultation — request yours today
A clean, contemporary design with bold colors allows this home office to be organized and inspirational.
Cashmere slab doors and drawers contribute to the seamless look.
To create an office environment that truly works for your needs, our design consultants must assess your unique preferences and inventory your belongings. Identifying your design preferences and practical needs helps our team create a space that will help you tackle the toughest tasks with ease.
Request a Free In-Home Design Consultation Please fill out this form and we will contact you within 48 hours to schedule an appointment, or you can call us at 770-790-5368
This properly organized home office combines an efficient work space with a sophisticated design statement.
Tesoro™ Cassini Beach finish sets the tone for a light color palette.
As a part of our smart space planning process, we install work surface and storage elements from ceiling to floor across your entire home office environment. Taking advantage of vertical space achieves true organization that will allow for complete efficiency throughout every workday. With our help, you will never again feel cramped or restricted by your limited work area.
Full-overlay Tuscan moon slab door faces with push-to-open hardware offer seamless ease of use.
Our team utilizes ergonomic techniques to arrange your office equipment to reduce fatigue and other problems often caused by poor design practices. The integration of shelf dividers, baskets, drawers and racks into your office closets and other storage areas can help keep your space organized for years to come. As your work demands change, you always have the option to alter these smart elements or even add more storage to the design.
Supermatte floating shelf provides a display for collectibles.
Blending office space with guest space, this elegant wall bed is both functional and gorgeously designed.
Powder-coated Aluminum doors in oil-rubbed bronze with Quattro Carbon Ecoresin inserts add artistic flair.
Designing a children's closet system is one of the most challenging and important undertakings in custom storage design. A well-designed child's storage space has doors, drawers, and other components that make clothing, toys and learning…
When we customize a design for you, we consider your space, your style, and your budget. We offer a wide range of quality options so we can satisfy each of our customer's needs.
Not only do we customize your storage solution to your needs and budget, we tailor the installation process to your life. We work within your schedule and on a timeline that is best for you. During installation we treat your home as our own, and we're always available for service for the lifetime of your system.
Base trim and crown molding details create a built-in aesthetic.
A keyboard tray or sliding drawer can be tucked away when not in use.
Cassini Beach countertops provide contrast and a natural touch.
This well-appointed home office not only provides necessary storage, but can also transform into a lovely guest room.
Lago® Roman Walnut finish provides a natural and neutral backdrop.
5-piece Lago® Milano Grey Shaker fronts contribute to the monochromatic color palette.
Fabric board provides a home for accessible lists and pictures.
Recycled leather veneer back panels in white and black add contrast and interest to bookcase lighted cubbies.
Polished Chrome decorative hardware accentuates the contemporary design.
Home Office Design Home Office Design Home Office Design Home Office Design Home Office Design
This office inspires productivity in style with a well-designed space and ample room to get the job done.
Oil-rubbed Bronze stemware holders and integrated wine storage create a mini bar area.
The more limited the area for your office space, the more creative we'll get in maximizing that space.
Your designer will help you choose the right finish – dark or light, smooth or textured – to accent your décor and refine your style.
High gloss door and drawer fronts in Sapphire with steel gloss edges
It's not just about closets. It's about smart, stylish spaces in your home that help you live your life more efficiently.
A Murphy bed creates a multipurpose room to accommodate out-of-town guests without interrupting the everyday functionality of a home office
Lago® Milano Grey finish and coordinating Milano Grey countertop create a seamless look.
Classic Cashmere slab door and drawer fronts complement the concrete floors and lofted space.
Classic White finish paired with the white walls lends an airy feel.
Integrated multiple workstations provide designated project and task areas.
Each California Closets system comes with a limited lifetime warranty that covers any substantial defects in materials and workmanship for the life of the product as long as you own your home.
Spaces for your computer, printer, and other equipment will be ergonomically arranged for comfortable efficiency.
Precisely built storage solutions are a true game changer when it comes to personalized home office designs. Your office supplies, high-tech tools and other gear can remain tucked away, yet immediately accessible, with our innovative storage elements.
It starts with your free design consultation. Artisan has the only designers in Atlanta Registered and Certified by the Association of Closet and Storage Professionals. You'll have a great time looking at custom closet design ideas, finishes and accessories. Your closet design consultant will help you make great choices that match your decor and your lifestyle. The result? Attractive, organized spaces that complement your home and your budget. Find out what makes the difference.
Lower desk cabinets conceal home office supplies and technology, corralling cord clutter.
Open overhead storage provides easy access to books and supplies.
We offer a wide range of custom organization solutions to help you get the most out of your home office space—and inspire productivity.
Related Images of Home Office Design Office Closets Artisan Custom Closets