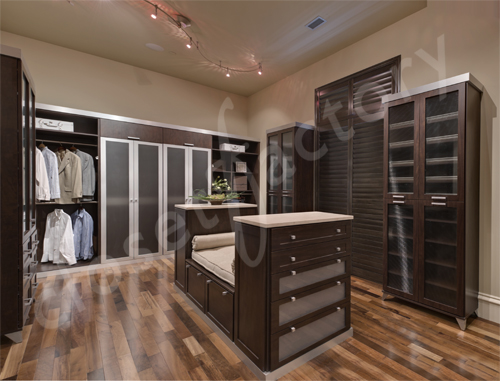 Custom Closet Design
Custom Closet Design
Custom Closet Design
. . . . . . . . . . . . . . . . . . .
Works well for pants, shawls, and table linen storage. Hangers included.
Place handbags, sweaters and other favorites behind clear, matt, bronze or black Lucite doors.
Personalize your drawer and door fronts with leather. Mix and match styles and colors to create the perfect blend of your unique design preferences.
Enhance the edges of your shelves, panels, and counter tops with solid wood edges. We offer a variety of profiles to match your personal taste.
Store shoes in trays with dividers that allow air to circulate. Trays helps keep shoes dust free and easy to see.
Perfect for touch-ups, this ironing board tucks away in a small drawer in your closet or laundry room.
Wood pant organizer with multiple uses. Store linens, shawls and slacks.
Each one is handmade to order. Select from velvet or silver cloth plush-padded jewelry drawers. A double decker is shown.
Space-saving shoe organizers slide out and tuck back neatly out of sight.
Aluminum closet ladder reach triple tier hanging rods and storage on top shelves.
Designed for your specific wardrobeExpress your unique styleMix hanging, shelves, and cabinetry to maximize spaceIncorporate storage for accessories like jewelrySave time out of your morning routine
Scarves are often difficult to store, but not with this scarf organizer. Comes in all finishes.
Velvet handmade valet drawers keep watches, keys, and wallets easy to find.
Display shoes using popular slanted shoe shelves with Lucite toe catch.
Digital wall safes can be hidden behind hanging sections, bookshelves, or in cabinets.
Our thermofused melamine is pressed directly onto pinecore substrate.
Exotic resins add unique designs in framed doors and drawer fronts. Selections range from spun silver to organic flowers and grass.
We understand that everything in your closet is an expression of you, and your closet system should be no different. Whether your closets are walk-ins, reach-ins, or dressing rooms, or if you are looking for more space, better organization, or even your own personal boutique, we have the vision and creativity to turn your dream into reality. By collaborating with our designers, your wardrobe will be organized efficiently and designed with a focus on the way you dress.
StateAlabamaAlaskaArizonaArkansasCaliforniaColoradoConnecticutDelawareDistrict of ColumbiaFloridaGeorgiaHawaiiIdahoIllinoisIndianaIowaKansasKentuckyLouisianaMaineMarylandMassachusettsMichiganMinnesotaMississippiMissouriMontanaNebraskaNevadaNew HampshireNew JerseyNew MexicoNew YorkNorth CarolinaNorth DakotaOhioOklahomaOregonPennsylvaniaRhode IslandSouth CarolinaSouth DakotaTennesseeTexasUtahVermontVirginiaWashingtonWest VirginiaWisconsinWyomingArmed Forces AmericasArmed Forces EuropeArmed Forces Pacific
Update reach-in closet sliding doors with popular new styles.
Add luxury to door and drawer fronts with unique Swarovski crystal pulls. Nothing adds sparkle like faceted Swarovski crystals in a variety of styles.
Motion sensor pull hooks with lights are activated in low light while staying off during daylight.
Explore material solutions that make your job sizzle. Artisan glass can be used for barn doors, cabinet door inserts, and room dividers.
Make a statement with unique or timeless designs. Bring out and enhance key design elements with decorative hardware.
Slide out and fold or use as a temporary spot to sort your items.
Black nylon laundry bags make sorting easy, and are easily removed for trips to the cleaners or washing machine.
Our daily routine begins and ends in the closet, so we believe it should be a place of peace, organization, and beauty. When it comes to the custom design of one of the most personal rooms in your home, our goal is to transform your closet into an organized storage oasis. There are many benefits to be gained with a personalized closet design, one that includes rods, shelves, built-in drawers and cabinets, that allow you to easily find what you need, take charge of your morning routine, and discover a feeling of harmony to carry you throughout your day. Our approach turns organization into art and your closet into a retreat.
this laundry organizer lifts out easily with handles and comes in the color slate or beach.
Solid wood corbels are offered as decorative accents or for support.
We offer a complete selection of decorative rosettes that add additional details to the style of your unit.
Add pull-out jewelry trays to keep all your jewelry organized.
Create cubbies anywhere you like with clip-on Lucite shelf dividers.
Space-saving trays are perfect for hard-to-store sunglasses, jewelry, rolled belts, and ties.
Give laundry a more formal look with a tilting hamper. Hide unsightly dirty laundry behind the door front of your choice.
You will receive an email with a link to view the current issue of Art of Organization.
Organize belts on sliding racks that tuck neatly into hanging sections. Offered in all finishes.
Slanted shoe shelves with Elite toe stops. Available in all finishes.
Top off your unit with one of our many classic crown moldings. Wood and RTF available.
Add decorative storage boxes to shelving and the top of units. Select from Beach or Silver.
Perfect spot for temporary hanging, packing, or dry cleaning. Comes in all finishes.
Any space can be enhanced with special lighting from motion sensor lights to task lighting. Your designer can show you the entire range of accessories we offer.
Add a touch of aromatic cedar to the back of your closet or in the lining of a drawer.
Discover the latest design trends, lifestyle tips, and storage solutions that mold organization into art.
Make items on low or deep shelves easy to reach with pull-out shelves.
Line trays or drawer bottoms with velvet to store jewelry, watches and other valuables.
Our wood veneer is made from sustainable forests while the plywood core is made of 100% recycled and recovered wood.
AllWalk-InReach-InDressing RoomsFinesseBedroomWardrobeKidMelaminePaintedWood
During the consultation, you and the designer will discuss goals, wish list, and project budget, with the aim of designing a closet organization system that will:
Popular LED lighting can be added to shelves and kick plates.
The art is in the details. With a focus on perfecting even the smallest aspects of your closet design, your designer will introduce you to our complete selection of embellishments, finishes, and accessories during your in-home design collaboration. Featured items are a sampling to introduce you to our fashion-forward offering that helps keep everything you plan to store in your closet organized.
Turn drawers into jewelry boxes with our selection of jewelry inserts.
Subscribe to our free quarterly to discover how to mold organization into art!
Add matching drawer fronts to fabric pull-outs to change up the look. Mix and match to create your own unique design.
Select from seeded, reeded, sand blasted, bronze, and much more.
Section off drawers with Lucite dividers to keep them organized.
Dress up mudroom units or use as a spot to hang robes or jackets in your closet.
Personalized to your needs, we offer hundreds of ways to customize your closet design. Your closet designer will help you select from a wide variety of accessories and elements that enhance your personal style while best conforming to your budgetary requirements. Whether your taste is contemporary, eclectic, or somewhere in between, you are guaranteed to find the finishes, moldings, and embellishments you love to create a design that's uniquely yours.
Our thermofused melamine is pressed directly onto pinecore substrate. Gloss available.
Turn your dream into realityOrganize you efficientlyCreate space for everythingMaximize your spaceCreate optimum visibilityDisplay your personal itemsAdd value to your homeHarmonize with your décor
Adorn your drawer and door fronts with their own jewelry. Add precious stones to faces.
Select a Lucite or resin insert and add it to our exclusive framed doors and drawer fronts to create a unique look all your own.
Architectural elements can be added to enhance door fronts, columns, and valances.
Our thermofused melamine is pressed directly onto pinecore substrate. Matte and gloss available.
Fresh Ideas That Help Keep You OrganizedRead Our Free Quarterly Magazine:Art of Organization
– Your solution for customized organization systems for the whole house – – Serving our customers since 1983 –
Illuminate sections of your closet with LED rods. Top mount, oval, and round options available.
Each of our custom closets is completely personalized and begins with a complimentary design appointment.
Enhance the atmosphere of your room with modern corbels in steel and aluminum finishes.
Create the perfect mood with strip lighting. Great for kick plates and other strategically-placed areas.
Express yourself with laminate counter tops, backing, and panels. We offer a number of brands and countless patterns to choose from.
Double hampers are great for sorting or separating laundry and easily lift out. Select from the colors beach or slate.
For folded items, our fabric pull-outs are a great alternative to drawers or shelves. Select from the colors beach or slate.
Our thermofused melamine is pressed directly onto pinecore substrate. Matte available.
Preserve ties on our tie organizer. Stores neatly in hanging areas. Comes in all finishes.
Select from wood and foil specialty door fronts. We offer both modern and traditional styles.
After you send us your consultation request, we'll call you within 48 hours to set your appointment and answer any questions you may have.
Under shelf lighting creates a boutique feel for closets, and helps create a mood for all shelf display areas.
Use open space on walls to store belts with these modern wall-mounted hooks.
We offer an extensive selection of handles and knobs to complement the style of your design.
Store lingerie, socks, or small folded items in divided fabric trays. This pull-out is offered in slate or beach and is a stylish alternative to a standard drawer.
Related Images of Custom Closet Design