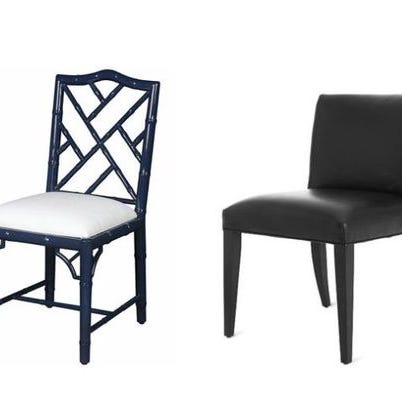 Dining Room Design Chair Design Furniture Shopping Perfect Folding Chairs for Entertaining Elegant Swivel Chairs to Sit In Kitchen Chairs for the Whole Family 25 Modern Dining Room Decorating Ideas 17 Round Dining Tables to Gather Around 10 Best Drop Leaf Dining Tables home decor and decorating ideas dining rooms shopping
This classic beech frame gets a modern update with a bow-like back and a smooth onyx finish.
Perfect for a mod white kitchen, this dining chair set adds a pop of contemporary style and color with its sleek aluminum base and cherry red cushion.
Inspired by the glam cantilever chairs of the 1980s, the Cora Dining Chair cradles you in velvet, and the circle base gives the illusion of extra space around the dinner table.
BUY ITKnot Chair From Normann Copenhagen: Inspired by Tatsuo Kuroda's gorgeous knot chair, this piece combines classic materials with modern style. This piece is crafted from durable black-stained ash wood with major components held together by carefully knotted twine.
Tableware, flatware, centerpieces, place mats, runners, and more… There are so many things that go into a stylish table setting, but there's one thing that guests will interact with more than any other – the chairs! It's hard to find a suitable modern seat that hits all the right marks, like fitting well with the dining table and standing up strong to everyday use, and of course, there's the important issue of comfort. This post is a compilation of 50 contemporary chairs that you can buy right now. Some are timeless classics, others are from up-and-coming prodigies, and others are stylish budget-friendly pieces to fit any dining room.
BUY ITCalligaris Amelie Chair: Upholstered from top to bottom, the distinctive Amelie Chair looks just as smooth as it feels. The ultra-soft mustard yellow Oslo fabric resists stains and bacteria for long-wearing comfort and durability.
The wood and understated silhouette of this chair recall the simplicity of Danish furniture. The lightly padded leather seat adds comfort, while the slim frame means this chair can fit at even the smallest dining table.
Bold nailhead details and the richly textured oak frame give this chair a masculine, rustic feeling. It's a handsome choice for a mountain house.
Other related interior design ideas you might like… 42 Modern Dining Room Sets: Table & Chair Combinations That Just Work Great Together50 Stunning Scandinavian Style Chairs To Help You Pull Off The Look50 Unique Coffee Tables That Help You Declutter and Stylise Your LoungeWorkspace Inspiration
BUY ITPlatner Arm Chair by Warren Platner: Here's a metal wire chair for those who want to break away from the ordinary – these Platner originals were designed in 1966 and still stand alone as an iconic and irreplaceable addition to the world of contemporary design.
The frame is available in bronze or polished nickel, with a variety of upholstery options ranging from velvet to bouclé to leather.
BUY ITLucy Wire Dining Chair: Los Angeles based designer Guarav Nanda designed this chair to demonstrate that the delicate and lightweight appearance of wire can actually stand as structurally sound as any other material, thanks to an intensive manufacturing process that includes machine molding and up to 400 handmade spot welds.
Each pattern is based on intricate crafts like spirograph art and macrame.
BUY ITMod Dining Chair: Curvaceous contemporary dining chairs like these are a stellar companion for round or oval dining tables like the one pictured. These attractive chairs are available with a walnut base and a choice between cream or rich espresso upholstery.
BUY ITModern High Back Dining Chair: If you're for a high back dining chair that immediately catches the eye, here's a bold and affordable design to check out. Each one is upholstered with faux leather vinyl, in fire engine red (also available elsewhere in black), easy to clean and impossible to ignore.
Consider pairing these with a glass-topped table as pictured.
BUY ITSalt Chair by Tom Kelley: Finding chairs that fit just right isn't always easy. Tom Kelley has designed a series of high back dining chairs that work flawlessly with small tables thanks to their compact footprint – a combination of features rather difficult to come by.
These Xavier Pauchard-designed chairs are made from painted raw steel. First introduced in the 1930s, these Tolix chairs are featured everywhere from barbecues to the MOMA thanks to their lightweight but stylish design.
BUY ITArne Jacobsen Drop Chair: If you're looking for retro dining chairs with contemporary appeal, Jacobsen's Drop Chair just might be the ultimate must-have. After an extremely limited production run that resulted in a 50 year hiatus, these iconic designs have returned much to the delight of mid century design enthusiasts.
BUY ITTolix Style Metal Dining Chair: If you're in search of a metal dining chair for a farmhouse or industrial decor setting, these lightly distressed Tolix-style chairs just might fit the bill. They're available in a variety of bright colors suitable for mixing and matching, and this design is actually stackable for easy storage.
BUY ITSaarinen Style Upholstered Dining Chair: Available in both stunning red cashmere and smooth white Italian leather, this upholstered dining chair brings luxury to mid century modern design. Both upholstery options are exceptionally durable and resilient but delightfully soft to the touch.
The padded seat and contoured back ensure a comfortable seating experience all around.
BUY ITEames Style Leather Dining Chair: It's difficult to find a leather dining chair for a reasonable price, but these Eames lookalikes use realistic faux materials to keep costs low. These would make a handsome addition to a mid-century modern interior.
The cutaway at the front lets you pull the chair close to the table without the arms bumping into the edge.
BUY ITIkea PS 2012 Chair: When it comes to budget-friendly Scandinavian interior decor, Ikea always saves the day! These chairs feature comfortable armrests with a curved back for comfort. Each one stands at just short of 30 inches tall, a smart size for anyone who needs a low back dining chair for a compact dining arrangement.
Vintage lovers will adore this chair, as it recalls a traditional English scroll-back chair, but is sturdier and plusher than an antique. It's also compact in size, so it's a great choice for smaller spaces.
Recommended Reading: 50 Scandinavian Style Chairs Classic Mid Century Modern Chairs
BUY ITArne Jacobsen Grand Prix Chair: Named for its honor of receiving the highest award at the Triennale di Milano exhibition in 1957, the Grand Prix chair is one of the most recognizable designer dining chairs in the world.
It's now available in every color of the rainbow and features a convenient stackable design.
This chair's traditional form perfectly accents the understated linen fabric and the wood's weathered finish. It's best suited for sizable tables, though, thanks to its larger stature.
BUY ITMagis Chair One Style Chair: Geometric designs are incredibly on-trend, making the Chair One a particularly sought-after design. This lookalike is made from heavy duty plastic with a matte finish, standing at 33″ as a versatile medium-height chair.
The original is available here.
BUY ITRyla Rattan Dining Chair: Fans of nature-inspired interior decor themes might find this chair collection enticing. Crafted from thin metal framing and woven together by strong wicker, this rattan dining chair brings the outdoors in.
This frills-free chair is not only practical, but stylish as well, thanks to its streamlined shape and sturdy design.
BUY ITIn Between Chair: Created by Helsinki-born designer Sami Kallio, this series has the natural charm and rich grain of hardwood with the lightweight versatility of plywood dining chairs, easy to maneuver and even easier on the eyes.
BUY ITHans Wegner Style "Presidential Election" Round Chair: Here's one more Wegner-inspired classic! This style rose to fame during a televised debate between US presidential candidates Nixon and Kennedy in 1960, taking the interior design world by storm.
BUY ITWegner Elbow Style Chair: It's hard to go wrong with simple mid century modern dining chairs. These are a recreation of another Wegner classic, their form simple and versatile to suit a variety of interior decor styles – even better, the low back can streamline the aesthetic of the entire dining room since the chairs are unlikely to stick up above the height of the table.
BUY ITWegner CH33 Style Chair: Gorgeous! The CH33 is another famous design by Wegner, made affordable thanks to quality reproductions like these. The seating is available in beige fabric or black faux leather, both fantastically subtle and ideal for clean contemporary dining arrangements.
These chairs may be based in mid century style, but this piece is timeless.
BUY ITKartell Masters Styles Chair: A strong conversation starter for design fans, blends the iconic profiles of three famous chairs – the Series 7 by Jacobsen, the Tulip Armchair by Saarinen, and the Eiffel Chair by Eames.
This faithful reproduction is available in black, grey, red, white, and bright green. The original by Philippe Starck is available here.
These modern dining chairs are so nice, you just might need to throw a dinner party to celebrate. Plus, dine outdoors in style with our best outdoor dining chairs.
BUY ITCherner Style Chair: Despite their high luxury inspiration, Cherner-inspired designs actually make great chairs for small dining rooms thanks to their compact footprints and streamlined style. This reproduction is crafted with silky American walnut veneer over sturdy 7-ply plywood, topped off with plastic floor protectors to keep your interior looking great.
You can find the original here.
BUY ITMuuto Cover Chair: This distinctive seat by designer Thomas Bentzen forgoes metal hardware like nails and screws in favor of a self-supporting design held together by the bent veneer of the armrests.
The colorful versions are manufactured from ash and solid beech while the natural version is lacquered oak.
We can't always have breakfast at Tiffany's, but these Tiffany blue upholstered chair with T-stich accents are the next best thing.
BUY ITIkea Tobias Chair: Transparent acrylic dining chairs are great for small spaces because they take up very little visual real estate, and they're great for window spots because they allow the light to pass right through.
Ikea's Tobias chair features chrome legs and glass-like seats for a smart contemporary look.
With its soft shape, this chair calls to mind Italian designs of the 1970s, while the unusual and striking upholstered legs make it a great choice for more glamorous spaces.
20 Brilliant Dining Room Light Fixture Ideas That Elevate Entertaining
Handcrafted using the centuries-old bentwood technique and constructed from oak, the woven rattan seats work outside or indoors in a rustic kitchen.
BUY ITIkea Janinge Stackable Dining Chair: So simple! Ikea's Janinge chair was designed to withstand the demands of hard-wearing restaurant settings while remaining stylish enough to use in the home.
These chairs are slim, lightweight, and even include under-seat dampers for safe stacking.
BUY ITEames Style Molded Plastic Eiffel Armchair: Comfortable and versatile, these are one of the few modern plastic dining chairs with arms that remain minimalistic in style. These are based on a design by Eames and include the recognizable Eiffel base.
The shell is available in a variety of bright colors, while the original (available here) offers a more muted palette.
BUY ITJ104 Chair: Natural beech wood is a staple of today's contemporary Scandinavian-style interior decor, but this model was actually designed in 1966 by renowned Danish designer Jøergen Bækmark.
This simple classic is now being re-manufactured in beech, white, and glossy black.
BUY ITBahia Chair: These modern plastic dining chairs are the work of designers Claudio Dondoli and Marco Pocci. The version in the link includes tubular metal legs instead of wood, resulting in an even more minimalistic aesthetic.
BUY ITArne Jacobsen Style Series 7 Style Side Chair: With a profile recognized by every fan of Danish design, the Series 7 is a versatile piece for Scandinavian-inspired interiors. This reproduction is crafted from plywood with metal chrome legs, easily stackable for storage or occasional use.
BUY ITIkea Leifarne Chair: Comfortable, sturdy, and unique – it's hard to ask for more from such an affordable chair design! The plastic non-scratch feet adjust themselves to provide extra stability, while the solid wood legs ensure your investment will last.
BUY ITPanton S Style Chair: A sculpture in its own right, the Panton S is a truly iconic piece for design fans that want something a little out of the ordinary. This reproduction is available in black, blue, apple green, orange, red, and white.
The original is available here, with several more color options.
The Italian-made chair cuts a clean silhouette with a black steel and ergonomic seat upholstered in faux grey leather.
The teak and leather have a gorgeous, lived-in look that gives the chair so much personality.
BUY ITNelson Swag Leg Chair: Originally made from fiberglass and plastic, these iconic chairs are now manufactured with recyclable polypropylene, a more earth-friendly option. These authentic Herman Miller releases are ideal for use in the dining room, home office, or even commercial spaces.
BUY ITUmbra Oh Chair: Designed by Karim Rashid, the Oh Chair is an IDEA award winner and remains a modern design favorite for its bold look and versatile functionality. They're stackable, durable, and available in a wide range of vivid colors.
BUY ITKai Kristiansen Style Model 42 Chair: As one of Kai Kristiansen's most celebrated designs, the Model 42 has transcended its roots in Danish mid century design and its popularity has continued all over the world to this day.
This reproduction is crafted from solid hardwood with rich walnut veneer, upholstered in versatile grey.
BUY ITPhilippe Starck Louis Ghost Style Chair: It's easy to fall in love with Starck's otherworldly transparent furniture designs, but thanks to the popularity of these objects, it's now easier than ever to find affordable alternatives.
These chairs look just like the original, an ethereal interpretation of the classic Louis styles. They're stackable, sturdy, and available in a range of colorful tints.
BUY ITWegner Wishbone Style Chair: Crafted from solid beech wood and a stylish rope seat, this Wishbone replica uses quality materials for its sturdy build. It's available in five colors and two natural wood options.
Those who want an authentic Wegner model can find it right here.
BUY ITForm Chair: Designed by Simon Legald in 2015, this contemporary chair is available in blue, red, green, grey, black, and white. Each color option is available with a choice of walnut or oak legs to better suit a variety of modern dining room sets.
For mid-century lovers, consider this walnut wood-finished back with cutout details, pin legs, and an upholstered fabric seat.
BUY ITMattiazzi She Said Chair: This streamlined, low-profile dining chair is the work of Nitzan Cohen, designed to emulate the geometry and lightness of plastic furniture – this time envisioned in solid natural ash wood.
Not only would this piece look great in the dining room, it's beautiful enough to stand alone as a side chair or writing chair too.
BUY ITEames Eiffel DKR Style Wire Chair: The industrial and minimal Eames Wire Chair is a worldwide favorite, now accessible to a wider audience thanks to faithful reproductions like this. It includes faux leather seat pads (available in black or white) that bolt to the frame to prevent slippage.
Or, consider adding a faux sheepskin for luxury appeal.
This sleek chair is extremely light, so it's easy to move around. Plus, it's got a compact footprint and is stackable.
BUY ITVertex Chair by Karim Rashid: Like a low-poly and hyper-contemporary interpretation of the classic Panton S chair, these geometric sculptures go beyond the utilitarianism of furniture and double as functional artwork for the home.
Manufactured from semi-gloss black plastic, this chair will play with the light from every one of its many angles.
BUY ITEames Style Dining Chair: Originally designed in 1950, the Eames Molded Plastic Chair is a timeless and beloved design. Production continues to this day thanks to this chair's popularity (you can purchase an authentic Herman Miller version here) but thankfully there are also a wide variety of replicas available for anyone who needs affordable modern dining chairs.
BUY ITThonet Style Chair: Based on Thonet's famous No. 18 side chair, this quality black-finished elm reproduction makes for a lovely and long-lasting addition to any dining room. They're also a good talking point for design fans – Michael Thonet is usually credited with popularizing bentwood manufacturing techniques in Europe.
BUY ITGlobus Chair: Not only is this smooth Jesús Gasca design attractive to behold and comfortable to use, it's also versatile – the bottom of each seat features attachments to prevent damage during stacking, making them fantastic space saving dining chairs for smaller dining rooms.
A refined touch for an industrial-style kitchen, the chair's top-grain aniline-dyed leather upholstery has a patina that will only get better over time.
BUY ITMetrocles Stackable Dining Chair: Such a creative chair design! Both the branch-like pattern of the back and the translucent body material ensure that all eyes end up on this gorgeous display piece.
These are rated for both indoor and outdoor use, and the variety of semi-transparent colors (in addition to solid white) ensure you'll be sure to find a model that fits your distinct style.
This family-friendly chair is made out of super durable walnut and hickory woods, so it can withstand years of wear and tear.
BUY ITVisu Chair: This versatile 2012 Mika Tolvanen design reduces the concept of a dining chair to its most basic form. Simple sled legs and a thin wood veneer shell presents a super thin profile for an incredibly lightweight appearance.
BUY ITMuuto Fiber Chair: Designed by Iskos-Berlin, the Fiber chair dazzled the world with its incredibly smooth frame and distinctive angles. The included link actually refers to the upholstered model – available in charcoal with walnut legs, grey with black legs, and two leather options including cognac with walnut and double black.
BUY ITSaarinen Style Tulip Side Chair: Available with removable cushions in a rainbow of vibrant hues – in your choice of fabric or vinyl – these Tulip inspired chairs are a great way to add color to your modernist dining room.
The aluminum base includes padding to protect floors.
BUY ITModway Hop Dining Chair: Are you looking for a red dining chair that could work both indoors or out? This durable plastic seat is affordable, quirky, and has a cool modern style sure to capture attention and start conversations.
BUY ITMuuto Nerd Dining Chair: Designed by Berlin-based designer David Geckeler, the 2012 Nerd Chair is more than just a comfortable seat – it's also an impressive feat of engineering. There are no visible screws or hardware to distract from the silky curved body and handsome wooden veneer (available in either natural oak or lacquered ash), leading to an incredibly smooth form from top to bottom.
Share it on any of the social media channels below to give us your vote.
BUY ITAbout A Chair by Hee Welling: These stylish chairs are the perfect addition to any Scandinavian-inspired interior. The shell is available in every color of the rainbow, including a variety of subdued pastels, and the legs are available in classic soaped oak or black lacquer.
With its graceful profile and glossy lacquer finish, this sleek style would work well in a sophisticated urban apartment. The single red stripe adds aesthetic interest to the otherwise all-black chair.
This chair makes it so easy to turn to your dining companion on either side – but it could also make a great office chair.
BUY ITEames Molded Plywood Style Dining Chair: This handsome Eames lookalike is based off the Molded Plywood model, once named by Time magazine as the best design of the 20th century, certainly a memorable piece!
Wicker baskets. Straw-plaited baskets are an affordable and elegant approach to include storage to any space . Baskets can be applied to store and show books, architectural and decoration magazines, toys, towels in addition to blankets to name the few. Place a few little wicker baskets around the counter-tops in your kitchen to be able to beautifully display and shop your fruit and veggies.
Employ area rugs to become softer hardwood floors. Throw mats give warmth and could add great texture, shade and personality to your current living space. Hardwood flooring are beautiful and simple to take care of but they be lacking the comfort that carpeted floors offer, particularly within the cooler months. Place rugs can also include fun and functionality in order to your living area . Use many of varying patterns and even fabrics together to display your character. Or include several rugs of the particular identical pattern and material , or different textures nevertheless the same color. Typically the possibilities are endless. An individual can change your place rugs to reflect typically the seasons using warmer hues and fabrics for much cooler months and lighter kinds for the warmer occasions of the year. Right now there are many lovely natural cotton , washable area rugs which in turn are suitable for those houses with children. There genuinely is no reason precisely why a property with young youngsters cannot become a fashionable one.
Slip into some thing a tad bit more comfortable!. Slip addresses frequently get an awful rap but they happen to be truly wonderful things. That they can function as a method of changing your furniture`s look to reflect the particular seasons. These easily taken away coverings improve an advanced look without constantly stressing about people dirtying or perhaps spilling on your pieces of furniture . Slip covers are perfect for rooms used regularly by children. Over a new white slip-covered couches provides air of an everyday , comfortable, easy yet advanced elegance.
Coloring or wallpaper your bookcases. This instant pop regarding color will brighten plus re-energize any room! Really amazing how something thus simple as a layer of colorful paint can easily instantly energize and convert your space. This built/in bookcase would be basic and ordinary with no shiny blue interior. Possibly the easiest and most inexpensive approach to transform a boring area is always to apply a layer of paint somewhere unforeseen . Bookcases are an best place to start since you don`t need to coloring a large area. Some other fun places to incorporate some sort of pop of color incorporate painting fireplace mantels, typically the insides of closets, hallways and ceilings.
Paint smaller areas in softer, lighter hues to make the room think larger. The living space above is an excellent sort of how in order to maximize a small livable space . A room of this kind of size provides the tendency in order to seem cramped, nevertheless the significant windows, light colored wall surfaces and ample using wall mirrors not only reflect typically the natural light pouring within through the doors and typically the windows however the use regarding mirrors also provides the optic illusion of space, generating the room seem greater than it actually will be . Conversely, darker colors will certainly make a room experience smaller. Even with typically the abundance of natural light source and the strategic holding of the mirrors, this particular room in a deeper shade may have an even more boxed-in feel with it.
Differ your workout. Mix upward patterns and textures. Mixture up old and brand-new , expensive and cheap. There`s nothing wrong with positioning family heirlooms alongside your current modern couch. Great rooms decorators will tell a person that one of typically the most important aspect in order to decorating your house is that this reflects who you will be , your personality and your own style. The vintage Chippendale office that was your grandfather`s tells a story. This tells the story associated with your past. The contemporary couch you became adoringly obsessed with and merely had to purchase likewise tells a story, your existing story, and there will be no good reason that the current and past can`t co-exist beautifully together. A similar can easily be said for skill. You now might not need to place a piece of art by Salvador Dali on a single wall next to the Monet, but there`s zero reason why they cannot become in the same area together. With fabrics whether or not it be furniture, mats or pillows, varied hues and patterns would bring friendliness and texture with your lifestyle space.
Employ what you already include to decorate. Many of us include items in our property , probably packed up throughout boxes somewhere and don`t have given them a 2nd glance. Your house needs a few accessories. As opposed to running to be able to the store, take a new good look at everything you already have. Trays, wood , acrylic, metal or silver precious metal can be on top rated of luggage racks, green tea carts, trunks, bedside desks and coffee tables with regard to extra texture and sizing . Arrange candles on all of them , frames or pile publications on top of all of them . Plates can be put up to create wonderful wall membrane art. Art from kids books can be frame and hung in nurseries, children`s rooms or their very own bathrooms. You will get amazed at your talent with what you currently have!
Whether or not you`ve just moved and looking for a fast , little home pick-me-up, or perhaps perhaps something better, right now there are some well-known interior design tricks that designers utilize which you too can quickly do with minimal work and cost. Sometimes typically the smallest things associated with very best impact. It could end up being digging in a looking glass , a painting, a light or even a herb. You may want to make softer your walls, brighten some sort of room, or then add friendliness to your living room. Look into these clever design and style as well as observe how they can motivate you!
Add a suspending pot holder to the kitchen. Kitchens are supposed to be warm and even inviting. We spend significantly of our time inside them whether it get for preparing meals, helping meals or entertaining. A new hanging pot rack pays to elegance. Kitchens are designed to feel as nevertheless they are in continuous use and a suspending pot rack certainly helps make one feel this method . In addition to seeking so wonderful, (there a wide range of sizes and styles available) additional cupboard space beneath has become freed up in order to store other items. Hardly ever has anyone complained regarding having too much storage area.
Living green . Add plants in order to your liveable space . Add these people to every room, smaller or large, few or perhaps many. Plants is surely a low-cost means to accessorizing your own space and adding coloring and texture. Not just are plants beautiful although many can clean home air and balance moisture . They can absorb impurities and remove harmful smells from the air. Simply no home should be with out these wonderful greens!
Work with decorative mirrors to include quick light to your liveable space . As seen above, showcases doubles to make a new small space feel much larger . For larger rooms, or perhaps any room with some sort of more limited amount associated with natural light, mirrors put directly across through the home windows , will add instant lighting . Decorative mirrors doubles within lieu of art in order to fill empty wall place . Large or small, mirror add light and sizing to your living area.
IMAGE COLLECTIONS : Cool Modern Unique Designer Dining Chairs