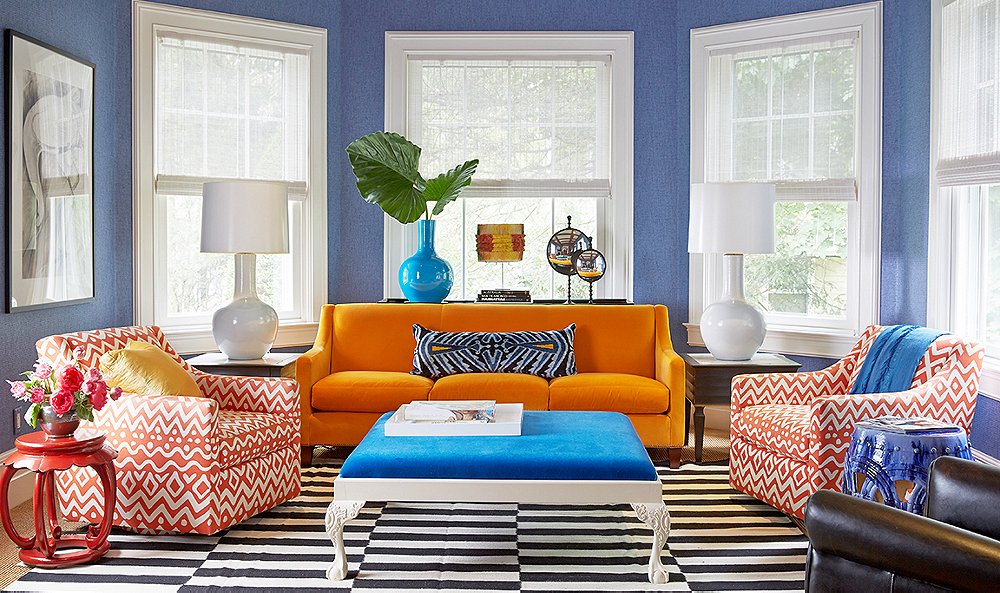 Colourful Interiors With Connection Green Coral Blue And Yellow Decor
Colourful Interiors With Connection Green Coral Blue And Yellow Decor
Colourful Interiors With Connection Green Coral Blue And Yellow Decor
. . . . . . . . . . . . . . . . . . .
20 | An inlay of green appears in the front of the white closet.
34 | The bathroom is a blue and green scene, connecting with the other rooms.
25 | Two blue framed chairs and two white chairs surround a small dining table, all nestled beneath two natural coloured dining pendant lights.
22 | The geo look is splashed across a cloakroom in a dazzling monochromatic design.
38 | Under the mountain wall mural, an activity/display wall includes a whiteboard, peg board and pin board at kid height.
10 | The half height blue stripe seen behind the TV carries around into the kitchen, where we find further doors and door frames painted in the green treatment. Kickboards have been kept white in contrast.
11 | A set of floating shelves up one kitchen wall are all white except for one blue standout.
29 | The bedroom continues the use of blue accents but with a much stronger punch. Deep green, yellow ochre and warm terracotta join to make high contrast.
8 | The lounge leads straight into a dining area and on to a sleep space. In the dining room, one side of the table has a small banquet bench seat in lieu of more chairs to save space. The table legs are dipped in coral paint.
A small dining pendant light illuminates the eating surface, and a simplistic mural of a house is applied behind it.
31 | This house shaped shelving unit provides opportunity for introducing more splashes of colour, in shelf inlays and over cupboard doors.
14 | Botanical art and coral coloured pillows subtly carry hues through from the living room.
2 | This cosy mid century modern look has plenty of wood tone at play. Only a slatted dividing wall separates the lounge from the kitchen so the colour story carries right on through.
30 | A dressing table stool matches the hue of the bed throw.
23 | Visualizer: ImadePastelA blue living room awaits us in home design number three.
26 | A blue shelving unit acts as a pleasant visual stop after a run of white units and a plain white wall.
15 | The other elements in the room are white, wood tone and natural.
39 | The kids bathroom has the same tile as the adult bathroom – a tile this eye-catching spans the ages.
28 | The home entryway in this tiny apartment has been defined with a covering of monochrome pattern floor tiles, which sing out against the smooth wood covering over the rest of the open area. A smart selection of units, wall hooks and a storage bench seat equip the area.
Share it on any of the following social media channels below to give us your vote. Your feedback helps us improve.
18 | This double bedroom decor scheme mixes green and soft grey.
17 | Another take on the same bedroom layout using the same platform bed design. This time the bedroom scheme has a much stronger botanical influence. Green paintwork tapers away from a solid feature wall as a geometric design behind the unique bed.
The floating shelf matches the shade exactly.
35 | The kids' decor utilises blue with a happy blast of yellow. The shades are lighter than those found in the adult bedroom, adjusted to better suit the age and taste of the inhabitant.
3 | In the kitchen, a coral coloured SMEG fridge fills an alcove next to matching patterned tiles. All shelving is wooden, as is the breakfast bar that has been finished off with a Swiss Cheese Plant.
21 | A modern bathroom vanity is wall hung beneath green metro tiles, above a floor of geometric black tiles.
13 | A bespoke platform bed contains drawer storage space beneath it, with cabinets situated below a window at the foot end. A single bright yellow shelf and chair add zing.
19 | The small space between the foot of the bed and the closets has been utilised to fit a tiny dressing table.
37 | Character decals are mixed with popular mountain mural walls, incorporating fun with fashion.
Colourful Interiors With Connection: Green, Coral, Blue And Yellow Decor
1 | Visualizer: Trang LeOur first gloriously colourful home incorporates coral and yellow elements along with a summery botanical theme. Plant themed art prints make a gallery wall above a coral sofa scattered with mint and lemon pillows.
Living indoor plants bring the theme to life, like this bushy Fiddle Leaf Fig. The wild palette is made earthy by the introduction of a beige panelled feature wall, area rug and cushions.
7 | Blue paintwork has been applied at half height along the TV wall, implementing a splash of colour without going the whole hog. The cool blue forms a backdrop for a gold floor lamp, and strong monochrome wall art adds a base note to the breezy look.
9 | A slice of blue runs off the quaint house mural, cutting all the way up through the platform bedroom. The blue colour backs a small study area situated beneath the high bed, helping it appear as its own mini room.
5 | Visualizer: ImadePastelOur second home tour is a 67 square metre apartment with splashes of blue and turquoise in the lounge.
4 | Mint and yellow kitchen stools brighten up the dining area, bringing the hues through from the lounge. A couple of opportunely placed matching dishes complete the look.
32 | A floating seat on the balcony holds a couple of colourful scatter cushions, taking the decor scheme all the way outside. A few rattan planters bring out some of the more natural elements too.
6 | A quirky plant wall mural creates a focal point on the far wall, growing out from behind a set of white backless shelves. A neighbouring green door and doorframe carry the accent colour along.
It's easy to go all out with colour in our homes. We pick a few shades and boom! There it is; a cheerful concoction of paintwork, furniture and accessories. If we can stick to only a few hues then it might come out pretty cohesive, but are there any tricks for stylishly connecting the whole look together? Can you walk a colour story all the way through each and every room of an apartment without things becoming samey and predictable? You betcha there is, and we've got three gorgeous home tours that show us how to do exactly that, using shades of botanical green, blue, coral and occasional pops of yellow.
Related Images of Colourful Interiors With Connection Green Coral Blue And Yellow Decor