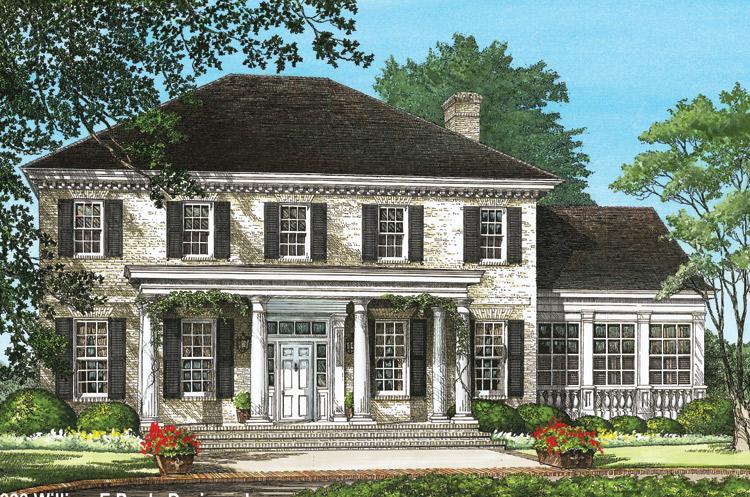 Colonial House Plans
Colonial House Plans
Colonial House Plans
. . . . . . . . . . . . . . . . . . .
Collections 100 Most Popular 0 Affordable 111 Canadian 12 Client Photos 4 Exclusive 23 House Plan Videos 4 Large 105 Luxury 30 Metric 14 Modular Homes 134 Multi-Family Home 0 Narrow Lot 42 Net Zero Ready 0 New 1 Photo Gallery 94 Premium Collection 10 Small 11 Tiny House 0 USDA Approved 0
While many Colonial homes feature two stories (especially farmhouses), you'll also find many one story designs and even those with one-and-a-half stories, traditional to Cape Cod designs. Dormers frequently are added to the exteriors and bring light into the second floor.
Related categories include: Cape Cod House Plans and New England House Plans .
Colonial style homes work well in traditional neighborhoods, especially on the East Coast. Find your Colonial house plan today and bring timeless beauty to your area.
While Colonial plans traditionally presented a central hall with rooms branching off in a formal arrangement, today's preference for open-concept layouts means that the floor plans are quite different. Most families don't have need for a parlor or even a formal living room any more. Instead, the majority of designs from recent years devote square footage to the great room and kitchen, because that's where we spend a lot of time and entertain in a casual way.
Colonial revival house plans are typically two to three story home designs with symmetrical facades and gable roofs. Pillars and columns are common, often expressed in temple-like entrances with porticos topped by pediments. Multi-pane, double-hung windows with shutters, dormers, and paneled doors with sidelights topped with rectangular transoms or fanlights help dress up the exteriors which are generally wood or brick. Additional common features include center entry-hall floor plan, fireplaces, and simple, classical detailing.
Sort By Most popular Newest plans first Beds, most first Beds, least first Baths, most first Baths, least first Sq. ft, most first Sq. ft, least first Price, high Price, low Signature
Sort by Most Popular Square feet (large to small) Square feet (small to large) Recently Sold Newest Modular Friendly Rating
Signup for our newsletter! Get exclusive new plans & discounts
Search Styles Collections Resources Magazines FAQ About Contact
Special Features 1st Floor Master Suite 112 2nd Floor Laundry 5 2nd Floor Master Suite 215 Bonus Room 121 Butler Walk-in Pantry 112 CAD Available 167 Courtyard 3 Den-Office-Library-Study 153 Elevator 2 Handicapped Accessible 0 In-Law Suite 14 Jack & Jill Bath 83 Loft 23 Lower Floor Master 0 MBR Sitting Area 46 Media-Game-Home Theater 56 Multi Stairs to 2nd Floor 34 PDF 315 Split Bedrooms 4 Split Level 0 Sport Court 0 Wrap Around Porch 4
Colonial style house plans cover a broad spectrum of architectural movements and geographic locations, but generally show influences from the simple structures built along the East Coast during the Colonial, Revolutionary, and Early Republic eras in American history. Of course, like many of today's other popular home styles, fidelity to any one architectural movement isn't the point. Rather, these designs evoke simplicity and tradition while still incorporating must-haves of today's homes (like garages and big kitchen).
Foundation Basement 245 Combo Basement-Crawl 3 Combo Slab-Crawl 0 Crawl 172 Daylight 13 Joist 0 Pier 0 Piling 0 Post/Beam 0 Post/Pier 0 Raise Island 0 Slab 162 Unknown 0 Walkout 32
Plan Type Garage 2 Single Family Home 327 Multiple Family Home 0
Styles Acadian 0 Adobe 0 Beach 0 Bungalow 0 Cape Cod 6 Carriage 2 Colonial 329 Contemporary 0 Cottage 4 Country 23 Craftsman 2 European 4 Farmhouse 9 Florida 2 French Country 0 Georgian 37 Hill Country 0 Log 0 Low Country 0 Mediterranean 0 Modern 0 Mountain 0 Northwest 4 Plantation 2 Prairie 0 Ranch 2 Shingle 2 Southern 32 Southwest 0 Spanish 0 Traditional 255 Tudor 0 Tuscan 0 Vacation 1 Victorian 1
Garage Type Attached 304 Detached 7 Carport 1 Drive Under 2 RV Garage 0 None 7
Exterior materials vary on Colonial style house designs, from brick (common in the Mid-Atlantic states) to siding and occasionally stone or stucco. Symmetry is an important hallmark of many Colonial designs, with windows often aligned on top of each other and elegant entryways in the middle. Shutters frequently appear on these designs – for the most realistic look, choose ones that are properly scaled to the windows. Palladian windows add elegance and bring in plenty of light. You'll also find porches on many of today's Colonial styles to add a bit of country flair and a comfortable place to relax outside.
You'll find a wide range of styles within this collection, from simple saltbox designs (look for the asymmetrical sloping roof) and Cape Cod homes to larger Georgian home plans. Adam-Federal style house plans (a later development) feature low-pitched roofs and more decorative detail. Dutch Colonial house plans are easy to spot by their gambrel roof (with two different slopes, shallow and then steep – when you think of a classic barn shape, you probably picture a gambrel roof).
Exterior Walls Block 7 2×4 189 2×6 127 ICF 2 SIP 4 2×4 and 2×6 1 2×4 and Block 5 2×6 and Block 0 2×4 and 2×6 and Block 0 Log 1 Unknown 2
Related Images of Colonial House Plans