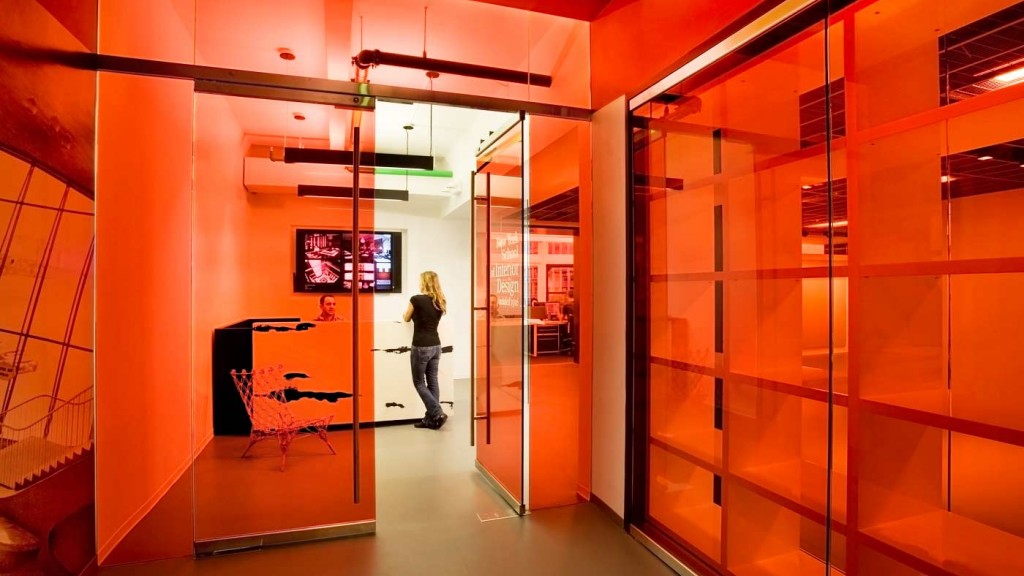 The city's museums, archives, and designed spaces present opportunities for both applied and critical study. Cooper Hewitt, Smithsonian Design Museum — an important collection of decorative arts and furniture and sponsor of many industry-related events — is a key resource. You also have access to the showrooms, factories, dealers, auction houses, and experts that make the city an international center of interior design.
A holistic degree program that immerses students in challenging studio courses, art history and critical theory, as well as the wider world of liberal arts. The course of study culminates in a thesis and qualifies alumni for further graduate study. Best suited to first-time college students.
Edward Yedid Principal, GRADE Architecture + Interior Design
Required Application Materials Application Form: Complete the online application. All applicants are required to apply online. Application Fee: A nonrefundable $50 application fee payable as part of the online application.
Official Transcripts: All applicants must provide official high school and/or college transcripts. If you are currently in school, submit transcripts for all coursework taken to date. Applicants who have attended multiple high schools may submit only the graduating school's official transcript as long as courses taken at previous schools are reflected on that transcript.
Transfer Applicants: Transfer applicants who have completed fewer than 24 college credits (on a semester system) must submit high school transcript(s) in addition to college transcripts. Students who have completed any college coursework must apply as transfer students, regardless of whether they plan to apply those credits to their studies at Parsons.
Applicants are required to report and submit transcripts for all colleges and universities attended.  By Mail: Official transcripts should have an original signature or a raised university seal, and must be in a sealed envelope that has been signed or stamped by the issuing university's registrar or records office.
Applicants can either send official transcripts with an Application Materials Cover Sheet or request that institutions send transcripts directly to The New School. See "Mailing Address for Supplemental Materials" for our mailing address in the Additional Instructions and Information section below.
Electronic Transcripts (U.S./Domestic Institutions Only): The New School accepts electronic transcripts only from our approved vendors. The New School's approved vendors, in order of preference, are Parchment Exchange SCRIP-SAFE International National Student Clearinghouse We do not accept electronic transcripts sent directly by a student or school offices.
Note: All international academic credentials must be submitted as indicated in the International Academic Credentials sections below. High School Equivalency: For GED, TASC, and HiSET, send official test score results by postal mail.
Homeschooling: Homeschool applicants must provide the equivalent of a high school transcript with course or subject titles, duration of study for each title, content of study for each title, and an assessment of performance or "grade.
" Preferably, the courses completed at home are part of a curriculum developed and evaluated by a nationally recognized diploma-granting organization or agency. If not connected with such an organization, homeschool applicants must obtain and submit a GED as confirmation of completing a generally acceptable secondary school curriculum.
If an official transcript from a state homeschool association or sponsoring public high school is not available, homeschool students must submit an equivalency or GED, TASC, or HiSET exam results. Individual homeschool transcripts with date of completion do not suffice as official proof of graduation.
International Academic Credentials: All transcripts not written in English must be accompanied by a certified English translation. International Academic Credentials with Transfer Credits: Applicants who attended postsecondary institutions outside of the United States are required to have their transcript(s) evaluated by World Education Services (WES), or by another member of the National Association of Credit Evaluation Services (NACES).
A course-by-course evaluation must be prepared for each transcript. In the absence of an evaluation, the Admission Committee will do its best to render a decision. Please note: In some cases, a review cannot be made without an evaluation, and a committee decision will be delayed.
If using WES, visit www.wes.org for instructions and to begin the application process. The "Required Documents" section will explain what to send. If you request your report online, search for "The New School" when selecting our institution.
WES will send your completed evaluation directly to The New School. If using another NACES provider, follow instructions for that provider. Mailed evaluations and translations should be sent to the mailing address provided for supporting materials.
Applicants forwarding these sealed documents should include an Application Materials Cover Sheet. Statement of Intent: Upload a one-page Statement of Intent describing the events and ideas that led to your interest in this major.
Please note that this must be included when you submit your online application. (500-550-word limit) Creative Assignment: Please upload your creative assignment with your online application. Save and upload your assignment as a JPEG, PDF, or Word Doc no larger than 2MB.
Additionally, applicants may provide a URL to a website where their creative assignment can be viewed. Fashion Design: Create a collage that defines the lifestyle of the kind of woman or man for whom you would like to design.
Use images taken from magazines, and pay attention to color, textures, and other basic elements. Fashion Marketing: Write a one-page analysis of a fashion marketing campaign you feel has been successful.
(500-550-word limit) Graphic Design: Design an 8" x 8" postage stamp depicting your favorite fruit or vegetable. Interior Design: Present a collage of images illustrating your ideas for the design of a small advertising agency office in an urban townhouse.
Your collage should include details (descriptions, images, or both) of the kinds of furniture, the colors, and the materials you would use to execute your ideas. Test Scores: TOEFL, IELTS, and PTE: All applicants whose first language is not English must submit valid TOEFL, IELTS, or PTE scores.
The minimum score required for TOEFL (IB) is 79, for IELTS is 6.5, and for PTE is 53. Our TOEFL institution code is 2638. The New School does not require TOEFL, IELTS, or PTE scores for applicants: Who have attended a secondary school for a minimum of three years where English is the primary language of instruction Who have successfully completed two full semesters of non-ESL college-level expository writing Who have earned a four-year degree from a U.
S. college/university or from a university where English is the primary language of instruction (minimum of three years attendance) Upon review of your application, the Office of Admission may require you to submit an English Language Proficiency test score.
Arrange for the testing service to send your test scores directly to The New School using the institution codes listed above. We accept scores from the past two years. If your scores are older, you must retake the test.
For more information, visit TOEFL, IELTS, or PTE. Applicants also have the option of enrolling in The New School English as a Second Language (ESL) program. Students must pass Level 5 to waive the TOEFL/IELTS/PTE requirement.
Visit the ESL website for more information. Résumé: A brief résumé (CV) listing education, work experience, travel, etc., including dates and positions held, must be submitted online. Additional Information and Instructions Applying to More Than One Program: In any given term, a student may apply to only one department or program within The New School.
Applicants who file more than one application in a given semester will be required to withdraw one of the applications, and application fees will not be refunded. Application Materials: All materials submitted in association with The New School application become the property of The New School and cannot be returned to you or transmitted to a third party.
Application Status: Applications become complete and ready for review once all required items have been received by the Office of Admission. You can check your application status online at the Admission Hub.
Allow at least 14 days from the date you submitted your application for items to be matched and shown as received on the Hub. Applicants are responsible for following up with schools and recommenders to confirm that items have been sent.
The Office of Admission will periodically notify applicants by email if their file is missing any documents and again when their file is complete for review. These notifications are sent to the email address provided in the online application.
Interviews: Interviews are not required. Applicants with questions about Parsons or the admission process are encouraged to attend an information session. Please review the Admission Calendar for dates and times.
Homeschool Applicants: The New School welcomes applications from homeschool students. The Admission Committee does not require advanced preparation in every academic area, but applicants should demonstrate substantial work in English, history, social studies, foreign language, mathematics, and science.
Review the Official Transcripts section above for transcript requirements. Readmission: The Application for Readmission should be completed by students who wish to return after an absence of four semesters (fall and spring).
If you would like to apply for readmission, review the readmission deadlines and requirements in the Readmission section of our How to Apply information. If you would like to transfer 24 or more semester-based credits, you should apply for admission as a transfer student according to the instructions above.
Mailing Address for Supplemental Materials: Parsons School of Design Office of Admission (PS 200) 79 Fifth Avenue, 5th floor New York, NY 10003
Alice Kerrison (2005) Principal, Alice Kerrison Interiors Australia
The annual Parsons Festival kicks off this year on May 1 and runs through May 18. More than 30 end-of-year exhibitions, events, presentations, open studios, and programs will be part of Festival 2018.
The AAS program provides up to 44 credits toward the educational requirement for the National Council for Interior Design Qualification (NCIDQ) licensing exam. Although licensure is not required in order to practice interior design, some graduates choose to obtain a license. If you wish to pursue licensure, refer to the NCIDQ website for detailed information about educational requirements for the exam. 
FAST FACTS Location: 66 5th Ave., New York Programs: BFA, MFA, AAS Tuition: BFA/AAS: $US12,780 per term, $US22,340 full term Job placement rate: 96% for AAS graduates Notable alumni: Lee Gibson (designer at Nike), Anne-Mette Krolmark (designer for H&M flagship stores), Greg Diedrich (designer at Gensler)
Parsons School of Design in New York provides the best networking opportunities. It's one of eight top-ranking programs around the world that we have identified as shaping the next generation of interior visionaries. (See our instalments, on NYSID, the University of Manitoba, Domus Academy and SCAD). 
Last year, for a White House luncheon, students designed an installation made of discarded books, with 4,000 pages woven into a stage backdrop for Michelle Obama. This past spring, MFA candidates worked with the Pratt Institute on Housing the Homeless in NYC, to envision plausible design solutions to help the poor. The final projects, which were written up in the New Yorker, included a plan to turn disused shipping containers into housing communities; and a culinary school for people living in poverty. This fall, students are working with Monadnock Development on My Micro NY, a micro-housing concept that involves everything from crafting interiors with sustainable materials to designing the landscape.
Alejandro Barrios (2000) Principal, Alejandro Barrios Carreri Architecture and Interiors Venezula
"Ingestion of the Interior," Kimberly Kelly's thesis project, examines how a room's design affects taste perception.
In the program, you take three design studios focusing on residential, retail, workplace, and hospitality interiors. You learn the theory and practice of interior design through conceptual investigations of space, research on sustainability and materials, and training in computer rendering. In the studios, you explore the relationship between interior architecture and decorative arts. The AAS professional program allows you to take electives offered throughout Parsons to develop the range of skills required in the future workplace. Internships at prominent design firms like Victoria Hagan Interiors, Starwood Hotels and Resorts, AvroKO, Ghislaine Viñas Interior Design, and Yabu Pushelberg offer opportunities to apply your learning to real-world interiors. 
This program is part of Parsons' School of Constructed Environments (SCE). Learn about the SCE community and explore our SCE blog to see what students, faculty, and alumni are doing in NYC and around the world.
A professionally oriented program that trains students in highly advanced, specialized design methods and technical skills, enabling students to advance their existing design practice. Applicants must have a bachelor's degree in a related design field and/or work experience in interior design.
WorkshopsUrban Identities: Art, Architecture and the Right to the City
Janine Carendi MacMurray (2005) Principal, Area Interiors 2007 Top 10 Designers, Domino magazine
Parsons School of Design enables students to develop the knowledge and skills they need to succeed in a rapidly changing society. Students collaborate with peers throughout The New School, industry partners, and communities around the world and in New York City, a global center of art, design, and business.
Supplementing industry-focused core courses, electives enable you to deepen your understanding of and experience in designing with soft and hard materials, lighting, and sustainable materials and systems. You have opportunities to study a range of historical, theoretical, and related design  topics. You can complete your studies in two to four semesters of full-time study, depending on the number of transfer credits you bring to the program. Most students finish the program in three full-time semesters. Students with the maximum number of transferable credits (31) are eligible to be considered for the two-semester fast-track option. (Eligible fast-track transfer credits must include 21 liberal arts credits, with 6 in English or critical reading and writing courses, and 10 studio arts credits, all from a regionally accredited college or university. Transfer credit is conferred at the discretion of admission counselors.) 
The Associate in Applied Science degree is awarded for completion of 65 credits of coursework. A maximum of 31 credits of undergraduate coursework may be transferred from other institutions. Students must maintain a 2.0 cumulative grade point average and fulfill all requirements in a timely manner.
Diamond Schmitt's Transformation of an Ottawa Brutalist Icon
Any additional supporting documents that need to be sent by mail must include an Application Materials Cover Sheet. All supporting materials must be received before your application can be reviewed.
Learn more about what Parsons students, faculty, and alumni are doing throughout the city and around the world. Explore the SCE Community
Interior Design (AAS) Program with Liberal Arts Transfer Credits
We will continue to review applications submitted after the priority deadlines have passed if space is available in the program.
Students designed a stage for a luncheon hosted by Michelle Obama.
You are here:Home / Interiors / 8 Top Interior Design Schools: Parsons School of Design, New York
A professionally oriented course of study that provides essential foundation training and technical skills, enabling students to build a competitive portfolio and launch a new career in their chosen industry. Best suited to students who have previous college experience in an unrelated field and want to change careers.
Level 1 PAID 1030 Drawing Interiors 1: 2D 4 PAID 1211 Drawing Interiors 1: 3D 2 PAGS 1001 Drawing 2 PAGS 1021 Color Theory 2 PAID 1050 Principles of Interior Design 2 PLEN 1020 Critical Reading and Writing 1 3 15 Level 2 PAID 1020 ID Studio 1 4 PAID 1028 Environmental Design 2 PLEN 1021 Critical Reading and Writing 2 3 Program Elective 2 Liberal Arts Electives 6 17 Level 3 PAID 1021 ID Studio 2 6 PAID 1070 Construction Documents 2 PAID 1040 ID Histories and Theories 1 3 Program Elective 2 Liberal Arts Elective 3 16 Level 4 PAID 1022 ID Studio 3 4 Program Electives 7 Liberal Arts Electives 6 17 Total Credits 65
8 Top Interior Design Schools: Parsons School of Design, New York
For more information about education in architecture, industrial design, interaction design, interior design and landscape architecture, visit our Top Schools section.
See below for additional information regarding submission of transcripts and recommendations.
First Semester PAGS 1001 Drawing 2 PAID 1030 Drawing Interiors 1: 2D 4 PAID 1211 Drawing Interiors 1: 3D 2 PAID 1020 ID Studio 1 4 PAID 1028 Environmental Design 2 PAID 1050 Principles of Interior Design 2 16 Second Semester PAID 1021 ID Studio 2 6 PAID 1022 ID Studio 3 4 PAID 1070 Construction Documents 2 PAID 1040 ID Histories and Theories 1 3 PAGS 1021 Color Theory 2 Program Elective 1 18 Transfer Credits (Liberal Arts) 21 Transfer Credits (Program) 10 Total Credits 65
Scott Saunders (1997) Principal, Scott Saunders LLC Book on his interiors: Feb 2010 Publication Date
You share campus facilities with students of architecture, lighting design, and product design and can work in the fabrication shop and conduct research in the Light Lab and the Angelo Donghia Healthier Materials Library. "AfterTaste," an international design symposium hosted by Parsons, and WORK, the program's annual publication, let you engage with international scholars and practitioners shaping the contemporary design landscape.
For years, Parsons has upheld a stellar reputation, and its interior design school has long ranked among the highest in the world. Located on 5th Avenue, it provides ample opportunity to develop high-calibre projects that go well beyond the campus. Students are expected to participate in such international competitions and events as the UN Mass Housing contest and the Venice Biennale; and to collaborate with NGOs and major corporate brands.
Fall Term Applicants: April 1 Spring Term Applicants: October 15
Subscribe Renew Give a Gift Subscriber Services Digital Edition
Since 2009, Parsons has offered a postgrad program, as well as AAS degrees (associates in applied science). Next year, a new facility, the Making Center, will house traditional and state-of-the-art digital fabrication tools.  
First Semester PAGS 1001 Drawing 2 PAGS 1021 Color Theory 2 PAID 1020 ID Studio 1 4 PAID 1030 Drawing Interiors 1: 2D 4 PAID 1050 Principles of Interior Design 2 PAID 1211 Drawing Interiors 1: 3D 2 16 Second Semester PAID 1021 ID Studio 2 6 PAID 1028 Environmental Design 2 PAID 1040 ID Histories and Theories 1 3 PAID 1070 Construction Documents 2 Program Elective 2 15 Third Semester PAID 1022 ID Studio 3 4 Program Electives 9 13 Transfer Credits (Liberal Arts) 21 Total Credits 65
The Associate in Applied Science (AAS) degree program is most suitable for mature students with some college experience who are clear about their interests in the field of design and prepared for rapid immersion in a professional course of study. The typical student has a bachelor's or an advanced degree and work experience in a field other than design. Admission to the program is based on the prospective student's maturity, desire to pursue further education, previous accomplishments, and potential for growth. Applicants must have graduated from high school at least two years prior to be eligible to apply.
All applicants are required to apply online. Save your work frequently and print a copy for your records. You must complete all required fields and uploads prior to submission.
In 1906, Frank Alvah Parsons established the first academic interior design program in the United States. Parsons continues to lead this evolving field with programs including AAS Interior Design. Begin your interior design career with accomplished New York professionals who guide you in exploring design's potential to improve lives at every scale. You develop an awareness of the social, environmental, and cultural dimensions of interiors through curricula and projects that investigate global concerns such as sustainability and economic inequality. In the process, you become a designer equipped with the knowledge, skills, and networks needed to succeed in a growing field.
All applicants admissible into our program are considered for a merit scholarship award that is determined by the strength of their application. Scholarship award notification is communicated at the same time as the admission decision.
International students are eligible only for merit scholarships. If you are a U.S. citizen or eligible noncitizen, we encourage you to complete the Free Application for Federal Student Aid (FAFSA), which can be found on the Web at fafsa.
gov. The FAFSA is available each year on October 1. (The New School's federal school code is 002780.) You do not need to wait for an admission decision to apply for federal aid; we recommend submitting by our FAFSA priority deadlines: Fall: February 1 Spring: November 1 Application Instructions
Antonia Hollerbach (2006) Principal, Antonia Hollerbach Interiors
Students who receive the maximum number of transferable credits (31) are eligible to enroll in the fast-track option outlined below.
Employ decorative mirrors to incorporate immediate light to your living area . As seen above, mirror doubles to make some sort of small space feel bigger . For larger rooms, or even any room with a new more limited amount associated with natural light, mirrors positioned directly across in the home windows , will add instant lighting . Decorative mirrors doubles throughout lieu of art in order to fill empty wall area . Large or small, showcases add light and sizing to your living area.
Wicker baskets. Straw-plaited baskets are an cost-effective and elegant method to include storage to any space . Baskets can be utilized to store and screen books, architectural and design magazines, toys, towels plus blankets to name a new few. Place a handful of smaller wicker baskets within the counter-tops in your kitchen in order to beautifully display and retail outlet your fruit and fresh vegetables.
Add a suspending pot holder to your own kitchen. Kitchens are intended to be warm in addition to inviting. We spend significantly of our time inside them whether it become for preparing meals, offering meals or entertaining. Some sort of hanging pot rack is advantageous elegance. Kitchens are designed to feel as even though they are in regular use and a clinging pot rack certainly can make one feel this method . In addition to searching so wonderful, (there a wide range of sizes and styles available) additional cupboard space listed below is currently freed up to be able to store other items. Hardly ever has anyone complained associated with having too much safe-keeping.
Make use of area rugs to become softer hardwood floors. Throw area rugs give warmth and may add great texture, colour and personality to your current living space. Hardwood flooring are beautiful and effortless to keep but they be short of the comfort that carpeted floors offer, particularly inside the cooler months. Region rugs can also include fun and functionality to be able to your living area . Use a number of of varying patterns in addition to fabrics together to highlight your character. Or include several rugs of the particular identical pattern and material , or different textures yet the same color. The particular possibilities are endless. A person can change your place rugs to reflect the particular seasons using warmer shades and fabrics for much cooler months and lighter kinds for the warmer periods of the year. Generally there are many lovely 100 % cotton , washable area rugs which in turn are perfect for those houses with children. There genuinely is no reason the reason why a residence with young young children cannot become a trendy one.
Living green . Add plants in order to your livable space . Add these people to every room, little or large, few or even many. Plants could be an affordable means to accessorizing the space and adding shade and texture. Not simply are plants beautiful although many can clean house air and balance moisture . They can absorb impurities and remove harmful fumes from the air. Not any home should be with out these wonderful greens!
Paint smaller areas in softer, lighter colours which will make the room experience larger. The living area above is an excellent sort of how in order to maximize a small livable space . A room of this kind of size gets the tendency in order to seem cramped, however the big windows, light colored surfaces and ample using showcases not only reflect the particular natural light pouring within from your doors and the particular windows however the use regarding mirrors also shows the optic illusion of space, producing the room seem greater than it actually is usually . Conversely, darker colors can make a room experience smaller. Even with typically the abundance of natural light source and the strategic saving of the mirrors, this particular room in a dark shade may have an even more boxed-in feel into it.
Slip into anything a bit more comfortable!. Slip includes frequently get a poor rap but they will be truly wonderful things. These people can function as a methods of changing your furniture`s look to reflect the particular seasons. These easily taken off coverings improve a superior look without constantly having to worry about people dirtying or even spilling on your pieces of furniture . Slip covers are best for rooms used usually by children. Over a new white slip-covered couches provides air of an informal , comfortable, easy yet advanced elegance.
Make use of what you already possess to decorate. Most of us have got items in our ownership , probably packed up inside boxes somewhere and have not given them a next glance. Your property needs several accessories. As opposed to running to be able to the store, take some sort of good look at that which you already have. Trays, wood , acrylic, metal or sterling silver can be on best of luggage racks, green tea carts, trunks, bedside desks and coffee tables regarding extra texture and sizing . Arrange candles on all of them , frames or pile textbooks on top of all of them . Plates can be put up to create wonderful wall membrane art. Art from kids books can be frame and hung in nurseries, children`s rooms or their own bathrooms. You will end up being amazed at your talent with what you previously have!
Coloring or wallpaper your bookcases. This instant pop associated with color will brighten and even re-energize any room! Is actually amazing how something consequently simple as a coating of colorful paint could instantly energize and convert your space. This integrated bookcase would be basic and ordinary with no vivid blue interior. Probably the most basic and most inexpensive solution to transform a boring room is always to apply a cover of paint somewhere sudden . Bookcases are an best place to start as you don`t need to color a large area. Some other fun places to include a new pop of color contain painting fireplace mantels, typically the insides of closets, hallways and ceilings.
No matter if you`ve just moved and looking for a speedy , little home pick-me-up, or perhaps perhaps something better, right now there are some well-known interior design tricks that designers utilize that you simply too can very easily do with minimal hard work and cost. Sometimes typically the smallest things associated with best impact. It could become digging in a reflection , a painting, a light fixture or even a vegetable. You may want to become softer your walls, brighten the room, or then add heat to your living area. Have a look at these clever design and style as well as observe how they can stimulate you!
Fluctuate your workout. Mix upward patterns and textures. Mixture up old and innovative , expensive and cheap. There`s nothing wrong with positioning family heirlooms alongside your current modern couch. Great rooms decorators will tell a person that one of the particular most important aspect to be able to decorating your house is that that reflects who you happen to be , your personality and the style. The vintage Chippendale table that was your grandfather`s tells a story. That tells the story involving your past. The modern day couch you became adoringly obsessed with and basically had to purchase furthermore tells a story, your current story, and there is usually no good reason that the current and past can`t co-exist beautifully together. A similar could be said for skill. You might not would like to place a piece of art by Salvador Dali on a single wall next to some sort of Monet, but there`s zero reason why they cannot get in the same area together. With fabrics whether or not it be furniture, carpets or pillows, varied hues and patterns brings heat and texture with your lifestyle space.
IMAGE COLLECTIONS : 8 Top Interior Design Schools Parsons School Of Design New York