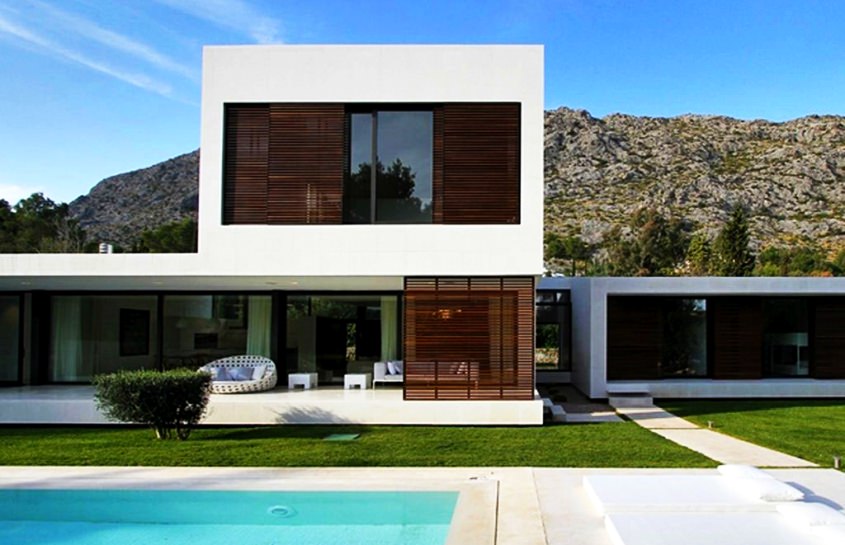 5 Characteristics Of Modern Minimalist House Designs
5 Characteristics Of Modern Minimalist House Designs
5 Characteristics Of Modern Minimalist House Designs
. . . . . . . . . . . . . . . . . . .
In the project below, the material palette is limited to mostly concrete and glass. Yet, the board-formed concrete provides texture and interest to the minimalist interior design.
[The Stripe House by GAAGA via ArchDaily.] [The Stripe House by GAAGA. Photo by Marcel van der Burg.]  
An open floor plan between kitchen and living areas lets an abundance of light fill the space. Light colored wall surfaces, clean modern detailing, uncluttered spaces and a neutral color palette (with a few splashes of color) give spaces like this minimalist home interior a calm interesting appeal.
We appreciate modern minimalist design at YR Architecture + Design. Who doesn't like clean, open spaces that allow the architecture, the furniture, and the materials in the room to breathe?  It's the simple, honest detailing and simple materials that make minimalism so appealing and why we enjoy creating minimalist spaces –  because we appreciate the calmness, the warmth, and the beauty that these kinds of spaces exude.
In the project below on the left, the texture and grain of the tile pattern adds visual interest to the simple neutral palette of the modern bathroom.
[Private residence in Vega, Norway by Kolman Boye. Photo by Lindman Photography.]
Clean, crisp window details and well-designed facades avoid the need for unnecessary trim work. A flush window frame aligning with the joints in the cladding material provides a clean minimalist solution to window articulations like the exterior image on the left below.
Eye-catching materials such as the brick wall on the right below can stand on their own without the need for shelving and knick-knacks to clutter them up.
Simple minimalistic details are also cost-effective. Flat stock trim is an inexpensive and easy way to trim out windows and doors and still maintain a minimalist look. In the project on the right below the flat stock trim and white washed wall paneling allow the focus to be on the exterior views instead of the interior.
Minimalist architecture is about achieving better design through simplicity – a simplicity of form, space, materiality, detail, and color. Minimalist design also shows restraint and a careful paring down and editing of spaces to get to a place of clarity.
In the photo on the left below, the 2×2 horizontal cedar slats provide relieve and interest to the facade. The siding on the right creates eye-catching appeal in its lap joints and blue color that pops against the otherwise white interior in the photo on the right. Also note the lack of splice joints in both photos. Each horizontal course is one continuous piece, another nice feature. 
[The Four Cornered Villa by Avanto Architects. Photo by Kuvio.]   3. Clean, Open, Light-Filled Spaces
[The Stripe House by Gaaga Studio Architecture. Photo by Marcel van der Burg.]
[Long Crendon by Mailen Design. Photo by Kristin McCluskie.] 4. Simple Detailing Devoid of Decoration
Spacious rooms filled with light, wide sight lines and an uncluttered aesthetic are typical of many minimalist interiors. Only the necessary furniture and accessories are used so that objects have some breathing room. The abundance of natural light adds to the ambiance of the space, helping it feel warm and cozy rather than cold and sterile.
Yvonne 2018-03-16T12:47:29+00:00 Categories: Design Inspiration|Tags: minimalist, modern|
[Paling Fence House by NASA – National Architecture Space Administration. Photo by Nil Koenning.]
Characteristics of modern minimalist house design include: Simplicity in form and function Uncomplicated cladding & wall finishes Clean, open, light-filled spaces Simple detailing devoid of decoration Strategic use of materials for visual interest, texture, and personality Below are some inspiring projects we like of modern, minimalist houses that beautifully illustrate the "less is more" mentality of minimalist architecture.
1. Simplicity in Form and Function
Detailing cabinetry with flat slab panels instead of raised or recessed panels and minimally exposed hardware eliminates the visual noise often seen with cabinetry. In this project, a simple reveal was left in the wood panels to avoid the need for unnecessary door pulls.
Minimalism has become quite popular over the years as a design philosophy and way of life.
Many minimalist interiors are also characterized by clean cabinetry, stair, and trim details – paring down to only what is necessary.
Using a simple continuous exterior cladding material can easily provide visual appeal and articulation by expressing the physical characteristics of the materials and their texture.
The boxy form below, with its continuous vertical wood siding and clean window openings are a clean, modern minimalist solution to this forested retreat.
5. Strategic Use of Materials for Visual Interest, Texture, + Personality
Uncomplicated punched openings for doors and windows punctuate the facades. Overall, there is a simple house design that avoids a lot of ins and outs, complext curves, or angles. Simple roof profiles are also characteristic of minimalist homes.
[Featured image: Koya No Sumika by mA-style Architects. Photo by Kai Nakamura.
The projects above show that good minimalist house design can be achieved through simplicity in forms, materials, and details. It isn't about sensory deprivation, purging all your possessions, or ruthlessly cleaning house; it has more to do with choosing order, clarity, calmness, and intention. By focusing on a handful of elements we are not living with less, but rather drawing attention to the shape, color, and texture of the things and spaces we inhabit.
Many minimalist houses have a simple, straightforward, efficient plan layout with stacked volumes of spaces. This creates clarity in plan, where spaces are predictable and uncomplicated. Simple forms, open floor plans, minimal interior walls, modest storage areas, and an emphasis on views and daylight are defining characteristics of many minimalist floor plans.
Related Images of 5 Characteristics Of Modern Minimalist House Designs