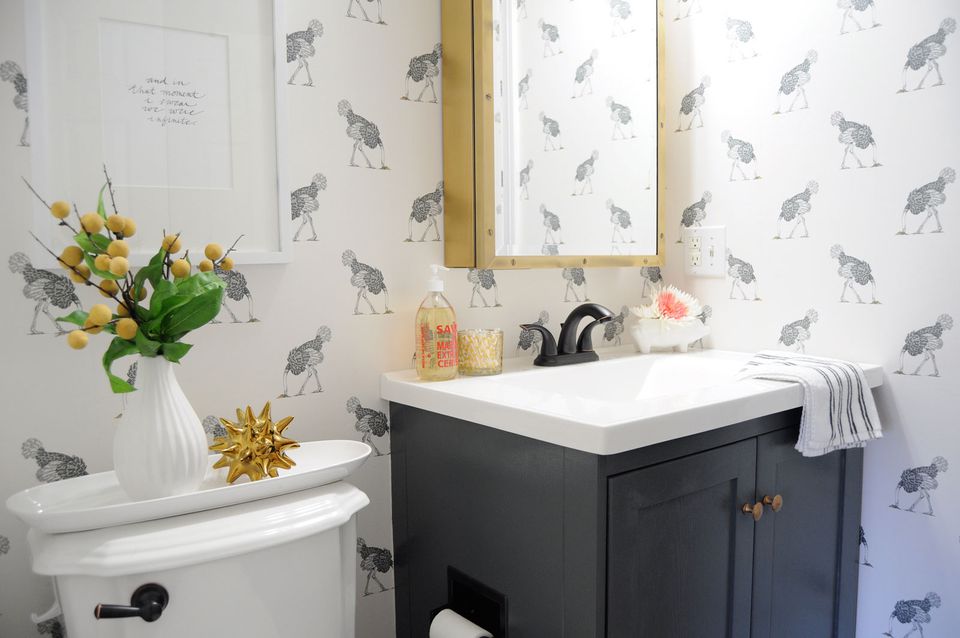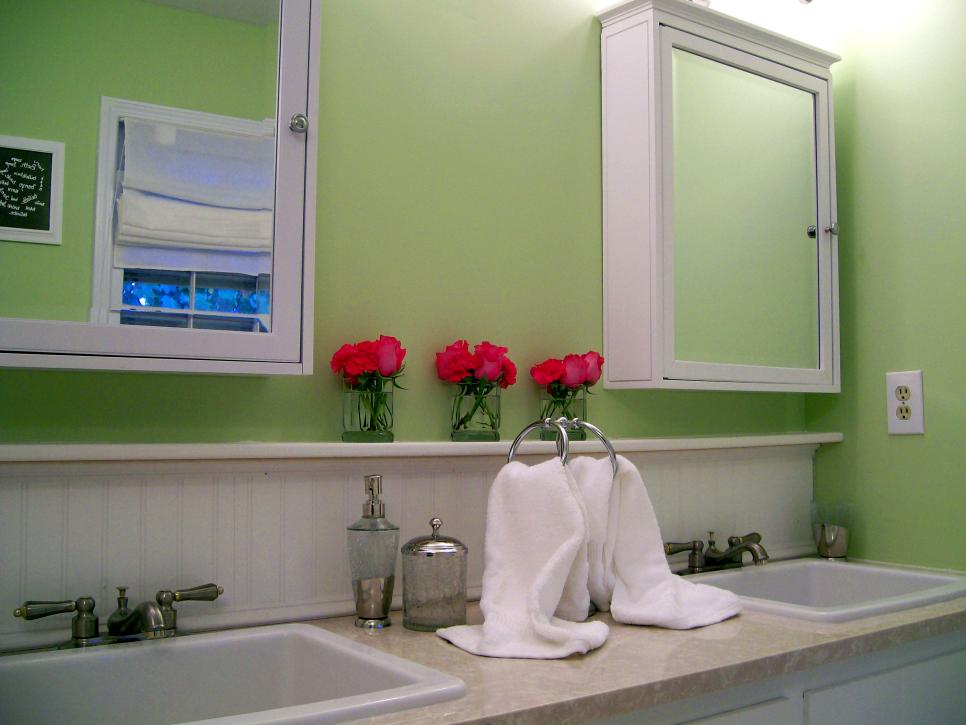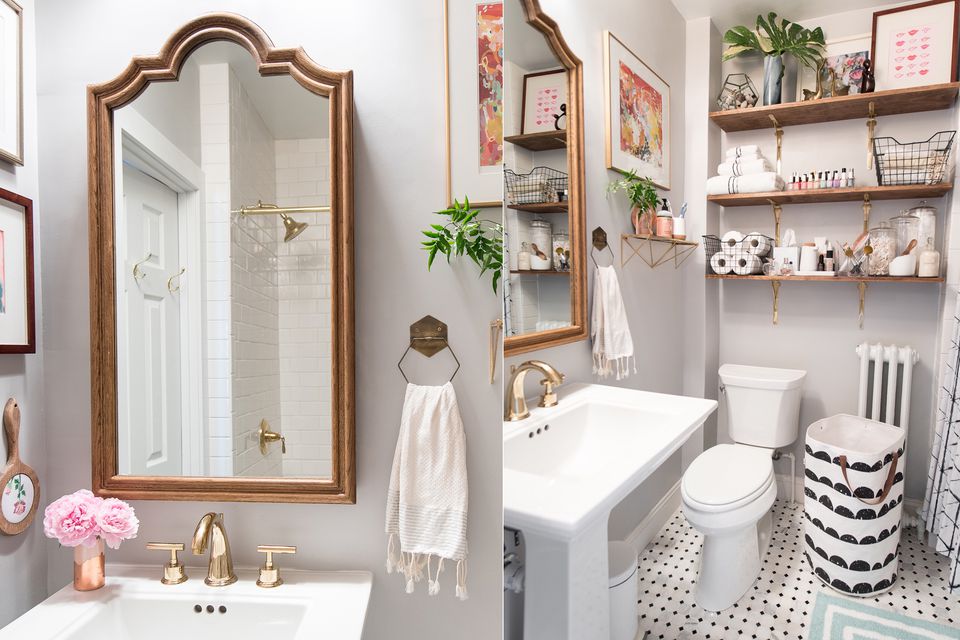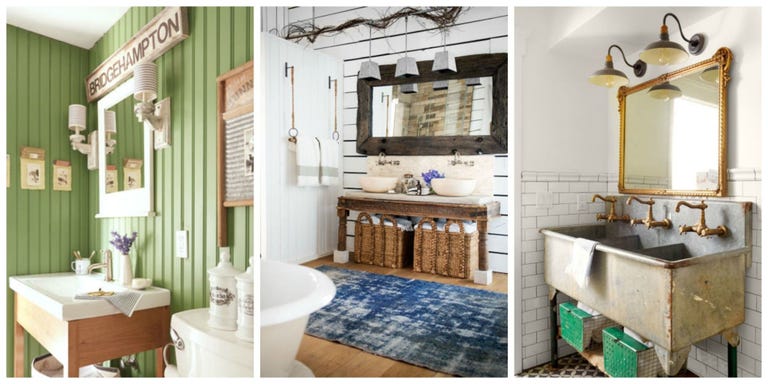 Even the tiniest of studio apartment bathrooms typically has a ledge for some small yet stylish storage. Look for small baskets or vessels that are cute enough to leave out in the open, and use them to hold toiletries, cotton balls, and other essentials.
div.item" data-cycle-fx="fade" data-cycle-speed="3000″ data-cycle-prev=".slider_nav_left" data-cycle-next=".slider_nav_right" data-cycle-pager=".blog_slider_pager">
Although adding an accent wall may sound like a big construction project, the truth is that accent walls are relatively simple, painless projects that shouldn't upset your property manager—assuming you first get permission. An accent wall can give your bathroom a touch of identity and personality. Simply pick a wall that you want to highlight, and then determine how you plan to set it apart. The most common way to designate an accent wall is by painting it a different color from the others, but you can also make walls stand out by hanging framed art, installation shelves, or putting up a decorative mirror.
They say that compromise is when everyone works together to achieve results that nobody wants. And while this may be a negative way of looking at things, the flip side is that with the right compromise, nobody has to get stuck with something they absolutely don't want.
If you want to to decorate your bathroom with flowers and varying shades of coral, but your significant other would like the bathroom to be an homage the greatest professional athletes that the world has ever seen, the best solution you're likely to reach is one in which neither party has to suffer through the others' tastes.
By decorating the bathroom in neutral colors and styles, you'll be able to keep every bathroom user happy (if not ecstatic).
Mirrors provide the illusion of depth, so using them along with other small-bathroom decorating ideas is always a plus. Replace small mirrors with larger ones where possible, and position your lighting so that it can reflect directly off of the mirror, doubling its effectiveness.
Also, if you have the wall space, consider installing a mirror on the wall opposite the sink. This will not only give your bathroom an 'infinity mirror effect,' thus making it appear much larger than it is, but it will also provide you with an easy method for seeing how you look from behind (which is great for trying on clothes, fixing your hair, or trimming up a neckline).
Mirrors placed up high can achieve a similar space-enlarging effect, and are particularly nice in bathrooms that may not have any windows.
In all likelihood, large fraction of your bathroom's available space is taken up by your bath or shower. As such, when you cover it up with an opaque shower curtain, you're creating an artificial barrier that makes the bathroom appear much more confined. Replace opaque shower curtains with clear ones, so that all of your bathroom space is visible at all times, and if you have a glass shower door, keep that glass clean and clear.
Adding some greenery to this room gives it an instant bohemian vibe. When choosing plants, consider the amount of light your bathroom gets. Shop from our list of low-light varieties, or be sure to periodically move your plant to a windowsill in another room.
If each bathroom user has his or her own towel, it can be difficult to tell which towel belongs to whom. Install some nice-looking hooks on the back of the bathroom door, and label each one with the name of the person who will be using it.
This provides an easily-accessible and organized place for everyone to hang used towels, while also keeping them making the walls look cluttered. Alternatively, by installing multiple small towel racks in place of a single large one, you can achieve a similar result.
Sure, everyone would love to have a luxuriously expansive bathroom, but the reality is that most of us have to make do with something a bit more utilitarian. That means room for a toilet, a sink, a mirror, a shower, and—if we're lucky—a bathtub. But just because you don't have a large bathroom, it doesn't necessarily mean that you can't have a bathroom that feels large. Even for half bathrooms, decorating ideas that use limited available space may turn a cramped area into one that feels both stylish and roomy. By choosing the right decor and taking advantage of some handybathroom decorating ideas for small apartments, you can give the impression of space without having to knock down a wall. Here are several tips to help your bathroom feel bigger:
It may seem natural to want to hide a small bathroom in shadows, but the reality is that doing so will only make the room feel cramped and uninviting. Instead, consider purchasing freestanding lighting fixtures to drive those shadows back. Choose light bulbs that create a soft, white light, rather than harsh yellow-orange ones. Also, consider leaving the windows uncovered, as this will allow more natural light into the bathroom, while also providing occupants with a view outside (which will make the room feel larger as well). If privacy is a concern, the windows can be 'frosted' by using a spray that can be purchased at most hardware and home supply stores; this will allow light to enter the room, while still obscuring the view for passersby.
Calling All Renters: Easy & Reversible Ways to Add Style to Your Bathroom (This Weekend!)
Apartment Therapy supports our readers with carefully chosen product recommendations to improve life at home. You support us through our independently chosen links, many of which earn us a commission.
If you can't paint or wallpaper, play with removable wall decals, like the plus-sign ones above in Kristen's Chicago Loft. Look for wall decal sources on Etsy, including UrbanWalls, which offers sets of 50 stickers for less than $30.
To stash larger items, look for big woven baskets, like the pair above spotted on Design Sponge. Not only do they look great, but they also hide dirty laundry and rolls of toilet paper.
The bathroom plays a significant part in the everyday life of a tenant. The bathroom is generally the first place you stumble into at beginning of your day, and often the last place you visit before retiring for the night. It's where you make the final finishing touches to your look before heading out with friends, and where you get cleaned up once you return home. It's where you shower, brush your teeth, shave off unwanted whiskers, moisturize your skin, and occasionally take care of other hygienic necessities. Taken all together, you probably spend more time in your bathroom than you might realize. So, doesn't it make sense to decorate it in a way that makes it an enjoyable place to be?
A collection of art warms up this oftentimes impersonal room, giving it a homey feeling. Take a cue from the collection above from Brooke Gianetti of Velvet & Linen and look for pieces that follow a theme. If your bathroom doesn't have great ventilation, make sure your pieces are protected behind glass in a moisture-proof frame.
Although many people shy away from using wallpaper in their bathrooms for fear that the steam from the shower or bath will cause the paper to peel, there are kinds of wallpaper that are specifically designed to be able to withstand the negative effects of bathroom use. Find some stylish wallpaper that features vertical stripes, as this will make your ceiling appear taller, giving the impression of more space overall. Not all apartment communities allow wallpaper (even temporary wallpaper), so be sure to check with your property manager before you begin your project.
Twice the bathroom users (or three-times, or four) means that much more clutter. This is where bathroom organization becomes especially important. Without proper storage, bathroom items are likely to take up position on counter tops, bath ledges, window sills, and on any other available surfaces.
Installing additional shelving space and/or cabinets can help alleviate some of the clutter, but might result in a more cramped-feeling bathroom. Consider purchasing some stylish wicker baskets that can be kept under the sink or on top of the toilet tank, and that can help contain objects that don't want to stay in drawers.
Never forget that proper organization is the key to a happy bathroom-sharing arrangement.
In keeping with the theme of organization, most bathtubs and showers lack the necessary space for multiple users to keep their personal scrubs, soaps, loofahs, etc. orderly and separate. A multi-tier shower caddy can give you the extra storage space you need, while also giving your shower a nice, organized look.
Multiple caddy styles are available, so work with your roommates to find something that everyone likes.
When decorating a room, it can be easy to go over budget. For property owners, this isn't normally that large of a problem, because any money put into the redecorating can generally be made back (and then some) when it comes time to sell the property. However, for renters, things are different, and cheap bathroom decorating ideas become very important. If you plan on redecorating your apartment bathroom, you'll likely want to do it for as little money as possible. Here are some bathroom decorating ideas for apartments to help you improve your bathroom (without diminishing your bank account).
Stenciling bathroom walls or ceilings can give your bathroom a dynamic and exciting look. At the same time, stencils themselves are generally very inexpensive. As long as you have the time and the patience, stencils are a great way to achieve a new look for your bathroom on a budget.
Door knobs, cabinet handles, pulls, toilet seats, and even faucets and faucet handles don't have to be permanent. Go to your local hardware store, and see what new styles are available. Just remember: Replacing faucets can be difficult if you don't know what you are doing, and can lead to plumbing problems.
If you're not sure that you want to take that risk, contact a professional plumber for help. After all, when it comes to plumbing and bathroom decorating ideas, DIY can be a bit risky.
If you share your apartment with one or more person, then you probably know what it's like to have to share a bathroom as well. Bathroom decorating tips for men will likely be very different from those for women, and adults will flock to different styles than are featured in lists of bathroom decorating tips for kids. And whether you are sharing your bathroom with roommates, a spouse, your own children, or anyone else, you will probably clash a little when it comes to bathroom decor preferences. After all, even when you share a bathroom with a significant other and are interested in creating a romantic bathroom, ideas will very from person to person, and everyone has their own opinion about what constitutes a perfectly decorated bathroom. The point is that there may not be much style-overlap between you and the others who live with you. Here are a few ideas for how to decorate a shared bathroom in a way that (hopefully) everyone will be able to enjoy.
When it comes to bathroom decorating ideas, color schemes can make all the difference. Lighter colors (specifically the color white) have the ability to make a room seem larger, but even less obvious choices (for example, yellow bathroom decorating ideas, or ones that use a complementary combination of brighter colors) can have an equally-augmenting impact. Take advantage of this fact; decorate your bathroom as much as possible in bright colors. bright fixtures, bright walls, bright cupboards and counters, and even bright bathroom rugs and bathmats can all help create a feeling of spaciousness. Even if you decide to go with a color other than white, you can maintain a feeling of expansiveness by using a single tone or value.
Bathroom Greatest Hits Ideas & Inspiration Renters Solutions
A pretty rug ups the style quotient in any room, but it's especially useful in a rental bathroom that has unattractive floor tiles that you'd prefer to cover up. The gorgeous rug above, spotted on The Curtis Casa, adds rich color and pattern to a neutral room.
If you have a great idea for decorating your shared bathroom, don't keep it bottled up inside. Speak with your roommates and try to bring them onboard. If you can get everyone as excited about your vision as you are, you won't have to worry about coming up with specific bathroom decorating ideas for men, women, boys, girls, and everyone else who walks through the door; you'll just have to find something that everyone can love at the same time.
Found objects can give a bathroom a rustic, homey appearance. And although you're unlikely to discover a discarded claw-foot tub sitting on the curb waiting for you to adopt it, things like old wooden doors, shutters, and certain cabinets and drawers are not difficult to locate. Even small wooden crates can be opened, painted, and hung on the wall as intriguing square-shaped shelves. Check through your local classified advertisements and see if there is anything that is being sold or given away that you could repurpose into a stylish bathroom accessory, and let your imagination go wild.
Introduce color in non-permanent places, like on hand towels or bath towels that you can afford to switch out whenever you want a change of palette. The red and orange Turkish towels in Ann and Jack's abode give the room a hit of summery color without painting or putting holes in the wall.
Rental bathrooms are notoriously plagued by ugly (or just plain dated) design decisions. The good news is, there are some simple, reversible ways to cover up what you hate most about this room and add your own style to the space. Introducing color and pattern where you can, and choosing attractive storage lets you put your own touch on a temporary home.
There aren't many DIY decorating ideas for bathrooms that are as easy and inexpensive as putting up a shelf. A DIY shelf can be quickly installed in most bathrooms, and can provide an easy method for getting everyday items off of counters and stored out of the way.
These shelves can be positioned above eye level, effectively opening up the rest of the bathroom, but be careful not to overdo it—too many shelves can have the opposite of the intended effect, making a room feel overly crowded.
Over-the-toilet shelving can also help with bathroom organization and space-saving.
It may sound obvious, but in a small rental bathroom, the shower curtain is the first thing you should switch out. It takes seconds to clip a new curtain into place, and a brightly colored or patterned one will distract from un-fixable things, like the dingy tile hiding behind it.
If you really need to showcase your own personality in a shared bathroom, consider this: Shower curtains come in a variety of designs, and are easy to remove and replace. Why not allow every member of the household choose their own shower curtain that they can put up at different times? This will allow bathroom users to enjoy a personalized design scheme, without infringing on the tastes of everyone else.
If there are only two people who use the bathroom, you might even consider installing a second curtain rod, thus making it even easier to switch between curtains whenever you like.
You might be surprised at how different your bathroom looks once you replace the shower curtain. Choose something that fits your own personality (whatever that may be), and that goes well with the rest of your design.
Did we miss anything? Share your own bathroom decorating ideas in our comments section!
Most towel racks are located on the wall next to the shower or bathtub, so that they can be easily reached by someone who has just finished bathing. However, by removing wall towel racks, and replacing them with racks fitted to the back of the bathroom door, you can give yourself more apparent space while also putting an underutilized area of the bathroom to good use.
Of course, decorating a bathroom can be a very involved process, and unless you have a good idea where to start and which steps to take, you might find yourself overwhelmed by it all. When it comes to decorating bathrooms, ideas may seem hard to come by. Well, we have the solution. We've compiled a list of bathroom decorating ideas and tips, and we'd love to share them with you. These modern bathroom decorating ideas are generally easy to implement, while also being easy on your wallet. And as an added bonus, we're providing high-quality bathroom decorating-ideas images, so that you can get an idea of how things are going to look, before you commit yourself. Just make sure that you get permission from your property manager before you make any permanent changes to the bathroom. Read on to discover more!
Car paint or wallpaper your bookcases. This instant pop regarding color will brighten in addition to re-energize any room! Really amazing how something consequently simple as a layer of colorful paint may instantly energize and enhance your space. This built/in bookcase would be very simple and ordinary with no vivid blue interior. Possibly the easiest and most inexpensive approach to transform a boring place is always to apply a layer of paint somewhere sudden . Bookcases are an excellent place to start since you don`t need to coloring a large area. Additional fun places to incorporate some sort of pop of color incorporate painting fireplace mantels, the particular insides of closets, hallways and ceilings.
Live green . Add plants to be able to your liveable space . Add these people to every room, smaller or large, few or even many. Plants could be an affordable means to accessorizing the space and adding shade and texture. Not just are plants beautiful nevertheless many can clean family air and balance moisture . They can absorb impurities and remove harmful gas from the air. Simply no home should be with out these wonderful greens!
Employ what you already possess to decorate. Most of us possess items in our ownership , probably packed up within boxes somewhere and haven`t given them a next glance. Your house needs a few accessories. As opposed to running in order to the store, take some sort of good look at whatever you already have. Trays, wood made , acrylic, metal or sterling silver can be on best of luggage racks, green tea carts, trunks, bedside dining tables and coffee tables intended for extra texture and sizing . Arrange candles on these people , frames or pile publications on top of all of them . Plates can be installed to create wonderful wall membrane art. Art from kid`s books can be presented and hung in nurseries, children`s rooms or their particular bathrooms. You will end up being amazed at your ability with what you previously have!
Differ your workout. Mix upward patterns and textures. Blend up old and fresh , expensive and cheap. There`s nothing wrong with putting family heirlooms alongside your current modern couch. Great inside decorators will tell a person that one of typically the most important aspect in order to decorating your property is that that reflects who you happen to be , your personality and your current style. A vintage Chippendale table that was your grandfather`s tells a story. That tells the story associated with your past. The contemporary couch you became adoringly obsessed with and just had to purchase in addition tells a story, your existing story, and there is definitely no reasons why the found and past can`t co-exist beautifully together. A similar could be said for artwork. You now might not desire to place an art work by Salvador Dali on a single wall next to the Monet, but there`s zero reason why they cannot end up being in the same place together. With fabrics regardless of whether it be furniture, area rugs or pillows, varied shades and patterns would bring heat and texture into the lifestyle space.
Make use of decorative mirrors to include fast light to your living area . As seen above, wall mirrors may also be used to make some sort of small space feel greater . For larger rooms, or perhaps any room with some sort of more limited amount involving natural light, mirrors put directly across in the home windows , will add instant light-weight . Decorative mirrors may also be used inside lieu of art in order to fill empty wall area . Large or small, mirror add light and sizing to your living area.
Make use of area rugs to become softer hardwood floors. Throw mats give warmth and could add great texture, shade and personality to the living space. Hardwood flooring surfaces are beautiful and quick to keep but they be short of the comfort that carpeted floors offer, particularly throughout the cooler months. Location rugs can also include fun and functionality to be able to your living area . Use a number of of varying patterns and even fabrics together to display your character. Or put several rugs of typically the identical pattern and material , or different textures although the same color. Typically the possibilities are endless. A person can change your region rugs to reflect the particular seasons using warmer colors and fabrics for chillier months and lighter types for the warmer instances of the year. Generally there are many lovely natural cotton , washable area rugs which in turn are perfect for those residences with children. There genuinely is no reason exactly why a house with young youngsters cannot become a fashionable one.
Regardless of whether you`ve just moved and looking for a speedy , little home pick-me-up, or perhaps perhaps something better, presently there are some well-known interior design tricks that designers use which you too can effortlessly do with minimal energy and cost. Sometimes typically the smallest things associated with very best impact. It could become digging in a hand mirror , a painting, a light or even a vegetable. You want to ease your walls, brighten the room, or increase heat to your living area. Have a look at these clever design and style as well as observe how they can stimulate you!
Wicker baskets. Straw-plaited baskets are an affordable and elegant approach to include storage to any place . Baskets can be applied to store and screen books, architectural and decoration magazines, toys, towels and even blankets to name a new few. Place a few smaller wicker baskets for the counter-tops in your kitchen to be able to beautifully display and shop your fruit and fresh vegetables.
Slip into anything a bit more comfortable!. Slip protects frequently get an awful rap but they happen to be truly wonderful things. These people can function as a method of changing your furniture`s look to reflect the particular seasons. These easily taken off coverings improve a complex look without constantly stressing about people dirtying or perhaps spilling on your pieces of furniture . Slip covers are excellent for rooms used usually by children. Over the white slip-covered couches provides the air of an everyday , comfortable, easy yet advanced elegance.
Paint smaller bedrooms in softer, lighter colours which will make the room think larger. The living place above is an excellent sort of how in order to maximize a small liveable space . A room of this specific size has got the tendency in order to seem cramped, however the huge windows, light colored wall space and ample usage of showcases not only reflect the particular natural light pouring throughout from your doors and the particular windows however the use regarding mirrors also shows the optic illusion of space, generating the room seem larger than it actually is usually . Conversely, darker colors may make a room think smaller. Even with the particular abundance of natural light source and the strategic saving of the mirrors, this particular room in a dark shade could have an extra boxed-in feel into it.
Add a dangling pot holder to your own kitchen. Kitchens are designed to be warm plus inviting. We spend substantially of our time throughout them whether it end up being for preparing meals, offering meals or entertaining. A new hanging pot rack is advantageous elegance. Kitchens are designed to feel as although they are in frequent use and a clinging pot rack certainly can make one feel this approach . In addition to searching so wonderful, (there are extensive sizes and styles available) additional cupboard space under has become freed up to be able to store other items. Hardly ever has anyone complained involving having too much storage space.
IMAGE COLLECTIONS : 20 Helpful Decorating Tips For Your Bathroom Forrent